Online Student Creates Podcast on Genocide
Galloway, N.J. – Kylie Deverell has more than one master's degree and has written her share of dissertations. She is also an experienced online student.
So when it came time to do her capstone project as an online student in Stockton University's Master of Arts in Holocaust and Genocide Studies program, rather than write another paper, she suggested something different – a podcast, titled "We Need to Talk about Genocide."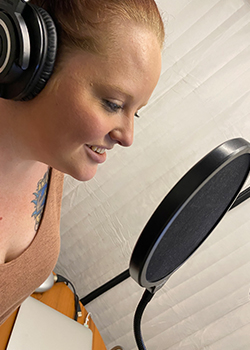 "It is a tough topic that people don't like to talk about," Deverell said from her home in Atlanta, Ga. "My husband said I should do the podcast because it is something I am so passionate about."
She planned five podcasts for her initial capstone, but it grew to add five more. The first 10 address defining genocide, legal aspects of genocide, and the Holocaust.
She will graduate in May, but said she plans to continue the podcast. Future podcasts will address atrocities in other countries, such as Rwanda and Cambodia and delve more deeply into discussions of why some events are classified as genocides and others are not.
"The Holocaust is the largest and most well-known genocide," Deverell said. "I wanted to focus first on what genocide is and isn't, and what is being done to prevent it."
The podcasts are available through Apple and Google apps and on the Stockton Holocaust program web page. The first six have been posted. Deverell's husband, James, also participates, which gives the podcast a conversational tone.
Deverell said she hopes the podcasts can encourage discussions about genocide, why it happens and how to prevent it.
"If we don't talk about it, it will just keep happening," she said.
Deverell, who also works from home, said she had been searching for a master's program in Holocaust studies that she could do online. Stockton has an online Genocide Prevention Certificate, and Deverell was able to apply those courses to the master's degree.
"I'm the only online student in my class this semester, but Professor Michael Hayse and everyone really worked with me so I can Zoom into classes that were not already online," she said.
# # #
Contact:
Diane D'Amico
Director of News and Media Relations
Galloway, N.J. 08205
Diane.D'Amico@stockton.edu
609-652-4593
609-412-8069
stockton.edu/media