Internship Offers Bird's-Eye-Views of Ospreys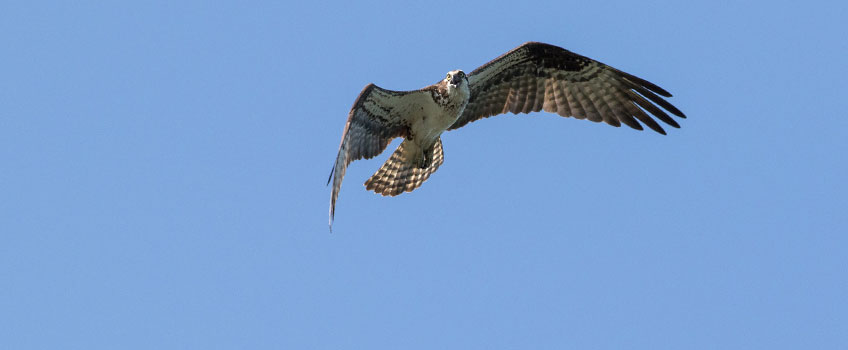 Galloway, N.J. - Stevie Ader's favorite bird is the osprey, and finding one is as easy as taking a summer drive along the Atlantic City Expressway and looking out into the expanse of saltmarsh habitat.
But 50 years ago, spotting a soaring fish hawk was a rarity. The species' comeback story inspired Ader, a senior Environmental Science major, to pursue a career in conservation.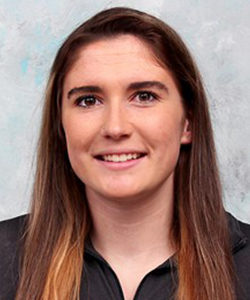 They came back from near extinction, and I've seen how that happened through my studies," said Ader, who is now a participant in their conservation story as an intern with the South Jersey Transportation Authority (SJTA).
The wooden platforms that rise from the tree-less swath of salt hay along the coastal stretch of the expressway host osprey pairs during the breeding season. The platform installation was led by the SJTA not far from Stockton's oceanfront campus, and Ader's hands were part of the effort to raise the platforms.
This fall, Ader organized a group of Stockton volunteers to help SJTA staff install two more nest platforms that join half a dozen other platforms in the surrounding marsh with Ben Wurst, of the Conserve Wildlife Foundation of New Jersey.
They made the marsh commute by boat and navigated the boot-sucking mud on foot. Their hope is that in late February and early March, returning ospreys will build their stick-woven nests in the new platforms.
Daniel Moscovici, professor of Environmental Studies and Sustainability, supervises the internship with SJTA staff and involves his students when volunteer opportunities arise.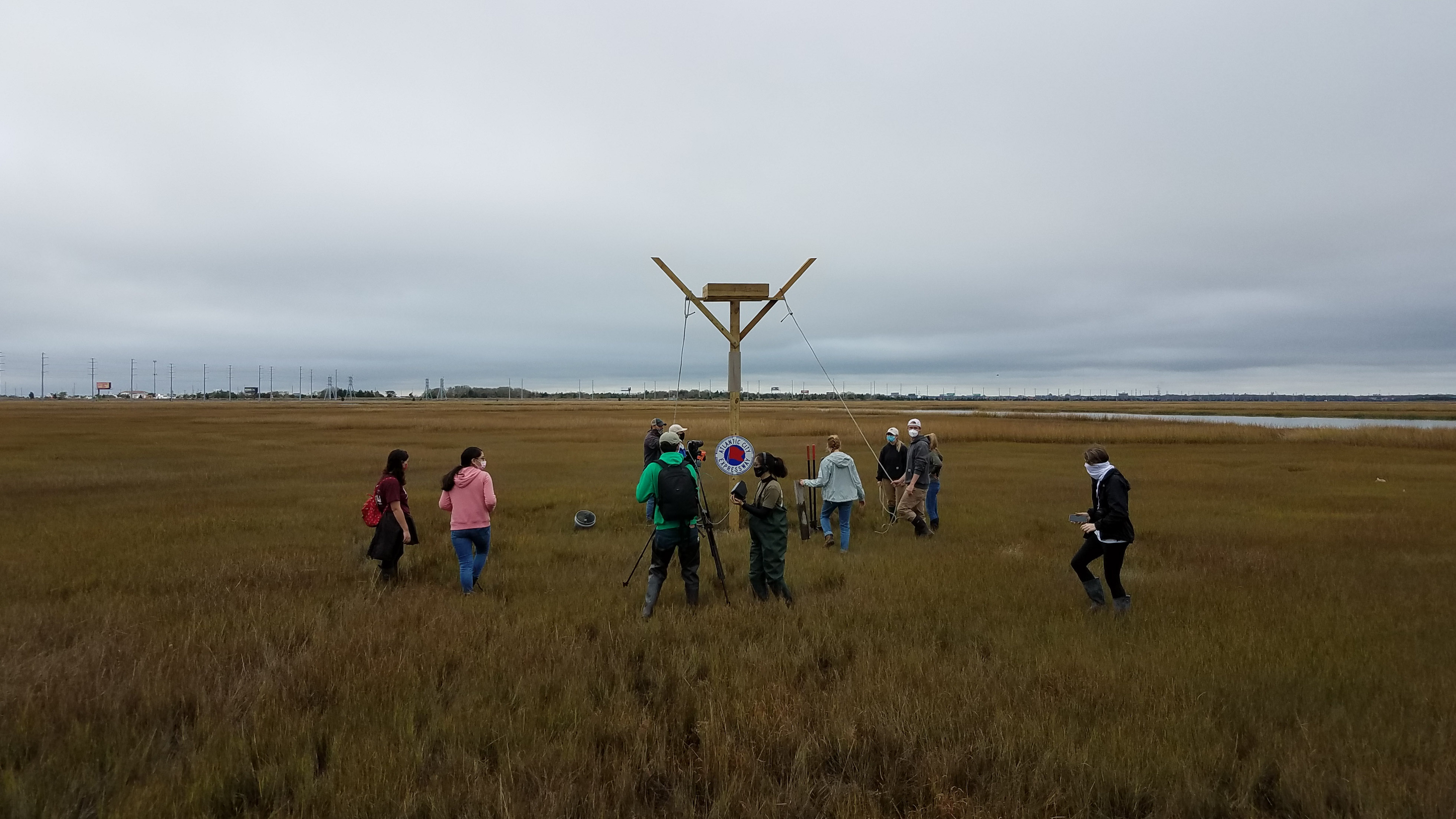 Before the designated wooden platforms, ospreys selected roadside billboards as nest sites.
SJTA's Roadway Environmental Advancement Initiative (REAdI) implements projects that support its motto aimed at "creating a roadmap to help wildlife navigate our mobile world."
The wildflower plantings along the expressway attract pollinators and are the most colorful and visible example, but just as important are safe passageways for wildlife to cross underneath the expressway as they move between regions and nest boxes for a variety of birds and bats.
Ader is currently analyzing osprey nest data to measure the impact of the platforms on the species' local population. Observers gathered data during the nesting season, and now with the platforms empty and the ospreys travelling south and arriving at their wintering grounds, Ader is drawing conclusions.
She's determining how many pairs nested, clutch size, fledge success rates and more. Her findings are entered online at http://www.osprey-watch.org/ where citizen scientists can also get involved in reporting nesting observations.
One unexpected observation was a great horned owl pair that attempted to nest in one of the platforms, Ader shared.
The latest SJTA project that Ader is involved with is the conversion of farmland in Mays Landing into a grassland that will especially benefit the endangered upland sandpiper and the threatened grasshopper sparrow. Native plantings and nest boxes will help to make the region attractive to grassland bird species, which are among the species in greatest decline due to habitat loss.
"Stevie Lynn impressed us with her quick understanding of the projects that were in the works here at the Authority. She understood quickly the complicated Grasslands Project and developed an effective relationship with the onsite personnel that included engineers, environmental scientists and planners. She provided valuable service to the Authority during her internship," said John McDonnell, a project manager at SJTA.
Ader credits her outdoorsy parents, childhood hiking trips and her grandmother signing her up for an Audubon summer camp for her interest in nature that has quickly evolved into an appreciation for the environment and a determination to protect it.
She lived on Sedge Island in the Barnegat Bay for a week during summer camp where she fished, kayaked and slept under the stars with the ospreys. "There were so many things I hadn't seen before. I had been to the beach plenty of times, but the bay was different. We saw so many different birds, plants and fish, and we are now slowly seeing them disappear," she explained, adding that she considers the saltmarsh a "second home."
Conservation, field research and getting the community involved in citizen science is where Ader is heading next.
"My passions are in the outdoors. I chose Environmental Science because I love being outside and being one with nature—being there and seeing how much the Earth gives us," said Ader.
Reported by Susan Allen