Spotlight On: Physical Therapy Student Grows from Hands-On Experience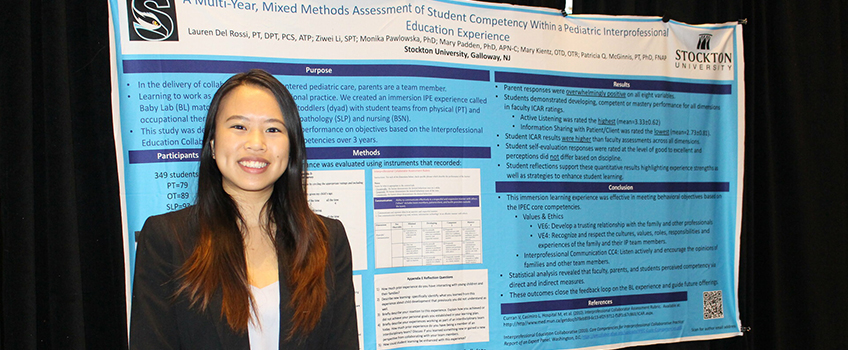 Galloway, N.J. – Ziwei Li of Somers Point aspires to be a physical therapist working in the home care or outpatient orthopedic setting one day. Li, who is currently enrolled in the Doctor of Physical Therapy Program at Stockton University, is gaining the experience and knowledge needed to help her realize those goals.
She has found her time in lab at Stockton to be the most valuable because students get the chance to hone their skills in a clinical setting. "Physical therapy is a hands-on craft that takes time and practice to perfect. We often spend late nights and weekends to ensure our future patients receive the best care. I also appreciate our Integrated Clinical Experience throughout the semester and clinicals during the summer where we are able to perform examination and intervention on actual patients," Li said.
As a graduate assistant to Lauren DelRossi, associate professor of Physical Therapy, Li has also gotten the opportunity to compile data and review literature for a project DelRossi was working on with other faculty members. In January, Li presented this collaborative research, "Multi-Year, Mixed Methods Assessment of Student Competency Within a Pediatric Interprofessional Education Experience," at the American Physical Therapy Association Combined Sections Meeting in Washington, D.C.
Li explained that interprofessional education (IPE) provides students an opportunity to learn about, with and from each other to improve the quality of care delivered. Parents are a considered a team member in this collaborative, family-centered pediatric care.
"Learning to work as a team requires intentional practice. For students to practice working as a team, the professors from different disciplines in graduate studies created an immersion IPE experience called Baby Lab matching parents and infants/toddlers with student teams from physical therapy, occupational therapy, speech therapy and nursing," Li said. "This study was designed to measure student performance on objectives based on the IPEC core competencies over three sequential years of Baby Lab with students of different, progressive cohorts. We hypothesized that Baby Lab would be a beneficial learning experience for all students regardless of their discipline."
Li said that participating in this research has been an amazing opportunity that brought her to national- and state-level conferences in the field of physical therapy. "I was able to meet experienced physical therapists who are the minds behind the cutting-edge research being published. I was also able to network with recruiters from all around the country and explore different settings that I want to work at in the future," Li said. "At Stockton, I was able to learn more about the research our professors are conducting and gain new skills such as using the SPSS software and literature review."
Li also presented this research during April at Stockton's annual Day of Scholarship and Graduate Symposium, as well as at the New Jersey American Physical Therapy Association Spring Conference in Plainsboro, New Jersey.
Besides assisting DelRossi on various projects such as research and course scheduling, Li is also a member of the Graduate Physical Therapy Club where she volunteers for fundraisers the club hosts that benefit different charities like Operation First Response. She also volunteers during Circle K events and Day of Service. She is slated to graduate in 2020 from the Doctor of Physical Therapy Program at Stockton and holds a bachelor's degree in Biology and minor in Business Studies from the University.
Reported by Mandee McCullough