Students Share Research at 19th Day of Scholarship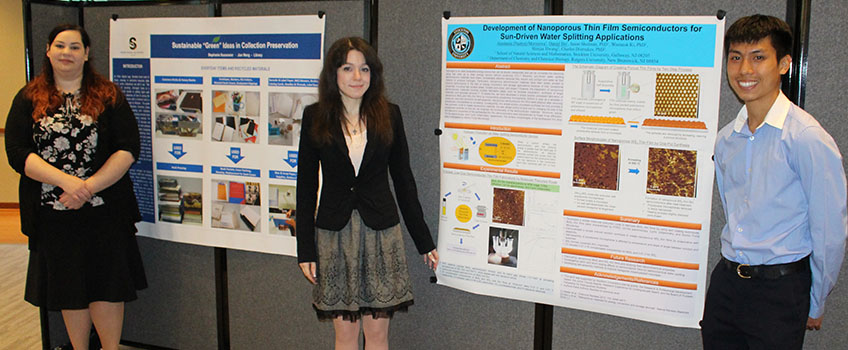 Galloway, N.J. - Do students who finish tests quickly score better than those who take longer?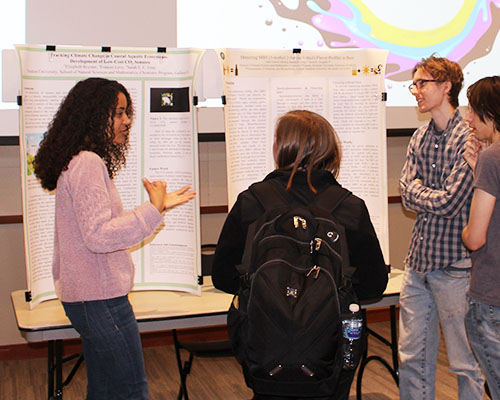 Not really, according to a study done by students Melissa Becker, Kenzie Hoinkis, Brandy-Lee Morris and Alexandra Price, working with Professor Michael Frank.
The research found that students who finished more quickly did get slightly higher grades, but Hoinkis said other variables could also be a factor.
"This is consistent with other research, but it's nice to replicate it in a different environment and still get similar findings," she said.
Projects in all disciplines ranging from detecting MBT in beer to the impact of yoga therapy were displayed and presented at the 19th Annual Day of Scholarship in the Campus Center on April 4. The event provides students and faculty the opportunity to display and share their work.
Presentations included examples of learning, engagement, global perspectives, sustainability and research. Some projects had community connections, including a project on Opioid Awareness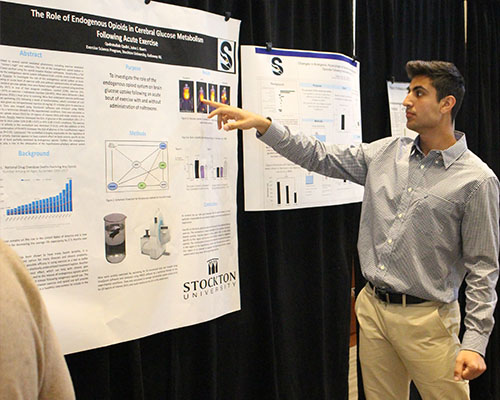 in Cape May County by Michele Previti, Sreelekha Prakash and Adam Smith, and Atlantic City Focus Groups on Cardiac Risk and Resiliency Factors by Rachel Kirzner, Katie Coburn, Maria Durante, Caleigh Hughes and Meghan Privitello.
More than 20 researchers presented throughout the day in meeting rooms and more than 25 poster presentations were displayed in the Campus Center. The event is sponsored by the Office of Research and Sponsored Programs.
A complete list of projects is at Day of Scholarship.
A gallery of photos is on flickr.
# # #
Contact:
Diane D'Amico
Director of News and Media Relations
Stockton University
Galloway, N.J. 08205
Diane.DAmico@stockton.edu
609-652-4593
609-412-8069
stockton.edu/media