Spotlight On: Kazi Sheds Light on Politics and Anti-Muslim Racism in New Book
Galloway, NJ -- Nazia Kazi, assistant professor of Anthropology at Stockton University, wants to start an important and often misunderstood conversation with readers in her recently published book, "Islamophobia, Race, and Global Politics."
Kazi was a college student during the tumultuous time of 9/11, the start of the Afghanistan War and the 2003 invasion of Iraq. It resulted in her becoming immersed and a little obsessed with studying American involvement in the Middle East.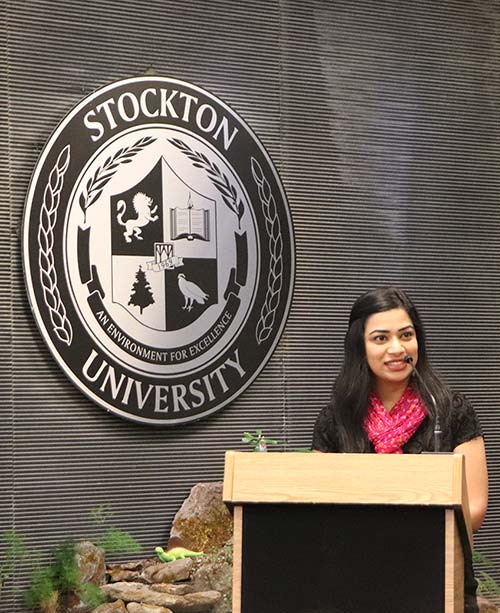 "What struck me at the time was just how little many Americans knew about this history. Perhaps more interestingly, I began to observe that it was often those who knew very little about the so-called Muslim world who had very strong opinions about what the U.S. should do there. I began to think very carefully about what we call in anthropology 'systemic ignorance' and how it shapes American politics," Kazi said, citing a poll done once that found a huge number of Americans were in favor of bombing the city of Agrabah, a fictional city from the Disney film Aladdin.
Her research and heightened awareness into this subject helped inspire her to write this book geared toward an introductory reader who is curious about American politics – both domestically and abroad.
"It shows the connections between U.S. politics and the history of American racism, looking specifically at the case of anti-Muslim racism, also called Islamophobia," Kazi said. "In this book, I show that Islamophobia is not a product of the Trump administration or the Republican party, as many people assume. Instead, I draw attention to the actions of a powerful nation like the United States and how these actions have shaped the landscape of race relations in the U.S."
She discusses her goal of inspiring readers to dig further into the concept of Islamophobia. "I hope it whets readers' appetites to go check out some of the more substantive books I reference in the text, so that they can continue the conversation I begin in the pages of my book," Kazi said.
She also hopes that her readers begin to rethink their conception of "politics." "In the U.S., we all too often think that political engagement means supporting a political party, participating in elections and fulfilling one's civic duties," Kazi said. She discusses how political change is often driven by people's mass movements that force society to transform into a more just one.
She has given a number of book talks and radio interviews already including a book launch at The Wooden Shoe in Philadelphia, a talk at Uncle Bobbie's Bookstore in Philadelphia, and an interview on D.C.-based radio show "Loud & Clear," and has more lined up across the country, in between teaching full time and advising students. She hosted a book signing on Feb. 19 at Stockton where students and staff could hear her read a few excerpts from the book and ask questions. She also was interviewed by The Intercept, an award-winning news organization that covers a variety of topics including national security, politics, civil liberties and more. Kazi is also working on a second book that focuses on the relationship between Muslim Americans and U.S. intelligence agencies, which is still in the early stages.
"But I must confess, my favorite part of my work is in the classroom, working with students. I'm excited to continue teaching my classes on race, migration and cultural anthropology, and I'm really pumped to offer a new class in the fall: Ethnography of the United States," Kazi concluded.
Kazi grew up in Schaumburg, Illinois and Dubai, United Arab Emirates before moving to Philadelphia where she currently lives. She also spent a decade in New York City. She has been teaching at Stockton since 2014 and holds a bachelor's degree in Economics from Northwestern University, a master's degree in Social Welfare from Columbia University, and a doctorate in Anthropology from The Graduate Center at the City University of New York.
Reported by Mandee McCullough