Minor in Migration Studies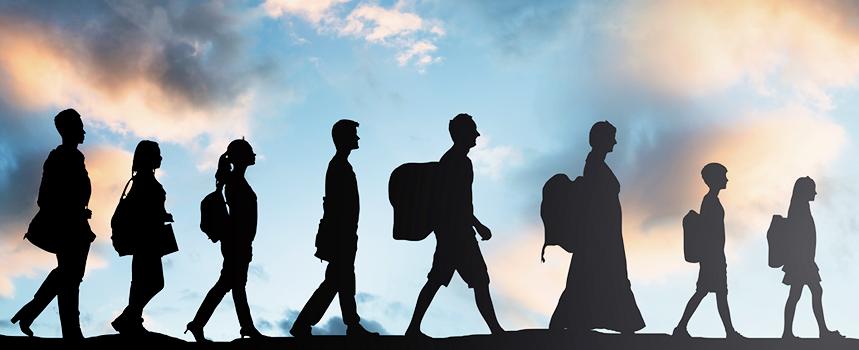 With over 250 million people living somewhere other than their home community, the interdisciplinary study of patterns of human migration and movement across territorial borders is a burgeoning field of study.
In recent years the study of migration has shifted in both its scope and theoretical framing. In particular, the field has grown considerably in its response to environmental changes, identifying patterns of "forced migration," recognizing internally displaced people, developing inclusive policies and emergency plans, and focusing on different experiences of migration.
Program Requirements
---
This minor requires a minimum of 20 credits, including a minimum of 8 credits at the 3000-4000 level. Students choose from a number of program and GENS elective courses, along with two types of specifically-designated courses (introductory core and capstone). As for pre-requisites, a number of core and elective options have been provided, meaning students from a variety of major-field backgrounds likely will meet introductory prerequisites for core or elective courses.
Requirements for Achieving the Minor Structure (5 courses / 20 credits):
Core Content: Introductory Options (ONE COURSE)
[Minors must complete at least ONE of the following before taking the Capstone course]
ANTH 2245 - RACE, ETHNICITY, AND IMMIGRATION (I, Victimology, SL)
BIOL/ANTH 2200 - HUMAN ADAPTATION AND VARIATION
CRIM 2216 - HOMELAND SECURITY
GAH 2378 - GLOBALIZATION, MIGRATION, AND ART
GAH 2361 - MIGRATION AND IMMIGRATION (H, Transfer Sem)
LITT 2305 - INTRO TO POSTCOLONIAL LITERATURE
POLS 2245 - RACE AND POLITICS (W2)
Disciplinary and Interdisciplinary Electives (THREE COURSES)
1 Disciplinary/Program course from approved list (See List Below)*
1 General Studies course from approved list (See List Below)*
1 3000-level Disciplinary/Program or General Studies elective (See Full List Below)
Core Content: Capstone (ONE COURSE)
GAH 3651: Seminar in Migration Studies
Elective Options Disciplinary/Program Courses*
HIST 3608 - NATIONALISM IN ANTIQUITY (H, W2)
LITT 2306 - CULTURES OF COLONIALISM (I, W2, Global Studies)
LITT 2309 - LITERATURES OF ASIA-PACIFIC
LITT 3206 - LITERATURE AFTER THE HOLOCAUST (Holocaust and Genocide Studies)
LITT 3318 - LITERATURE AND GENOCIDE (W2, Holocaust and Genocide Studies)
PHIL 2201 - AFRICAN-AMERICAN PHILOSOPHY (I, Africana Studies)
POLS 2274 - US FOREIGN POLICY
POLS 3345 - POLITICS OF IMMIGRATION
SOCY 3628 - URBAN SOCIOLOGY (SL)
o SOCY 3650 -THE PATHS TO U.S. CITIZENSHIP
o SUST 2701 - INTERNATIONAL SUSTAINABLE DEVELOPMENT
o SUST 3100 - ENVIRONMENTAL RISK COMMUNJCA TION AND MANAGEMENT
o SUST 3300 - ENVIRONMENTAL POLICY AND LAW (V)
General Studies Courses
GAH 2216 - PUERTO RICAN HIST & CULTURE (H, LACS, W2)
GAH 2269 - MULTICULTURAL LATIN AMERICA (I, F)
GAH 2406 - PHILIPPINE CULTURE & HISTORY (I)
GIS 4480 - INTERNATIONAL TOURISM AND DEVELOPMENT
GSS 2128 - DIVERSITY ISSUES (I)
GSS 2211 - HUMAN GEOGRAPHY (I)
GSS 2321 - PEACE AND CONFLICT STUDIES (V, Victimology)
GSS 2196 - RACE AND NATION THROUGH HISTORY
GIS 3640 - US AND ISLAMIC WORLD (I, Global Studies)
* Students may take additional courses from the Introductory Options for Disciplinary/Program & General Studies requirements.
Additional Information
---
If you have any questions about the minor, then please contact coordinators:
Coordinators:
Dr. Jess Bonnan-White
Jess.Bonnan-White@stockton.edu
609-652-4453