Stockton Holocaust Resource Center Presents at International Summit on Resilience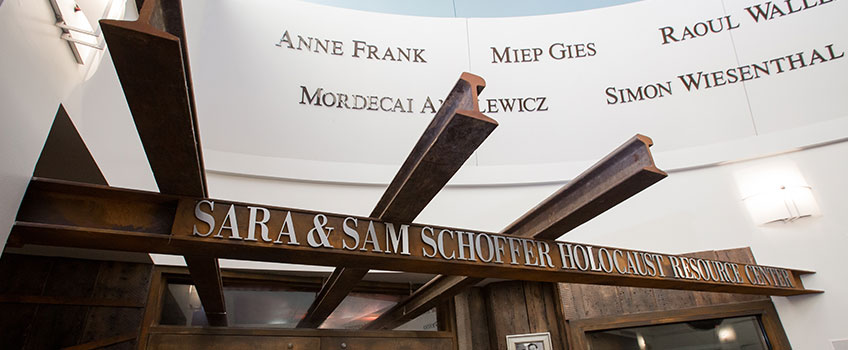 Building resilience begins with empathy and an understanding of the past.
A panel representing the Sara and Sam Schoffer Holocaust Resource Center shared their experiences and how they are inspiring future generations with an audience of international leaders in academia, law enforcement, cybersecurity, government and communications at the Building Resilience Summit June 12 at Stockton University Atlantic City. Robert Gregg, dean of the School of General Studies, moderated the discussion.
Irvin Moreno-Rodriguez, a Criminal Justice graduate who now works at the Holocaust Resource Center, told a story. He was working as a loss prevention manager when one of his delivery drivers said, "I'm done. I'm not delivering to this person anymore."
So Moreno-Rodriguez accompanied the driver to the house on the next grocery delivery, and together they knocked on the door.
Unknowingly, the sounds of their fists innocently banging on the door took the homeowner back to Nazi-occupied Europe.
"Knocking on the door was the mistake because, to make a long story short, this person was a Holocaust survivor. And she told me that every time somebody knocked on the door, she would go back to that time period during the war. That day, a lesson was reinforced for me, and my driver learned something new," said Moreno-Rodriguez.
"I'm a product of the education that Stockton University provides, and what's always stuck with me is my ability to look at issues and problems from a different perspective—the human perspective," he said.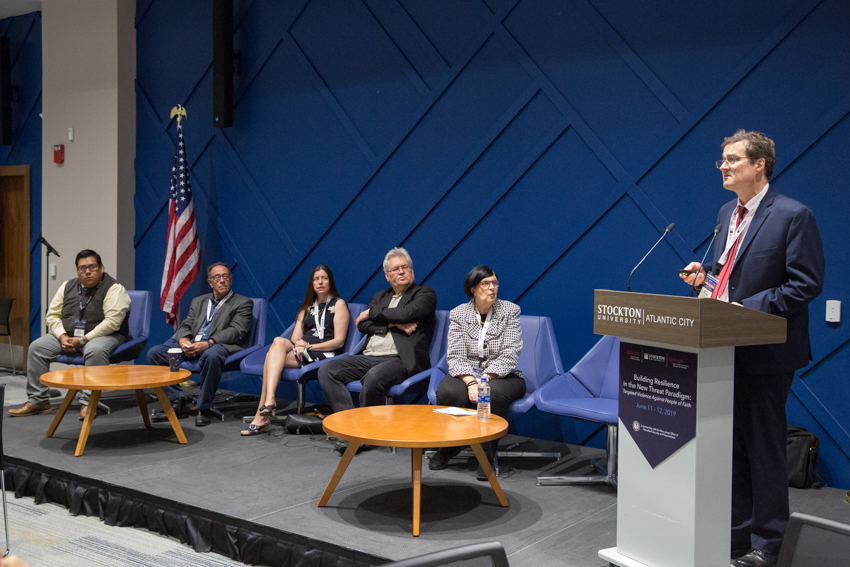 Gail Rosenthal, executive director of the Holocaust Resource Center, shared how the learning experience begins before visitors even step foot in the Center. The entrance prominently displays railroad tracks that jut out above the doorway. Why do we have railroad tracks, she asked the audience.
Someone responded, "They were transportation."
Victims of the Holocaust were transported to work and death camps via a railroad network. A film documents the journey of a section of tracks from Bialystok, Poland to Stockton where they now serve to carry on a piece of history.
After World War II, some Holocaust survivors came to the United States, but language created a barrier when they sought employment," Rosenthal explained.
In the 1950s and 1960s, the Baron de Hirsch Fund for independent farmers in rural communities and interest free loans from the Jewish Agricultural Society provided opportunities. Leeds Point Road in South Jersey had a number of poultry farms owned and operated by survivors, explained Rosenthal.
Local survivors have passed their stories on directly to Stockton students.
Judith Vogel, associate professor of Mathematics, had two memories of the Holocaust from a film she watched in high school—emaciated bodies and the bulldozers that moved them. When she was a student at Stockton, she took the University's first class about the Holocaust, taught by survivor Murray Kohn. "It changed my life," she said.
Vogel is coordinator of Stockton's minor in Holocaust and Genocide Studies program. "Survivors from the community wanted to take an action of resilience to respond to that horrific time. Our response is the action of education," she explained.
The goal of that community of survivors was to reach generations long after any of us are here, she added.
Even one course can make a difference. The classes prepare students to become "citizens of the world who look beyond themselves," said Vogel.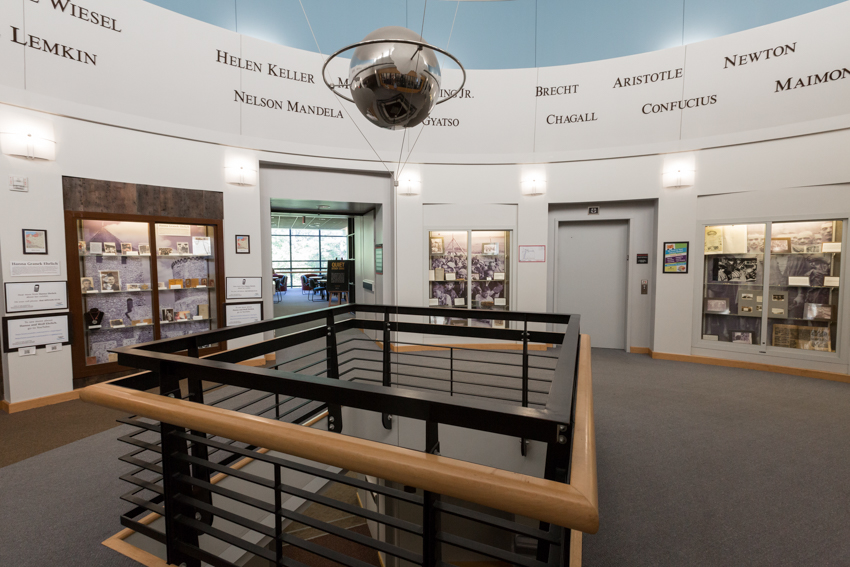 Steven Marcus, coordinator of the Holocaust and Genocide Dual Credit program, noted the "shrinking resource of survivors" and the importance in "our job to promote resilience" so that genocides are never forgotten.
For the dual credit program, Marcus teaches about genocide and the Holocaust in local high schools, and students earn college credits.
"I tell them, 'tag you're it,' and infect them with the bug to pass on the legacy of resilience," he explained.
Michael Hayse, associate professor of History, spoke about the Master of Arts in Holocaust and Genocide (MAHG) Studies program that was the first program of its kind in the country built on the foundation of historical studies.
"It's not the only thing, but we have to start with history. History teaches us empathy and the mechanisms that lead to hatred and stereotypes," he said.
The public is welcome to visit Stockton's Holocaust Resource Center, which offers guided tours by appointment. School groups regularly visit and the Center hosts monthly luncheons for local survivors. Among the online resources offered are excerpts from memoirs written by Holocaust survivors and World War II veterans with editor Maryann McLoughlin.
For more information on the Center, visit https://stockton.edu/holocaust-resource.
_Reported by Susan Allen