Holocaust and Genocide Studies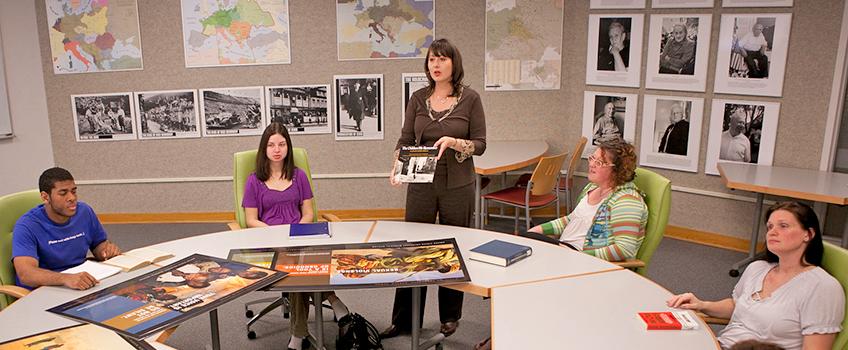 The minor in Holocaust and Genocide Studies provides a broad interdisciplinary study of the Holocaust and other genocides of the 20th and 21st centuries.
Studies about the Holocaust and other genocides address a central tenet of education: What does it mean to be a responsible citizen in a democratic society? Such study can help students realize that:
The genocide of the Jews during World War II and the Nazi Era was a "watershed event" in human history.




Democratic institutions and values are not automatically sustained but need to be appreciated, nurtured, and protected.




Silence and indifference to the suffering of others, or to the infringement of human and civil rights in any society—however unintentionally—serves to perpetrate the problems.

Genocides are not "accidents" in history— genocides occur because individuals, organizations and governments make choices that not only legalize discrimination but allow prejudice,hatred and ultimately mass murder to occur.
In view of the mandate by the State of New Jersey requiring the study of Holocaust and genocide-related issues as part of school curricula, some of the courses in the minor may be attractive to students who are pursuing a major and who also may eventually want to obtain certification in education. The Holocaust and genocide minor provides a good preparation for Stockton undergraduate students who plan, after graduation, to enroll in the University's Master of Arts in Holocaust and Genocide Studies (MAHG) program. Students wishing to pursue graduate studies in Holocaust and Genocide Studies can apply for direct entry into the Master of Arts in Holocaust and Genocide Studies and the Genocide Prevention Certificate programs and are encouraged to take up to two graduate courses through the Graduate Course Access form.
---
Program Organization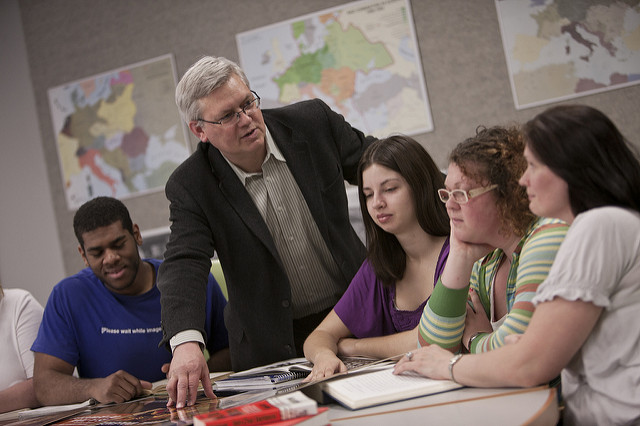 Completion of the minor requires a minimum of twenty credits in courses related to the minor. A range of relevant classes is offered under both General Studies and program acronyms. These undergraduate courses provide the opportunity for a broad overall investigation of Holocaust and Genocide Studies as well as an in-depth consideration of specific issues related to these areas.

Courses relevant to the minor are offered every semester and are open to any student at Stockton, and on a space-available basis, to non-matriculated students. Every formal course in the minor carries four credits. Independent study courses may also be carried out with faculty members who teach in the minor. However, no more than one independent study course may be used toward meeting the requirements of the minor and that independent study course cannot be one of the three required courses.
Requirements for Completion of the Minor
There are no special requirements for admission into the program. There are no special minimum grade requirements beyond those required by the University for graduation. While there are no special requirements for admission into the minor, students must take and pass a minimum of 20 credits—five courses, each of which is four credits—related to the minor in Holocaust and Genocide Studies, including two (2) required courses: GSS 2240, The Holocaust and GAH 2114, Perspectives on Genocide. A minimum of three (3) additional courses in Holocaust and Genocide Studies beyond the two (2) required courses must be completed. These should be selected from the list of courses provided below.
GAH 2114 Perspectives on Genocide
GSS 2240 The Holocaust
Elective Courses
(A minimum of three additional courses selected from the list)
ANTH 2220 Ethnicity
GAH 2112 Art, Politics and the Nazi Era
GAH 2113 Non-Jewish Victims of the Nazis
GAH 2119 History and Memory of Nazi Era
GAH 2156 History of Antisemitism
GAH 2319 Music and the Holocaust
GAH 2326 Art and the Holocaust
GAH 2362 The Armenian Genocide
GAH 3215 Literature of Genocide and Upheaval
GAH 3234 Holocaust Literature
GAH 3248 Media, Public Perception & Genocide
GEN 2238 The Holocaust and Children's Literature
GEN 2308 Children of the Holocaust
GIS 3418 Witness to Genocide
GIS 3601 Seminar on the Holocaust
GIS 3658 Women and Genocide
GIS 3659 Genocide, War Crimes and Law
GIS 3660 The Impact of the Holocaust
GIS 3662 Will Genocide Ever End?
GIS 3665 The Great War and the Armenian Genocide
GIS 3666 The Holocaust in Film and Literature
GIS 3667 Families in Genocide: History and Memory
GIS 3671 The Holocaust and the Christian World
GIS 4482 Climate Change, Conflict and Genocide
GIS 4641 Approaches to Auschwitz
GSS 1057 War, Nationalism and Genocide
GSS 2190 Ordinary Evil
GSS 2196 Race and Nation in History
GSS 2216 Holocaust and Genocide Denial
GSS 2248 Business and Nazi Germany
GSS 2328 Native America and Genocide
GSS 2353 America and the Holocaust
GSS 2432 Civic Mindfulness in the 21st

century
GSS 3172 Ethnic Violence and Nationalism
GSS 3211 Refugees in the Modern World
GSS 3212 The Rwandan Genocide
GSS 3240 Holocaust and Genocide Education
GSS 3278 Study Tour: Holocaust
GSS 3946 Holocaust Resource Center Internship
HIST 2117 Modern Germany
HIST 3615 Hitler, Mussolini and Stalin
HIST 3616 History of the Third Reich
LITT 3206 Literature after the Holocaust
LITT 3318 Literature and Genocide
Faculty in the Holocaust & Genocide Studies Minor program
Dana Lloyd
Steven Marcus
Mary Maudsley
Christina Morus
Richard O'Meara
Anat Plocker
Aleksondra Pomiecko
Aleksondra.Pomiecko@stockton.edu
Gail Rosenthal
Raz Segal
Judith Vogel
Charles Weisbecker
Declaration of Minor: Step-by-Step guide
Students who wish to declare a minor in Holocaust and Genocide studies should complete a "Change of Major/Minor" form through their student go-portal. A step-by-step process is provided below:
Go to www.stockton.edu
Click the "go" icon in the upper right corner of the website
Enter your go-portal login credentials
Click "Student Services"
Under "Student Tools" on the left side of the webpage, click the "Change of Major/Minor" link.
Complete the Google form
If you have any questions, contact your preceptor or the Holocaust & Genocide Studies Minor Coordinator, Judith Vogel (Judith.Vogel@stockton.edu).
Special Opportunities for Students in the Holocaust & Genocide Studies Minor
Undergraduates studying for the minor in Holocaust and Genocide Studies are eligible to apply to The Richard Stockton University Foundation for special undergraduate scholarships and book awards specifically designated for students interested in the study of the Holocaust. These include the George Greenman Memorial Scholarship, the Marsha Grossman Scholarship, the Chipkin Memorial Scholarship and the Koopman-van de Kar Scholarship.

A regional Holocaust Resource Center, co-sponsored by the University and the Federation of Jewish Agencies of Atlantic and Cape May Counties, is housed in the Stockton University Library. Opened in 1990, the Center serves as a focal point for the study of the Holocaust and other genocides. The Center houses artifacts and oral histories, in addition to many books, videos and other resources. Students are able to serve an internship for academic credit at the Holocaust Resource Center. The Center is easily accessible. Its trained and experienced staff is available to provide guidance.

Stockton has very strong library and media collections in the area of Holocaust and Genocide Studies, augmented by a recent substantial grant for the further development of our print, media and audio-visual holdings.

The Ida E. King Distinguished Visiting Scholar in Holocaust and Genocide Studies brings to Stockton on a rotating basis, for one or two semesters each year, scholars of international renown to teach about the Holocaust and other genocides and to pursue scholarly work in their field.

Faculty who teach in the area of Holocaust and Genocide Studies come from a variety of disciplines and from various schools of the University. In addition, several half-time faculty members hold appointments in Holocaust and Genocide Studies. In addition to the Undergraduate Minor in Holocaust and Genocide Studies, Stockton also offers a Master of Arts degree in Holocaust and Genocide Studies.

Opportunities for relevant overseas study are available through Stockton's Coordinator of International Education. Stockton students may also undertake credit-bearing study visits (combined with subsequent independent studies) during the winter break or in the summer. Scholarships to help defray part of the cost of such study are often available.
Additional Information
If you have any questions about the minor, then please contact Holocaust and Genocide Studies Minor Coordinator:

Judith Vogel
609-626-5548
Judith.Vogel@stockton.edu