Students Help Holocaust Survivor Tell Family Story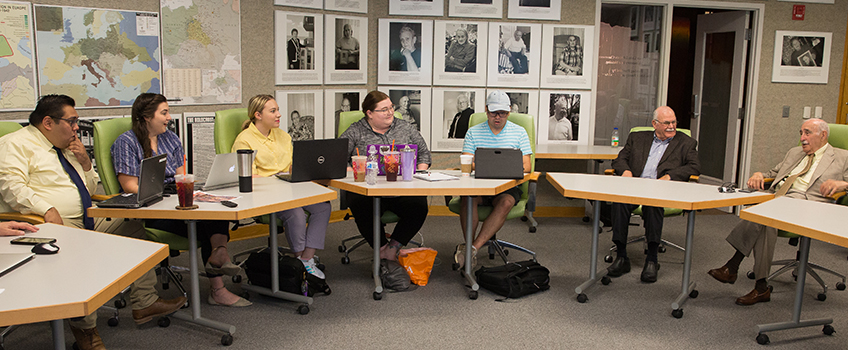 Galloway, N.J. - Stockton University history major Nicole Vega of West New York looked around the empty room next to the Sara and Sam Schoffer Holocaust Resource Center at Stockton and visualized how the story of Holocaust survivor Leo Ullman would soon fill the space.
"His life went from his book, to this room, to something that other students will learn," she said. "I love interactive history, and to be a part of this is just awesome."
Vega's enthusiasm is something Holocaust Center Executive Director Gail Rosenthal wants all students to feel when they visit the new room now under construction. It is dedicated to telling the story of Ullman and his family, and how as Dutch Jews they were saved from death during the Holocaust by non-Jews in the Netherlands willing to hide them from the Germans.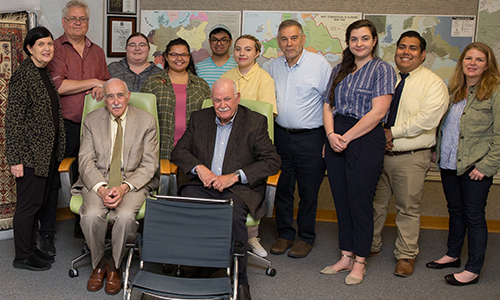 "This is exactly what we want," Rosenthal said as Vega talked about reading Ullman's book, "796 Days" about his family's time in hiding, and how thrilled she was to actually meet the author.
As the number of Holocaust survivors dwindles, those who remain are looking for ways to make sure the cry of "Never Forget" lives on for future generations.
A gift from Ullman is funding the new room and student workers and interns in the Holocaust Center are playing an active role in helping to create the interactive digital displays and exhibits that will tell the story of the Ullmans and the murder of Dutch Jews during World War II.
"I just started a month ago and this is my first experience with an exhibit," said Literature major Taylor Ketcham of Toms River. "This is something I am interested in doing as a career, and I'm learning the amount of work it takes and how interactive museum work has become. I'm also learning a lot about the Holocaust."
During a recent visit by Ullman and his brother, Hank, students explained their roles in helping to develop the exhibit, and got feedback from the Ullmans, who were duly impressed.
"This is terrific, amazing," Leo said.
"You can see it took a lot of work," Hank added.
Recent graduate Caleb Rios did work on the Resistance and the occupation of Amsterdam and is also working on the navigation of the interactive site and "making sure it is usable and makes sense."
Program Assistant Morgan Everman explained how they added some geographical information about the deportations from the Netherlands to various concentration camps and death camps throughout Nazi occupied Europe "because people might not know it." She explained how visitors will be able to tap on a photo of a survivor and hear their story.
"This is a really unique experience because the work is being done with students on a very professional level," Everman said. "This is giving me and the students an experience they wouldn't get anywhere else."
Stockton Associate Professor of History Michael Hayse and historian Michael Berenbaum, who was also a project consultant on the Holocaust Center, are working with the staff and interns to make sure the exhibits are historically accurate and done in time for the planned opening of the room in the fall. Stockton graphic artist Ryan Schocklin is designing the interactive display.
Hayse said students have had excellent ideas on how to make the exhibit interesting to a younger generation.
"We have to do this in a way that keep's peoples' attention," he said.
Students have put their hearts into the work. Ullman tells the story of riding on the back of a bicycle when his family came to get him when it was safe. Hayse said when Stockton graduate and Holocaust Center program assistant Irvin Moreno-Rodriguez went to Amsterdam on a trip with Hayse, he rode a bike as well to get a feel for the experience.
Moreno-Rodriguez, who has been involved in every aspect of the project, said they are designing it with a focus on the future of Holocaust studies.
"We want to make sure the generations after us understand what happened," he said. "The exhibit is interactive and designed for young people today and Morgan and I are a bridge to the younger generation and how they are learning."
Moreno-Rodriguez said the trip to Amsterdam was one of the most memorable times of his life.
"We went to where Leo and his parents were hidden," he said. We took pictures of what the area is like today so we can show before, during and after the war."
One of his most exciting moments was finding the archives of a women's organization in which that Leo's mother was a member.
"(Leo) talked about it as being a sorority, and their role in helping his family. But it was really more of a student-run feminist organization that was involved in politics. We found some amazing primary sources. That trip will always stay with me."
# # #
Contact:
Diane D'Amico
Director of News and Media Relations
Stockton University
Galloway, N.J. 08205
Diane.DAmico@stockton.edu
609-652-4593
609-412-8069
stockton.edu/media