Video helps Spanish Speakers Apply for Passports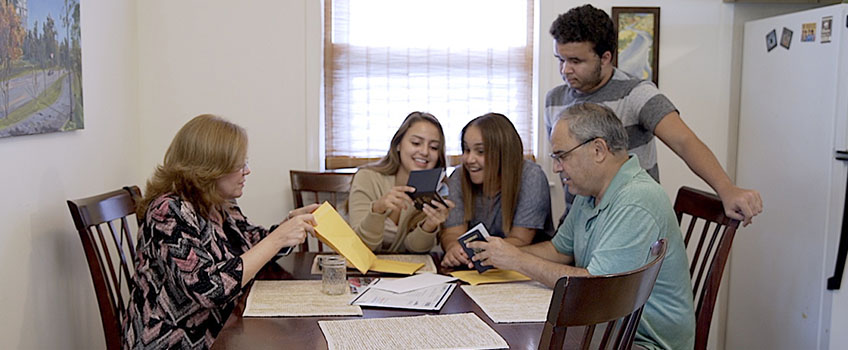 Galloway, N.J. – A video developed by Stockton University students, faculty, and staff is helping Spanish speakers apply for U.S. passports.
The project, developed through Stockton's Diplomacy Lab, was led by Jessie K. Finch, assistant professor of sociology, and Merydawilda Colón, executive director of Stockton's Center for Community Engagement.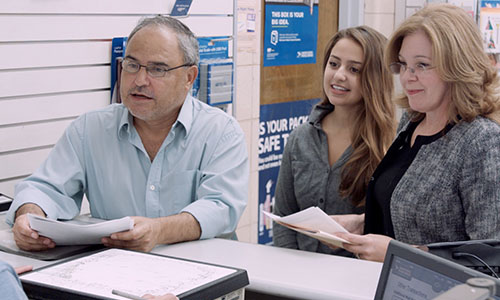 Working with Andrés Rodriguez and Rebekah McNeely of Passport Services, the team developed a script and storyboard in Spanish that was then brought to life by members of Stockton Production Services, specifically Jeffrey Topping, Amanda Martinez, Shannon Aungst, Mark Jackson, and Scott Huston.
The video stars Colón, Stockton undergraduate student Alejandra Londoño and her father Rodrigo Londoño, Stockton alumna Lidia Martinez and her son Amado Placencia, Jr. U.S. Postal Service clerk Gloria Guzman makes a special guest appearance.
The seven-minute film walks viewers through a 10-step process to obtain a passport for the first time.
"The goal of this project is really to demystify a complicated process for a population that may not have access to a wide-range of resources," Finch said.
Finch said Londoño, whose parents are from Colombia, was instrumental in setting up free naturalization classes offered by the Stockton Center for Community Engagement. Classes are held each from 6-7:30pm on Tuesdays from September through May at the Carnegie Center in Atlantic City.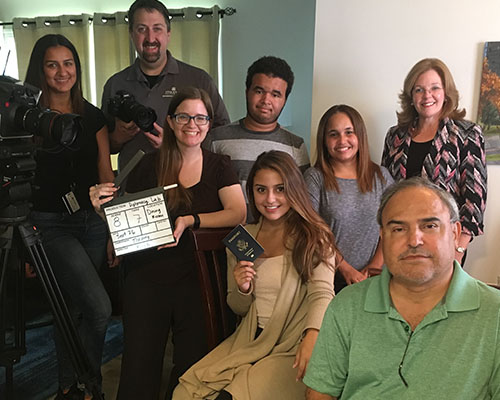 "Often the first thing the new American citizens want are to register to vote and to get a U.S. passport," Finch said. "This video project was a natural extension of the naturalization classes."
Having taught community naturalization classes for three years in Atlantic City for permanent residents who are becoming citizens, Finch and Londoño had ample practice at helping break down complex government procedures.
The video can be viewed on the U.S. Department of State channel and on Stockton's Diplomacy Lab Projects website. It can also be viewed on Stockton's You Tube channel.
Launched in 2013, Diplomacy Lab is a partnership between the U.S. Department of State and U.S. colleges and universities. Partner schools conduct research around various topics presented to them by the State Department in areas including climate change, democracy and human rights, counterterrorism, global health, and energy security.
Over the course of a semester, professors guide students in developing a final work product that accomplishes the goals outlined by the Department. Students have opportunities throughout the semester to discuss their research with State Department officials.
Stockton Associate Professor of Political Science Tina Zappile is Stockton's Diplomacy Lab Project coordinator.
More information and other Stockton projects can be found at stockton.edu/diplomacylab/
# # #
Contact:
Diane D'Amico
Director of News and Media Relations
Galloway, N.J. 08205
Diane.D'Amico@stockton.edu
609-652-4593
stockton.edu/media