Past Projects
Faculty, staff, and students from ECON, POLS, MAGH, MARS, PHYS, PSYC, SOAN, and the Center for Community Engagement have completed the following projects:
Click to read this published report in a top-ranking peer-reviewed journal: Vijaya, Ramya M., Anthony Wilent, Jessica Cathcart, and Ryan Fiorellini. "Economic underpinnings of violent extremism: A cross country exploration of repeated survey data." World Development 109 (2018): 401-412.
Click to review media coverage of this research by political scientist Tina Zappile and her research methods students: 1, 2, 3: "Namibia's Voting Behavior in International Bodies"
Click to read this Monkey Cage article authored by Ramya Vijaya, Professor of Economics, and her students Monica Miller and David Fletcher:"Within 7 years, refugees are self-sufficient and contributing to the U.S., on average"
"The Influence of Student Activism on Domestic and Foreign Policy": Elisa von Joeden-Forgey, Associate Professor of Holocaust and Genocide Studies
"Marine Policy at the Bottom of the Planet": Elizabeth Lacey, Assistant Professor of Marine Science and Mark Sullivan, Associate Professor of Marine Science and their students
Click to read this report: "Celebrating 70 Years: The History of U.S. Bilateral Assistance to Nepal" by political scientists Tina Zappile and her research methods students
Presentation: "Who Runs the World? Girls (& Women) in STEM": Kaite Yang, Assistant Professor of Psychology, and Psychology undergraduate students (paper accessible here)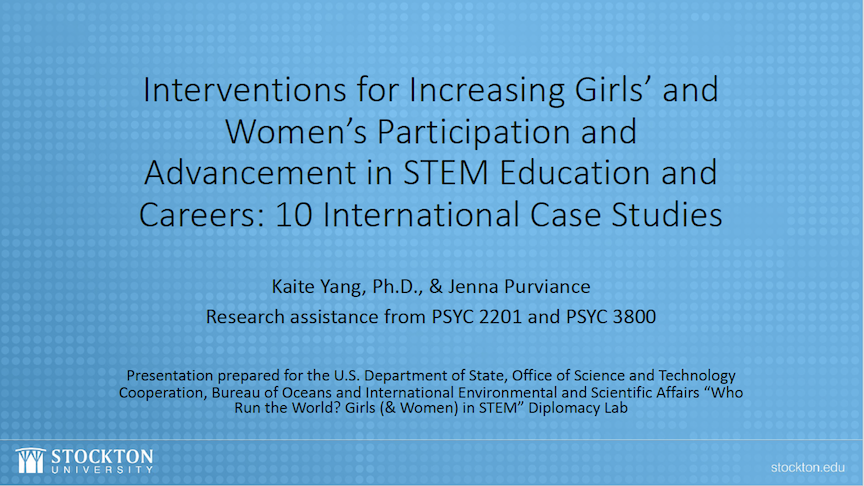 Video: "Explain a Complicated Process – Passport Website Instructional Videos in Spanish": Jessie K. Finch, Assistant Professor of Sociology, and Merydawilda Colón, Executive Director of Stockton Center for Community Engagement