Stockton to Host Summer CSI Camps for High School Students
For Immediate Release, 2016 file photos on Flickr
Contact: Maryjane Briant
News and Media Relations Director
Galloway, N.J. 08205
Maryjane.Briant@stockton.edu
(609) 652-4593
stockton.edu/media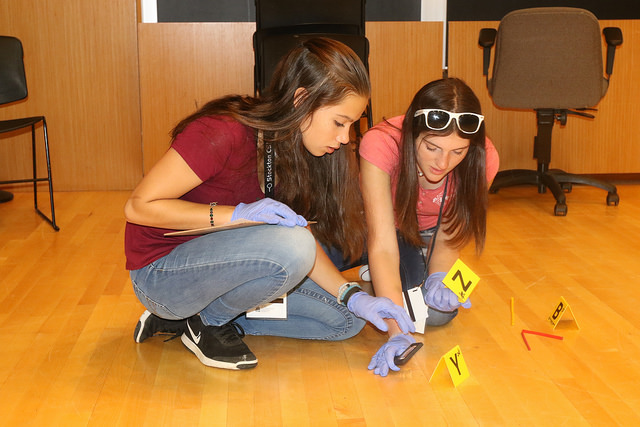 Galloway, N.J. - Stockton University this summer will host Stockton CSI, a residential camp for high school students interested in gaining hands-on experience with a criminal investigation and trial. Students are invited to take part in a five-day camp where they will explore the fields of criminal justice, law enforcement and forensic psychology.
Participants can choose from one of three sessions: Camp 1 from July 16-20; Camp 2 from July 23-27; and Camp 3 from July 30-Aug. 3.
Throughout the week, campers will work as part of an elite team of investigators and professionals to help solve a murder. They will be involved with every phase of the legal process, from the crime scene investigation to the criminal murder trial.
Participants will gain experience with evidence gathering and testing techniques, such as DNA analysis, impressions, forensic odontology (bite marks), ink analysis, fingerprints, chemical analysis, hair and fibers, blood typing and spatter analysis.
Questioning suspects and witnesses will also be a key part of the process, as campers will use the same techniques as investigators to learn the facts in a case, determine whether people are telling the truth or lying, and when individuals' memories may be distorted.
Finally, campers will learn how to prepare a case for trial including elements such as jury selection techniques, strategies for presenting their cases and making arguments in a camp courtroom. They will also learn what life is like in jail for those awaiting trial and life in prison for those who are convicted.
The all-inclusive price of $859 for the camp includes all meals, room and board, classes taught by experts, hands-on investigative and trial experience, and field trips to the Atlantic County Jail and the Medical Examiner's Office.
Visit stocktoncsi.com to register.