Anna Deavere Smith Keeps Audience Spellbound with 'Snapshots: Portraits of a World in Transition'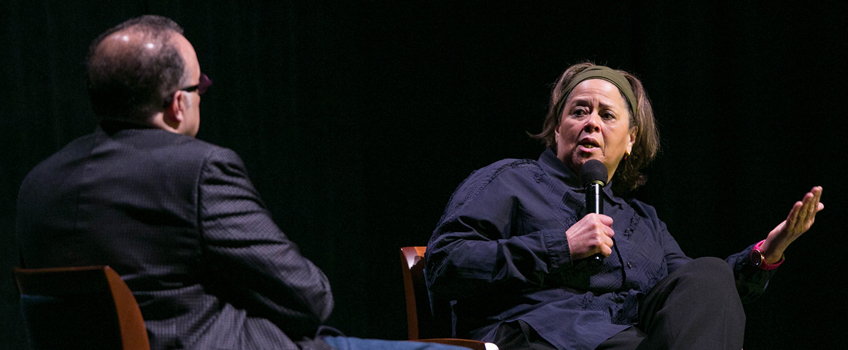 For Immediate Release; with photos on flickr
Contact: Maryjane Briant
News and Media Relations Director
Galloway, N.J. 08205
Maryjane.Briant@stockton.edu
(609) 652-4593
stockton.edu/media
Galloway, N.J. - Anna Deavere Smith brought the audience of over 800 people to their feet in the Sports Center tonight with her portrayals of people from all across America in "Snapshots: Portraits of a World in Transition," at Stockton University.
The nationally known actress, playwright and educator recreated moments from conversations she has had with 250 people, sparking a variety of emotions and points of view on timely issues.
She "did" Allen Bullock, a teenager who got six months in jail for taking out his frustration over Freddie Gray's death in Baltimore police custody by smashing a traffic cone through a police car's windshield.
"Police ask me - Why am I walking on the street? Not out late, none of that. Just being police, what they do....If they ain't got no reason, they find one. They going to beat you ....they going to do what they going to do."
Black police do it, too, Bullock told Smith when she interviewed him. "This ain't no racist thing. This is a hate thing."
Her portrayals ranged from a Jewish woman after the Crown Heights riots in Brooklyn in 1991, to a Korean shopkeeper after the Los Angeles riots in 1992, to Congressman John Lewis, who heard an ex-Klansman apologize decades later for beating him in 1961, to the late, former Texas Gov. Ann Richards and a woman operating a South African orphanage/hospice for children with AIDS.
The Korean American woman said she was "swallowing her bitterness" after the L.A. riots that destroyed or damaged over 1,000 buildings and left 50 dead, in reaction to the acquittal of policemen who were videotaped beating a black man, Rodney King, after a high-speed chase.
Young Sun Han's people were caught in the crossfire. "I used to believe America was the best. I still do.....But after the turmoil and financial problems and mental problems.... I realized Korean Americans were left out from this society. We were nothing!"
Smith-as-Han complained that for her people, there was no Welfare, no food stamps, no politicians representing them. After two L.A. police officers were convicted of beating King in a second, federal trial - "African Americans in South Central were having a party," Smith-as-Han said. "'Justice has been done.' Where do I find justice?"
Smith became Lewis, a civil rights icon who was brutally beaten in the South in the fight for the right to vote. Smith-as-Lewis told of how moved he was when the young new police chief of Montgomery, Alabama apologized on behalf of officers 50 years ago who had failed to protect the Freedom Riders, and gave Lewis his badge.
"It was a moment of grace," Smith-as-Lewis said. Lewis also told Smith about a meeting with an ex-Klansman from Rock Hill, N.C., who came to his office in 2009 to apologize or having beaten him on May 9, 1961.
"I said, 'I accept your apology,'" said Smith, channeling Lewis. "I have seen that guy four different times since then and he called me 'brother' and I called him 'brother.'"
In response to a question after her performance about whether art can influence public policy, Smith said, "This isn't really a show, it's a call to you."
Smith is currently the artist-in-residence at the Center for American Progress, a progressive policy research and advocacy organization in Washington, D.C. In 2015, she was named the Jefferson Lecturer by the National Endowment for the Humanities, which termed the lecture "the highest honor the federal government confers for distinguished intellectual achievement in the humanities."
Over the past three decades, she has been the recipient of a MacArthur "genius" grant, a Guggenheim fellowship and a professorship at Stanford University.
"Trying to become America word-for-word does not pay the rent," Smith told the audience, alluding to her television work on such shows as The West Wing, Nurse Jackie, Black-ish and Madam Secretary.
Deavere Smith's appearance was the second in the Dean C. and Zoë Pappas Visiting Scholar series. The program was endowed in 2012 by Dean Pappas, a university trustee who died in 2016, and his wife, Zoë. As an undergraduate at Dickinson College in 1961, Dean attended a speech by Dr. Martin Luther King, Jr., an experience which had a life-changing effect on him. The Visiting Scholar program seeks to expose the campus and wider community to thought leaders as profound and inspiring as Dr. King. The inaugural Visiting Scholar was retired U.S. Supreme Court Justice Sandra Day O'Connor, the first woman appointed to the court.
For more information on the Pappas Visiting Scholar Series, visit stockton.edu/pappas.