Cisco 8800 Series Phone Guide
Video Training
Visit http://supportandtraining.com/stockton for video training resources
Login with the following username and password: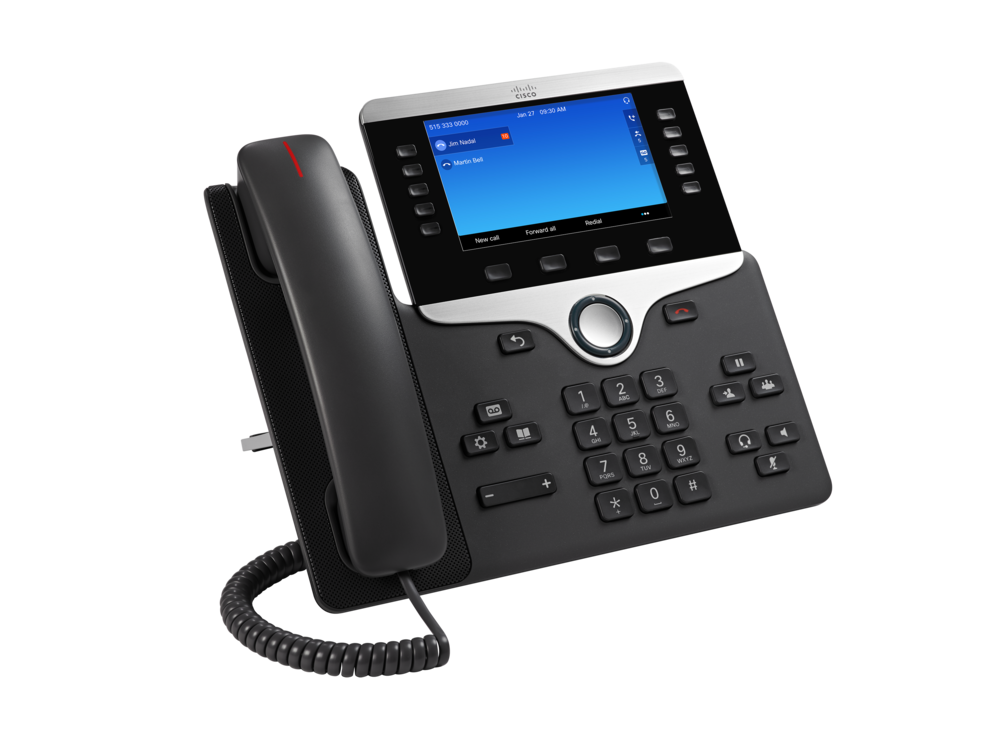 See below for various written instructions related to the Cisco IP Phone System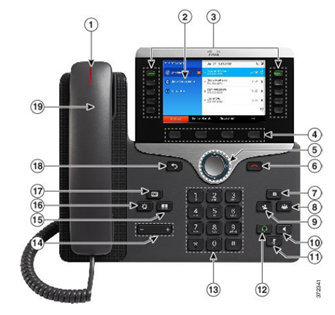 VM Indicator
Phone Display
Line/Feature Buttons
Soft Keys (Phone Features)
Navigation Pad
Release Key
Hold Button
Conference Button
Transfer Button
Speaker Button
Mute Button
Headset Button
Dial Pad
Volume Adjustment
Directory
Application Button (Phone Settings)
Voicemail Button
Back Button
Handset
Dialing Instructions
Emergency: Dial

911

or

9-911

On-campus phones: Dial their 4-digit extension
Local: 9-xxx-xxx-xxxx
Long Distance or Toll Free: 9-1-xxx-xxx-xxxx
Placing a Call on Hold
During a call, press the HOLD button
Press RESUME to retrieve

If multiple calls are on hold, use navigation key to select desired call with soft key
Call Waiting
Upon hearing call waiting tone, press the ANSWER soft key

(Current call is automatically placed on Hold)

See above to switch between calls
Transferring a Call
Press the TRNSFR button
Dial Number
Press the TRNSFR button again
If Receiving Party Refuses Transfer
Press ENDCALL soft key
Press RESUME soft key
Conference Call
Allows up to 6 participants including initiator
During an active call press Conference
Dial number
Press the Conference Button again
To view active members while on a conference call:
Press the MORE soft key, then the CONFLI soft key
Voicemail Setup
Press the Messages key
When prompted enter the default password: 531531#
Follow Prompts to Completion

Record Name
Record Standard Greeting
Set New Password

New Password must be at least 4 digits
Must not be last 4 of the phone #
Must not be reverse of phone #
Must not be consecutive (1234)/(5678)
Must not contain two different digits (1212) in a row
Must not have three digits the same (8882)
Accessing Voicemail
From Your Desk Phone
Press the Messages key
When prompted enter your voicemail password
From Another Desk Phone or Outside Phone
Dial (609) 626-6800 Press *, then your extension number followed by a #
Enter your voicemail password
Basic Menu Options
Check NEW Messages
SEND a Message
Review SAVED Messages
SETUP Options
Change Password
Login to voicemail
Press 4-3-1
Enter new password
Press #
Enter new password again
Press #
Change Your Greeting
Login to voicemail
Press 4-1-1
After Cisco Unity plays your current greeting, press 1 to re-record it, or press 3 to record a different greeting, choose the greeting, and then rerecord it.
Jabber Application Setup
The Cisco Jabber software will allow you to remotely access your desk phone from anywhere using your computer. For setup instructions, visit our Cisco Jabber support page. Cisco Jabber is pre-configured for desktop and laptop computers, but can also be setup upon request on android and iOS mobile devices. To request mobile access to Jabber please call 609-652-4309 to speak to the ITS Help Desk.