Accounts and Passwords
Stockton GoPortal Accounts
In order to access Stockton University's online resources (e.g., Go Stockton Portal, Email, Computers, Blackboard, etc.) you need a Go Stockton Portal account. Accounts remain active for current Stockton employees and students attending Stockton. For instrucitons on how to access your account and associated systems please visit our First Time Login page for more details.
Resetting your Portal Password
The goStockton Portal will prompt you to change your password every 180 days, click here for instructions on how to change your GoPortal password. You can also perform a Password Recovery if you forget your password. After resetting your password, don't forget to update your mobile devices.
Computer Labs
Workstations located in the computer labs require each user to logon using their Go Stockton Portal User ID and Password. Students are allocated 1GB of centralized disk storage space that are accessible to them via their Documents folder on the desktop from any lab computer on campus or remote virtual desktop. This is a much more secure and reliable alternative to portable storage devices as they can easily be lost or damaged. Students also have access to a shared Scratch drive, a temporary public storage area that holds files for a day.
To ensure the security of accounts, all users will be logged off of the machine after an inactivity period of 20 minutes. There will be a warning and countdown to logout that can be cancelled by the user.
Proxy Accounts
Students may designate a Proxy who will have access to view the educational records selected by the student such as the bill, financial aid status, unofficial transcript and/or tax forms (Instructions below). For instructions on how students can designate an Authorized User to acess billing information and submit payments, visit the Bursar's Office Billing and Payments page for more information
To designate a Proxy, login to the goStockton Portal
Click on Student Services
Under Student Tools,

c

lick on Proxy Management
Select Add Proxy




Enter your Proxy's first name, last name and e-mail address
Click on Add Proxy. Your Proxy will receive an e-mail. Please have your Proxy follow the instructions on the e-mail to confirm access
As soon as access is confirmed, go back to Proxy Management in the goStockton Portal, select the Proxy and click on Authorization




In Authorization, you'll have the option to grant viewing access to the following information: Bill Detail by Term, Financial Aid Status, Unofficial Transcript and Tax Forms
Click on E-mail Authorizations to e-mail a copy of the authorized page list
If your parents/legal guardians need a Proxy PIN reset, follow the steps below. Do note, Proxy account pins for parents/legal guardians can only be reset by their Students. If you need assistance with resetting your parents/legal guardians Proxy account please call the ITS Help Desk at 609-652-4309.
Login to the goStockton Portal
Click on Student Services
Under Student Tools, select Proxy Management
Click on Expand next to the name of your parent/legal guardian




Scroll down to the bottom
Click on Reset PIN
The following message will appear confirming your request

Your parents/legal guardian will receive an e-mail similar to the one below. Have them follow the instruction to complete the process. When following the link, you will be prompted to log in - use your e-mail address and the Action Password noted in the e-mail to do so.


Employees Microsoft Accounts
Faculty and Staff accounts are used for accessing certain centrally stored data files (e.g., course class lists), office computers, email, and network printing. These accounts are created during onboarding. If you need help accessing your account please contact the ITS Help Desk for assistance.
The goStockton Portal will prompt you to change your password every 180 days. You can also perform a Password Recovery if you forget your password. After resetting your password, don't forget to update your mobile devices.
The Keychain utility is a password management system in Apples macOS that can store your credentials for different applications and services like WiFi networks, email applications, and websites. Every 180 days when your Stockton password expires the Keychain utility detects the change and requests that it be updated with the latest set of credentials upon first login with the new password. The Keychain utility will prompt you to update the current keychain.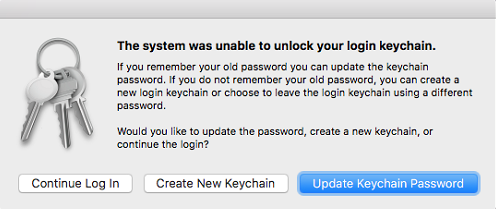 Click on Update Keychain Password to continue.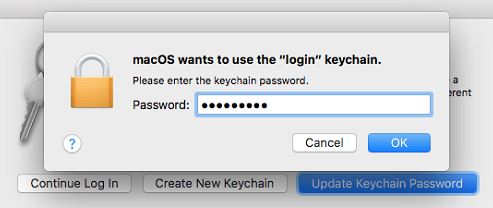 Enter your old password into the password box and click OK. The keychain utility will then update your keychain to the latest version of your password.
If you have any issues resetting your keychain please contact the ITS Help Desk for assistance.
Password Protection (Changing your Password)
System Security Begins With You
There are two classifications of individuals who try to break into computer systems -- hackers and crackers. Hackers are individuals with proficient computer skills who exploit weaknesses in system programming in order control a computer system. Crackers break into computer accounts and damage the system using the privileges that are available to the stolen account or use the stolen account to mask their identity when attempting to break into other computer systems on the local network or the Internet.
How can these renegades be foiled? The hacker is stopped by closing down the "holes" the s/he finds. Computer & Telecommunication Services regularly installs software patches to close down security holes and continuously monitors possible break-in points. The cracker is stopped by good password security and good password security is in your hands.
Keep your password secure.
Never tell someone else your password. Stockton University feels so strongly about this aspect of password protection that it is specifically stated in the acceptable use policy in Standard 2.
"Users may not disclose the password of an account or otherwise make the account available to others who have not been authorized to use the account. Users are responsible for all usage of their accounts and are expected to take appropriate safeguards to assure that their passwords are not known to others."
Never write down your password. Anyone observing your login will see where it is located and can retrieve it for their use -- or misuse -- when you aren't around. Even if they don't observe your login, they will look for anything written down and posted in the vicinity of your workstation (e.g., the side of the monitor, bottom of the keyboard, on the keyboard tray.).
Never send your password to someone else in an electronic mail message. You cannot be sure of the security measures taken on the systems that your message passes through or the security of the system where your message is delivered.
Never use software that automates your login. This type of feature embeds your password into a configuration file or programmable keyboard key. Anyone sitting at your computer has immediate access to your password.
Use a password that you can type easily and quickly. This will thwart anyone attempting to get your password by watching over your shoulder as you type.
Change your password regularly
All of our central systems and file servers require you to change your password every ninety days. If you suspect someone might know your password, don't wait for it to expire. Change it immediately!
Avoid password pitfalls
Don't pick a password that can be found in the dictionary. Our central computers check your password against a system dictionary, but there are many different dictionaries available. A word that is not in our system dictionary just might be in the crackers' dictionary. This includes foreign language dictionaries as well.
Don't choose a password that uses personal information that someone could easily find out about you. This includes information such as:
Your name, username, or nickname
Names or nicknames of friends, relatives, pets, or locations that are special to you
Numerical data about you such as birth date, social security number, license plate number, phone number, address, or zip code
Technical terms or names of prominent individuals in your field of expertise
Variations of any of these (e.g., your nickname spelled backwards)
Don't choose a password that others might also choose. You should avoid:
Names of famous people such as sports figures, literary characters, mythological figures, biblical figures, actors, or political figures
Names of computer systems or software products
Any commercial brand names
Names of cartoon characters or science fiction characters (especially Star Trek and Tolkein)
Remember, the cracker wants to get into your account with as little trouble as possible. In addition to using dictionaries and password cracking programs, crackers also share lists of common passwords. The words below were extracted from a commonly used password list published on a cracker bulletin board. None of these types of words are likely to be in a dictionary, but a cracker will try them.
| | | | |
| --- | --- | --- | --- |
| albany | bacchus | batman | beethoven |
| beowulf | berkeley | berlin | celtics |
| charon | daemon | disney | egghead |
| einstein | euclid | fermat | forsythe |
| fourier | gabriel | garfield | harvey |
| ingres | kermit | macintosh | merlin |
| michael | mozart | napoleon | newton |
| orwell | osiris | phoenix | pierre |
| polynomial | rachmaininoff | snoopy | socrates |
| toyota | wombat | yosemite | |
In addition to the types of words already mentioned, there are also non-words that should be avoided. Don't use strings of all the same character, for example XXXXXXXX. Don't use numeric patterns such as 246810. Don't use keyboard patterns such as QWERTY or YTREWQ.
Choose a good password
What is a good password? A good password is one that is easy to remember but hard to guess. There are several methods you can use.
You can use real words as long as you use them wisely. One method is to concatenate two unrelated words. Example are LAMPFISH or BOATAPPLE. Another method takes this idea a step further. Use two common words, but separate them by a non-alphanumeric character. Examples are SPIDER_STAR or SILVER$BOOK. A third method is to intentionally misspell a word or words. For example, the word TEACHER could become TEECHUR.
You can create a pseudo-word by alternating consonants with one or two vowels. These words are pronounceable and easy to remember, but hard to guess. Examples are BOUGAMIT or EXOJUK
Finally, you can create a password like you might create a mnemonic device. Take a phrase that you can easily remember and use the first character of each word. If possible, include numbers and non-alphanumeric characters. For example, the phrase "Four score and seven years ago" could translate into the password 4SA7YA.