The Value of Diversity in Leadership
By Ike Ejikeme, '16, '19
Leaders from diverse backgrounds may be fundamental to the success of an organization. As stated by the National Society of Leadership and Success (NSLS, 2022), "A diverse team of leaders can help you establish and build trust with many different people in your organization. Diverse leadership brings a wealth of knowledge and varying perspectives, which can help improve the way your leadership relates to those inside and outside of your organization."
Statistically, according to Forbes, companies with diverse workforces are 35% more likely to experience greater financial returns (Stahl, 2021). Overall, most of today's existing research suggests that diversity can drive innovation and growth. With that in mind, future policies should look at methods of improving organizational diversity.
I also believe leadership diversity is important. For example, in my doctoral program, I am in a cohort with colleagues from a wide range of professions. My cohort consists of veterans, federal government civil servants and information technology and communications practitioners.
We all come from different industries and our experiences are what make us unique. Early on, I saw the strengths in my program and cohort during Socratic Methods of Teaching. We were challenged to think outside the box and always provide supporting evidence for our ideas. I learned that in many scenarios there is more than one solution.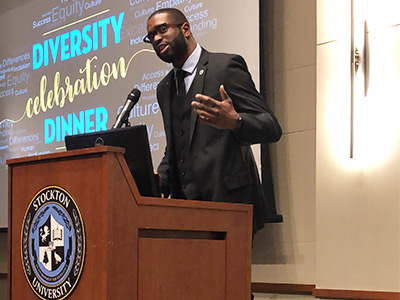 Because of the diversity of our experiences, I learned a lot about various industries and how the same task can be completed in different ways.
For example, the military has a lot of similarities with the federal government, however, private industry is much different from both. One of the greatest lessons I learned in my diverse cohort was how each scholar-practitioner went about solving the problems they faced on the job.
It does not come as a surprise that diverse workforces experience greater financial returns (as cited by Forbes). A group of people from different backgrounds will naturally have differing opinions and differences in their strategies and solutions. However, these differences are what make an organization stronger.
That said, there is power in diversity and it is to the benefit of every industry to strive to bring together diverse minds for the betterment of organizations. In conclusion, I will take with me all of what I have learned in diverse settings and implement it in my own leadership and strategy as I continue to climb my career ladder.
Ike Ejikeme holds both bachelor's and master's degrees in Criminal Justice from Stockton University. He lives in Washington, D.C., and works for the Department of Homeland Security. Ejikeme is a member of the Committee on Campus Diversity and Inclusive Excellence.
---
---
References
NSLS. (2022). Why is Diversity Important in Leadership? The National Society of Leadership and Success. Retrieved from https://www.nsls.org/blog/why-is-diversity-important-in-leadership
Stahl, A. (2022). 3 Benefits of Diversity in the Workplace. Forbes. Retrieved from https://www.forbes.com/sites/ashleystahl/2021/12/17/3-benefits-of-diversity-in-the-workplace/?sh=6f6c564a22ed
---