Celebrating Diversity in the Classroom
By Nancy Davis
Board of Trustees member
Professor Emerita of Pathology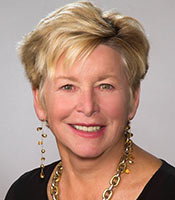 As Stockton kicks off its celebration of 50 years of teaching, the initiative that speaks to me most profoundly is the new Race and Racism Education graduation requirement.
As a long-standing member of the Stockton community, one who has served as professor, senior administrator and now as a Board of Trustees member, I am so excited to see this come to fruition. This addition to our curriculum speaks more than ever to a vision that Stockton has always felt strongly about and strives for, celebrating diversity inside of the classroom. These graduation requirements also speak directly toward the outcomes we hoped Stockton would accomplish when the Board of Trustees pledged our commitment to Diversity, Equity, Inclusion and Social Justice.
As the Chair of the Board of Trustees' Academic Affairs and Planning committee, it is our mission to promote and encourage opportunities that foster academic and personal growth for the student body. We not only want to continue producing exceptional students but also to prepare students to be lifelong learners. The R&R curriculum is designed to do just that and will assist them and inspire them to dismantle the many barriers that exist in society because of structural and systematic racism.
I would also like to express my heartfelt thanks to Donnetrice Allison, professor of Africana and Communication Studies, for leading the charge in getting this requirement developed and approved. I am also grateful to the faculty and staff of color who came forward in June 2020 to share their personal stories during one of the most difficult times that our University and country has seen. We thank you, we hear you, and the R&R curriculum is just the beginning of our continued commitment to Diversity, Equity and Inclusion efforts.