Panel Discusses Diversity and Inclusion in Business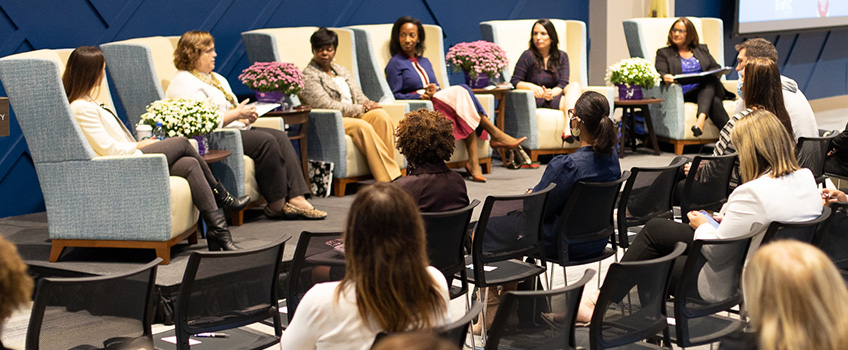 Atlantic City, N.J. – Achieving true diversity and inclusion in business takes a plan, goals, strategies, commitment, and the input of stakeholders at every level speakers in the "Women in Leadership: Diversity, Equity and Inclusion Panel" said at the Stockton Women's Leadership Council (SWLC) conference at the Stockton Atlantic City campus Oct. 22.
The five women on the panel came from different backgrounds and different industries, but shared the common goal of promoting diversity, equity and inclusion at all levels.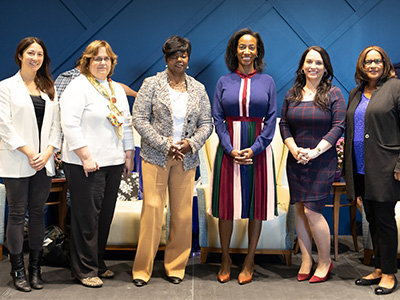 Grace Chow, vice president of food and beverage at Hard Rock Hotel & Casino Atlantic City said past concerns about not addressing gender, race, religion or marital status in the workplace were designed to prevent discrimination. Today, she said, the discussion is about bringing issues into the light.
"We are talking about things that no one would talk about in the past," said Charisse Fizer, chief diversity, equity & inclusion officer and vice president clinical services at AtlantiCare. "This is not just about my being Black, it's about how can I be sure it is equitable for everyone."
The panelists talked about programs that have been successful in their companies and stressed that ongoing commitment to including everyone in discussions is crucial.
"It is not just up to the women, or the people of color to solve the problem," said Susan Davenport, Stockton executive vice president and chief of staff. She cited a Board of Trustees resolution committing to the concepts and a new requirement for all students to take two courses that address race and racism as examples of how the university is reaching out to all stakeholders.
While the issues are about people, several speakers said collecting data is also important to help identify issues and track progress.
"Metrics can tell us where we stand now and where do we want to be," said Jacqueline Grace, senior vice president and general manager, Tropicana Atlantic City.
All of the women have faced the challenges of being the only woman in the room, or being asked to take notes, make copies, or just being ignored at a meeting. The solution, they said, is to have more representation of under-represented groups and give everyone a voice.
"Everyone has an opinion based on their perspective," said Roxanne Passarella, president and chief executive officer at FantaSea Resorts. "The key is listening. This issue is not going away soon. We have to keep listening and talking."
The almost 100 participants in the conference, which was co-sponsored by MeetAC, also attended workshops on inclusion in the workplace, cultural competence, affirming attitudes, inclusive leadership skills, search advocacy and communication.
Information about the Stockton Women's Leadership Council is on the Stockton website.
# # #
Contact:
Diane D'Amico
Director of News and Media Relations
Galloway, N.J. 08205
Diane.DAmico@stockton.edu
609-652-4593
609-412-8069
stockton.edu/media