Pregnant Students and New Parents Find Support at WGSC
By Laurie DuttonDirector, Women's, Gender & Sexuality Center
March is a time to highlight and celebrate the strides women and girls have made toward equity. This year's Women's HERstory Month is no exception and included an array of amazing events showcasing the women of Stockton University.
One category of women who continue to face discriminatory barriers are students who are parents and/or pregnant while attending school. Not even a decade ago, new mothers (and let's not forget our all-gender pregnant students and all-gender parents) were often given subtle encouragement to drop out of school because doing both was seen as too difficult to manage. However, ensuring equal opportunity through Title IX mandates has made the decision for many to continue in school less difficult to make.
To honor the right of women to keep learning, Stockton is committed to helping pregnant and new parents succeed in school and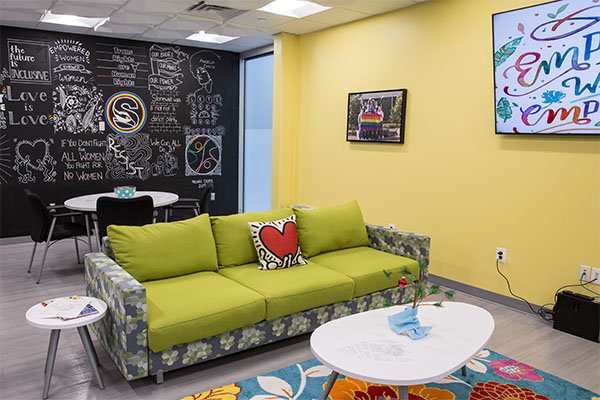 graduate in a timely way. Services include comfy and inviting lactation rooms across campus, "Baby Osprey" gifts for new parents, an office dedicated to Family & Parent Partnerships, and, of course, our cutting-edge Women's, Gender and Sexuality Center (WGSC), which provides advocacy services for pregnant students to ensure their education path is fair and equitable.
The WGSC celebrated its 7th anniversary this month and has a welcoming lounge and a private lactation room for the Stockton community. When visiting the WGSC, parents will also find plenty of friendly staff and student workers in F103 who will make a big fuss over the little bundles of Osprey joy.
Even with all the progress women and girls have made through the years, let's not forget that barriers still exist, and there is still important work to be done.
Learn more about Stockton's celebration of International Women's Day and other events. Join us for our Women's History Month Honoree Recognition at 4:30 p.m., March 31, in the Art Gallery.