Stockton Raises Awareness to 'Break the Bias'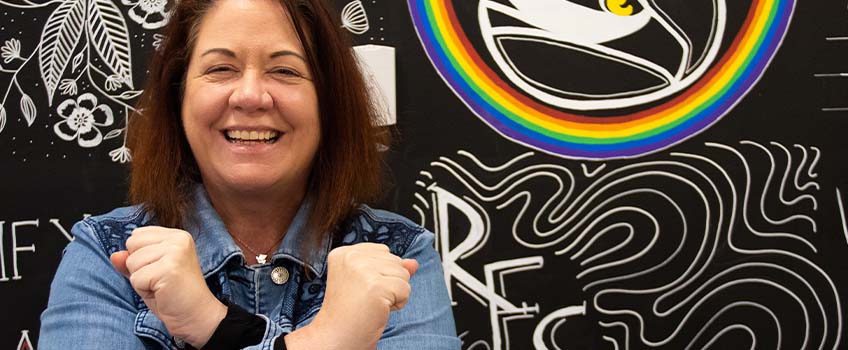 Galloway, N.J.- The Women's Gender and Sexuality Center (WGSC) will celebrate International Women's Day from 10 a.m. to 2 p.m. Tuesday, March 8, in the Campus Center Grand Hall.
The theme for the day is #BreakTheBias and will include tabling, a panel discussion, an open mic, and a salary negotiation workshop. Members of the faculty, staff and students have also been photographed promoting the "Break the Bias" theme.
A highlight of the day will be the new STEM (Science, Technology, Engineering and Math) panel at 10:30 a.m. The panel will feature four successful women in the STEM field; Jennifer Bristow, Project Engineer of the Delaware River and Bay Authority; Alida Hall, Internal Auditor of NJM Insurance, and Stockton alumna; Ann Arena, Senior Director of Business Process Improvement at Spencer's; and Margaret E. Lewis, Stockton Professor of Biology.
"The panel is a brand-new event for IWD. Women in STEM aren't as acknowledged as they should be, so this is going to be very exciting," WGSC Director Laurie Dutton said.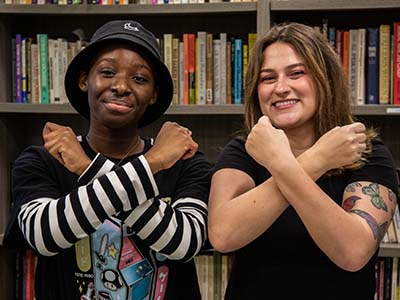 Another new addition is a salary negotiation workshop at 2:30 p.m. Alycia Baker, Talent Acquisition Recruiter from Enterprise Holdings, is leading the session and conversation. Dayna DeFiore assistant director of the Career, Education, and Development Center, hopes the workshop will provide valuable insight for Stockton women emerging into the business world, especially since that advice comes from an employer looking for talent.
"The workshop will give the students the tools they need to become confident and assertive leaders in whatever industry they decide to join in the future," DeFiore said.
International Women's Day was first honored and celebrated in 1911; women in Austria, Denmark, Germany, and Switzerland attended rallies campaigning for women's rights to work, vote, and live free from gender discrimination. Subsequent events in celebration of IWD surrounded the theme of supporting working women and peace during war. It wasn't until 1975 that the United Nations honored the day and 2011, almost 100 years after the first IWD celebration, that the United States declared that March was officially Women's History Month.
The last on-campus Stockton IWD celebration was 2020's #EachforEqual campaign. The celebration was held in the Campus Center Grand Hall where students ate "wage gap" cupcakes, listened to impassioned speeches by Dutton and Distinguished Professor of Criminal Justice Janice Joseph, and met members of various women organizations that are dedicated to enriching the lives of Stockton University women. Dutton remembers that day fondly.
"It was great getting to hear different women at Stockton talk about their experiences and celebrate International Women's Day. The day is meant to celebrate and honor women who have helped us grow and become future leaders," Dutton said.
A full list of activities for International Women's Day and Women's History Month is on the Women's History website.
Story by Loukaia Taylor
Photos by Susan Allen and Chris Mellilo