Good Neighbor Program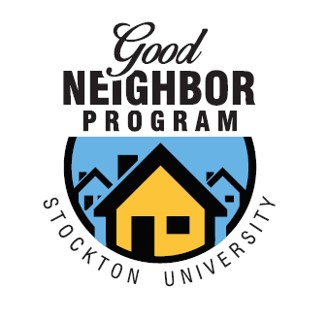 The Good Neighbor Program is intended to help support a high quality of life for students and community members living in the communities surrounding Stockton University. A good neighbor is considerate, friendly and participates in actions that enhance life in neighborhoods and communities. While this program provides excellent guiding points to direct students towards being a good neighbor, it is ultimately up to the student to make positive choices and be considerate of the environment in which they reside. Most off-campus leases will require a 12-month commitment, therefore living off-campus is not a decision to be made without proper thought and exploration.
Budget
Moving off-campus or away from home mean you will most likely incur expenses you have not previously encountered. Most rental properties will require you to pay utilities, such as: electric, gas, cable/internet, sewer/water.
You will also be responsible for other costs you may not have before, such as: gas and auto maintenance, toiletries, cleaning supplies, and groceries.
This budget sheet will assist you in estimating and tracking your expenses.
Finding and Selecting a Roommate
Make sure you find compatible roommates that you can communicate with about your expectations as well as theirs. Ensure you discuss with potential roommates your daily habits, schedules, pet peeves, etc. Make sure you feel comfortable with each other. Choose your Roommate(s) Wisely!
How much can you afford to pay?
How will deposits and joint monthly bills be paid? (security and utility deposits; internet, cable, gas & electric biils, etc.)
Will you share groceries or supply your own?
How will you furnish the shared living spaces?
How much privacy do you need? Do you need a private bedroom? A private bathroom?
How would you describe what clean means to you?
How will you handle general cleaning responsibilites? How often is it necessary to clean?
What are your sleeping habits/patterns? Are you a night owl? A morning person?
How do you feel about overnight guests?
How do you feel about noise and music?
What are your study habits? Do you need total quiet or do you prefer background noise?
What temperature do you like the apartment/house?
Have pets been discussed? (if permitted by landlord)
When renting together, you should keep in mind if you jointly sign a lease or other contract, you are taking on legal obligations. University resources for residential students, such as mediation and confict resolution, will not be available.
You may be financially responsible for the entire cost if one or more of your roommates does not pay their share of the utilities, or if they cause damage to the property, which may be deducted from your security deposit.
If your parents co-sign the lease, these financial obligations may fall on them if a problem arises.
Landlords are not obligated to allow you to break a lease or contract prior to the established end date. If you sign a lease and at a later date, change your mind, you may not be able to break the lease.
Know Your RIghts and Responsibilites
You MUST know your tenant's Rights & Responsibilites before you sign a lease with any landlord! There are certain rental bulletins, documents, and acts you can review to help yourself to be well-versed in this area. Refer to the State of New Jersey Department of Community Affairs Landlord-Tenant Information page for current information.
Keep these in mind before signing your lease:
Read the lease in its entirety before signing anything!
If you are unsure of anything, ask specific questions.
If someone else will be assisting with housing payments, make sure they read the lease before you sign.
Understand the difference between a Joint and an Individual Lease, and which one you are required to sign.

An individual lease means each person is only responsible for their portion of the unit lease.
A joint lease is used with two or more people, and states joint responsibility of the rent payment and damages.

How much is the security deposit?
Do you have the Property Manager's/Landlord's contact information?
Who do you call if there is a maintenance problem?