Tourism Management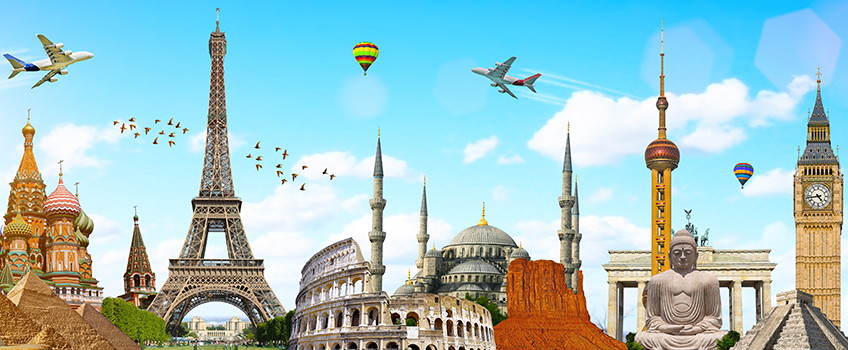 Explore destinations and the world of tourism....
Tourism management is the oversight of all activities related to tourism and hospitality including the enterprises, associations, and public authorities that market tourism services to potential travelers. Students explore a variety of destinations to learn geography business basics with a tourism covering and develop cross cultural and social competence. Students develop a broad skill set in preparation to successfully manage a multitude of activities such as studying tour destinations, travel arrangements, accommodations, as well as marketing efforts.
Why Tourism Management?
Tourism is a multifaceted service industry that has a rich history and exciting future marked by many challenging opportunities.
Tourism in an important part of many countries, state, cities, regions, and communities.
Travel is America's second-largest industry export and a key job creator. From riding on trains, to eating in restaurants, staying in hotels, and purchasing products, international visitors to this country are constantly buying goods and services that are made in the United States. In other words, the U.S. is "exporting" these goods and services.
Travel & Tourism's contribution to GDP increased by US$1 trillion (+21.7% rise) in 2021. (World Travel and Tourism Council)
In 2019, the Travel & Tourism sector contributed 10.3% to global GDP; 2021 saw the share increasing to 6.1%.(World Travel and Tourism Council)
In 2020, 271 million employed across the sector globally, representing an increase of 6.7% year-on-year. (World Travel and Tourism Council)
Domestic visitor spending increased by 31.4% in 2021; International visitor spending rose by 3.8% in 2021. (World Travel and Tourism Council)
HTMS 3129 - Destination Management
HTMS 2143 - Contemporary International Tourism
HTMS 4110 Hosp. & Tourism Research
HTMS 3136 Wellness Tourism
HTMS 3132 Study Tour
HTMS 2143 Contemporary International Tourism
HTMS 3112 Catering Management
HTMS 3125 Chef Techniques for Managers
HTMS 3128 Spa Mgmt in Hospitality
HTMS 3129 Destination Management
HTMS 3132 Study Tour
HTMS 3135 Fundamentals of Wine
HTMS 3136 Wellness Tourism
HTMS 3140 Hosp., Entrepreneurs & Leadership
HTMS 3225 Intro to Casino Management
HTMS 3226 Hotel Mgmt Simulation
HTMS 3227 Continuous Service Improvement
HTMS 3228 Event Sales and Marketing
HTMS 3229 Event Design
HTMS 3230 Event Experience
HTMS 4110 Hosp. & Tourism Research
HTMS 3128 Esports Industry & Events