Restaurant & Beverage Management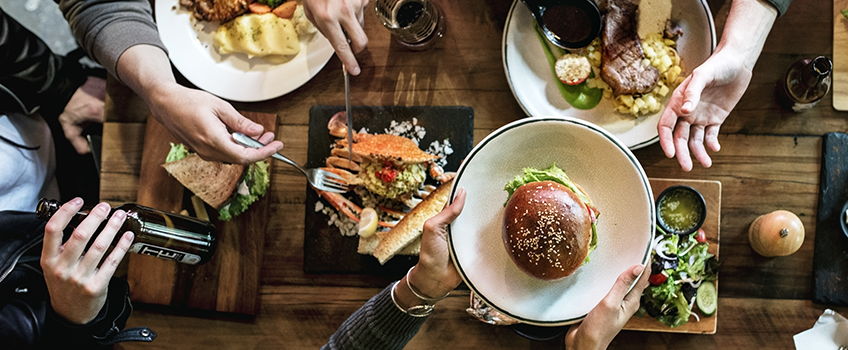 Immerse yourself in the business of food and beverage...
Students gain a broad skill in preparation to successfully manage a variety of restaurant and beverage concepts from small casual dining to gourmet and nightlife operations. Students learn all aspects of restaurant management, including receipt standardization and costing, menu pricing, food sanitation and safety, and culinary preparation. In addition, the curriculum incorporates hands on experiences in the kitchen with our unique partnership with the Atlantic Cape Community College's Academy of Culinary Arts.
Why Restaurant & Beverage Management?
Total restaurant and foodservice sales in 2020 and 2021 were at $678 billion and $799 billion, respectively. (National Restaurant Association).
There are 1 million-plus restaurant locations in the US employing 15.6 million workers. This 2021, the number of chain restaurants in the US is at 101,811. Many of these, including independent restaurants, comprise more than 1 million restaurant locations in the country. Total sales were $564.8 billion. (ACSI)
The industry added 1.7 million jobs in 2021, but 70% of operators reported not having enough staff to support the service. (National Restaurant Association).
There are currently 15.3 million employees in the restaurant industry. (Source)
There will be 16.9 million jobs in the restaurant industry by 2029. (Source)
More than 170 million people were food service patrons on any given day in 2018. (National Restaurant Association).
HTMS 3125 Chef Techniques for Managers
HTMS 3135 - Wine Fundamentals
HTMS 3112 - Catering Management
HTMS 2143 Contemporary International Tourism
HTMS 3112 Catering Management
HTMS 3125 Chef Techniques for Managers
HTMS 3128 Spa Mgmt in Hospitality
HTMS 3129 Destination Management
HTMS 3132 Study Tour
HTMS 3135 Fundamentals of Wine
HTMS 3136 Wellness Tourism
HTMS 3140 Hosp., Entrepreneurs & Leadership
HTMS 3225 Intro to Casino Management
HTMS 3226 Hotel Mgmt Simulation
HTMS 3227 Continuous Service Improvement
HTMS 3228 Event Sales and Marketing
HTMS 3229 Event Design
HTMS 3230 Event Experience
HTMS 4110 Hosp. & Tourism Research
HTMS 3128 Esports Industry & Events