Stockton Celebrates 50th Anniversary

The Stockton community celebrated 50 years of teaching with a variety of events and projects.
A New "Tree-dition" Takes Root by Lake Fred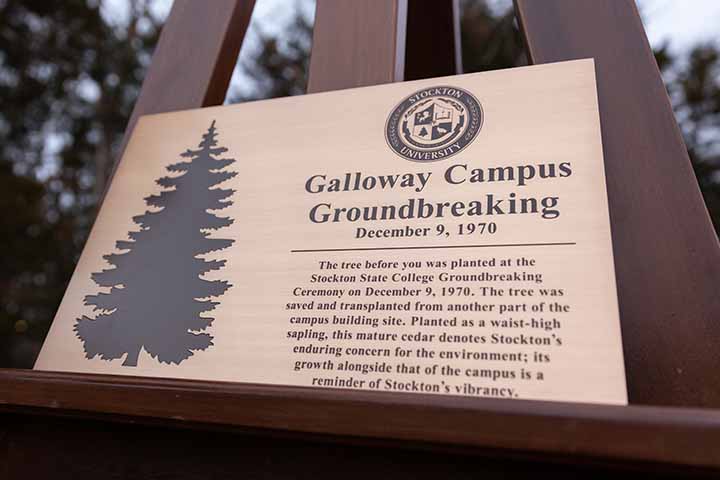 Stockton has a new winter "tree-dition."
On Dec. 9, 1970, a small cedar sapling was planted on the Galloway campus as part of the groundbreaking ceremony for the new Stockton State College.
On Dec. 8, 2021, students, faculty and staff gathered at the site as a plaque was unveiled commemorating the event at the first "Winter Tree-dition."
Guests sipped hot chocolate and cider and bundled up in black and gold Stockton 50th anniversary scarves, as Student Senate President Brianna Bracey, President Harvey Kesselman and Board of Trustees Chair Raymond Ciccone unveiled a plaque, now installed by the tree located near Lake Fred behind the Arts and Sciences building.
---
A.C. Community Cleanup and Party in the Park Attracts 1,000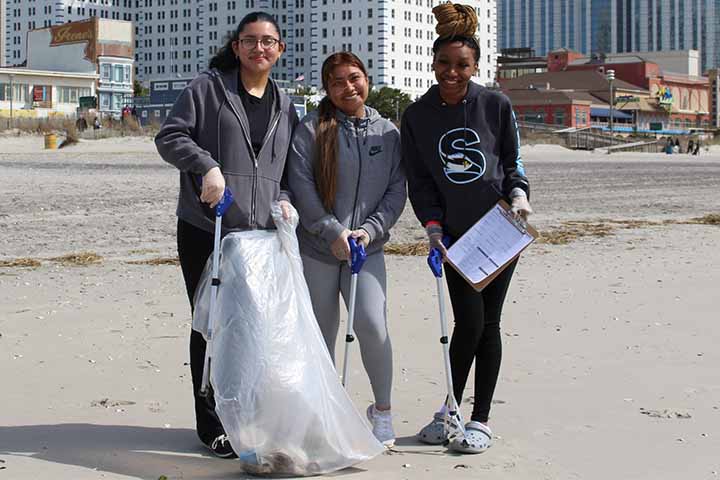 More than 500 people worked up an appetite collecting more than 360 bags of trash at the Stockton University Community Day Cleanup in Atlantic City on Saturday, April 23.
When they got back to O'Donnell Park for the Party in the Park there were four food trucks ready and waiting for them.
Stockton University Atlantic City hosted its first combined Community Cleanup and Party in the Park as part of the University's 50th-anniversary celebration. The City of Atlantic City co-sponsored the event and offered support in picking up the collected bags of trash.
"We have always said we want to be part of the city, not just in the city," said Stockton University President Harvey Kesselman, who attended with wife Lynne. "This day is such a great way to bring people together for fun and a good cause."
Brian K. Jackson, COO of Stockton Atlantic City, who chaired the Community Day Cleanup Committee, said he was thrilled with the number of people to come out. He estimated the total attendance at about 1,000.
"We can all feel great pride in what we accomplished on Saturday and our demonstrated commitment to beautifying our unique neighborhoods in Atlantic City," Jackson said.
'50th in Flight' Mural Dedicated in Campus Center
The story of Stockton is now displayed on a wall of the Campus Center in a 30x16-foot mural composed of almost 1,000 photos showing the University's history over its first 50 years.
The 50th Anniversary Exhibit, titled "50th in Flight," was dedicated on March 31, 2022, as students, faculty and staff peered at the photos, looking to see if they might recognize someone.
The mural photos include Stockton presidents, faculty, staff and hundreds of students and student-athletes. An image of the Stockton mascot, the osprey, is superimposed over the photos.
"This is more than just a retrospective of the past," said President Kesselman. "It is a dynamic installation, a storytelling device that will inform and entertain."
The mural has an online component, where all the images included in the project can be seen, along with stories and in-depth descriptions of a sample of the photos.
---
Spring Bash Brings Alumni Back to Campus
More than 300 alumni who graduated in the '70s and '80s traveled from 24 states and two international locations to reunite at Lakeside Lodge for Spring Bash 2022: '70s and '80s Reunion Weekend, June 3-5, 2022.
The three-day celebration kicked off with a tailgate in C Court as alumni reconnected with old friends and strolled their old stomping grounds. The grads stepped back in time as they stayed overnight in the Courts – some in the same dorm rooms with the same roommates from their undergrad years.
Throughout the weekend, alumni enjoyed a cornhole tournament, taking canoes out on Lake Fred, food trucks, live music, dancing and, of course, reconnecting with each other.
Co-organizers Tim Lenahan '83 and Bonnie Putterman '85 established the Spring Bash Alumni Scholarship to support today's Stockton students. The alumni at the reunion gave back, raising more than $13,000 for the scholarship.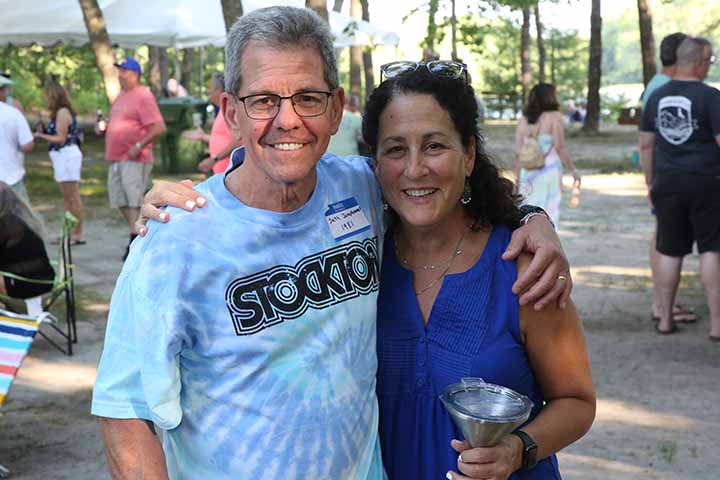 Look back at our 50th Anniversary! Read memories and event recaps, view the mural photos and explore more Stockton stories.