Research Initiatives
Basic research is the foundation for education, and the synthesis of research and education is necessary to develop effective evidence-based services. SCOSA Research initiatives help to translate research into practice (for example, through scholarly lectures, and continuing education offerings). SCOSA also supports and encourages original aging research by Stockton faculty and students, sometimes collaborating with community agencies and researchers at other universities. SCOSA encourages publication and/or presentation of results from SCOSA-sponsored programs in scholarly journals and at professional conference. SCOSA promotes faculty development in gerontology by providing memberships and conference registration for faculty in the American Society on Aging, the Gerontological Society of America and other professional organizations.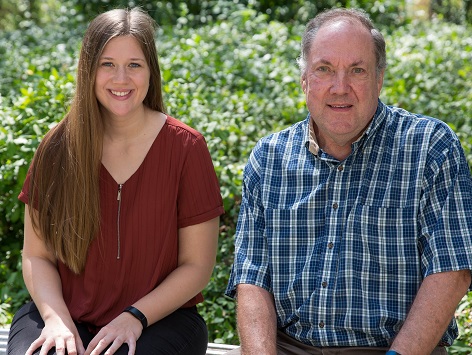 Jessica Hemple, Senior Health Sciences Major & Gerontology Minor (receipient of a James McKenney Student Travel Award from the Academy for Gerontology in Higher Education to attend the Annual Scientific Meeting of the Gerontological Society of America in Austin Texas during Novembeer 2019. Pictured with SCOSA Director Dave Burdick


SCOSA Faculty Research Scholars and Faculty Fellows
Faculty Research Scholars: SCOSA receives $10,000 per year from Stockton's Division of Academic Affairs to fund faculty research projects. This funding is sometimes augmented with other SCOSA revenues (e.g., Festival and CECC revenues and other grants and contracts). This program was referred to as SCOSA Research Fellows until 2014, and renamed to SCOSA Research Scholars to differentiate this from a new source of funding for Stockton's various centers and institutes, referred to as the "Faculty Fellow" program.
SCOSA Faculty Fellows: Each fellow receives one course release or the equivalent in overload compensation to support work on projects identified as priorities by SCOSA's leadership team. In 2014, SCOSA applied for and received university funding for three fellows. In subsequent years, the university has approved and funded fewer fellows and shifted the financial obligation to SCOSA.
SCOSA's Faculty Fellows and Research Scholars have specific responsibilities and must report their work at an open lecture during or immediately following their projects. Fellows and Scholars are also encouraged to seek additional internal or external funding for the extension or expansion of their projects and to publish results where appropriate.