Julie Coker '20
Julie Coker
Hometown: Union Beach, NJ
Class Year: 2020
Major: Social Work

---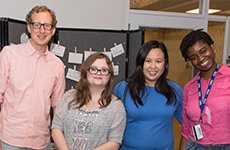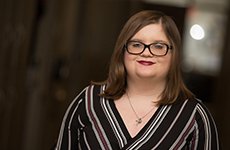 Why did you choose Stockton and why did you choose your major?
When I came to visit Stockton, I loved it. The campus was beautiful, and I just knew that I was going to the right place. In my first semester, I took Introduction to Psychology and then in the second semester I took Introduction to Social Work. I couldn't believe how much I loved what I was learning. I fell in love so quickly with the course and everything that was introduced to me. I changed my major right away and never for a second looked back.
You shared your personal story about overcoming mental illness in the book, "Our Stories, Ourselves: Beating the Stigma of Mental Health in Colleges and Universities." How did you find the strength and courage to share so many painful memories?
I just thought it was the right thing to do and a good opportunity. I finally felt comfortable sharing, and I knew that it would help many other people. Of course, I was nervous writing and reading my story over and over again, but I would do it again today because there are so many changes to my story from 2016 to 2019 that I wish I could share to help people in a different way. Recovering from mental illnesses is an everyday job that gives you new life experiences each day.
How has Stockton helped you to become the mental health advocate you are today?
I give all the credit to Nate Morell, MSW, LCSW, who is a counselor for The Wellness Center at Stockton. Nate has been a passionate mentor who believes so much in everything that I want to do. He is supportive and helps leaders grow in a way that is so amazing. He finds the people who he knows are going to be mental health advocates and puts them in the right direction. The summer before I was coming to Stockton I reached out to the Active Minds chapter and connected with Nate. I wanted to help with their suicide prevention planning for that fall, so I did what I could with little knowledge of how everything ran at Stockton. Since then, I have been highly involved with Active Minds as the president of Stockton's chapter.
What is your dream job?
I would like to become a Licensed Clinical Social Worker (MSW, LCSW) then work in a hospital as a crisis intervention social worker. However, the more I study social work the more I come to love all of the aspects of it. As long as my work has something to do with mental health I think I'll love it. I love social work policy, research, advocacy and the idea of individual work with clients using the strengths perspective and cognitive behavioral therapy. As long as I am working in the mental health field, I'll be happy.
How can others step up to fight stigma?
At Stockton, we have made it easy to become a stigma fighter. Start coming to all of the Active Minds events and tabling. Get involved with us, and you'll be fighting stigma on campus. If you want to do more than that, apply to be a Crisis Text Line Counselor.
---