Coming Together, Piece By Piece
Coming Together, Piece By Piece
Stockton Atlantic City is on schedule for fall 2018 opening.
by Daniel J. Douglas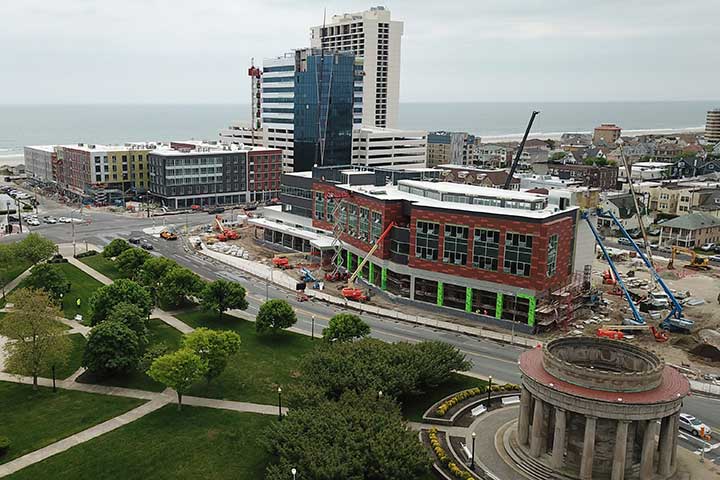 Connected by land and sea – from the Pinelands National Reserve to the Atlantic Ocean – the MudGirls Studio mosaic tile project, which will be installed in the residence hall of Stockton University Atlantic City, gives a visual metaphor to the complexity of assembling the pieces of a new campus in Atlantic City.
"From conceptual drawings to moving in furniture, the Atlantic City campus is coming together for our fall 2018 opening," said Donald Hudson, vice president for Facilities & Operations. "As a public-private partnership, we have many stakeholders working in unison in a carefully choreographed process. We are on-time, within budget and ready to open the doors to a unique experience for our students, the community, faculty and staff."
Located on the Atlantic City Boardwalk in the city's Chelsea neighborhood, Stockton University Atlantic City will feature an academic center and residential building offering apartment-style living for more than 530 students. More than 100 courses are scheduled and over a thousand students are expected to be registered for classes this fall at Stockton University Atlantic City.
On June 20, officials from Stockton and AtlantiCare announced that AtlantiCare will open its first Urgent Care Center in Atlantic City at the site of the new Stockton University Atlantic City campus in September.
Brian Jackson, chief operating officer, Atlantic City campus, and Haley Baum, assistant dean of students, Atlantic City, have been able to educate the University community, prospective students and area businesses about the beachfront living and learning opportunities at Stockton University Atlantic City during their presentations and shuttle tours of the new campus.
From shopping and restaurants, the art district, local attractions, entertainment and the famous Atlantic City Boardwalk, the new campus will provide opportunities for students to participate in community engagement projects and learn from real-life internships and partnerships right in the city.
At the same time, the University will be able to strengthen its presence and partnerships in Atlantic City.