AtlantiCare to Open Urgent Care Center at A.C. Campus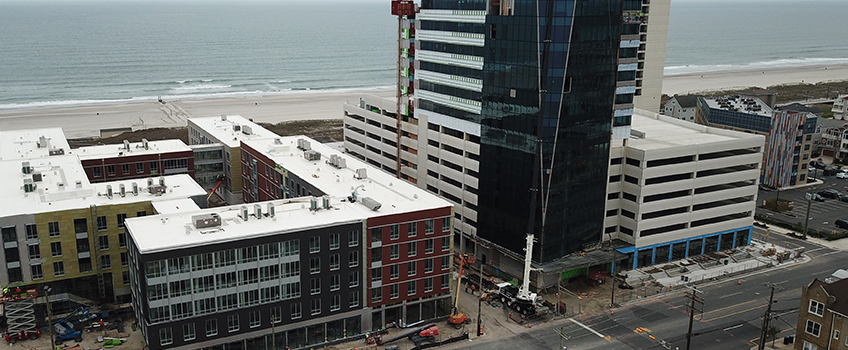 Galloway, N.J. - AtlantiCare will open its first Urgent Care Center in Atlantic City at the site of the new Stockton University Atlantic City campus in September, officials from Stockton and AtlantiCare announced today.

AtlantiCare Physician Group (APG) Primary and Occupational Health offices, currently located at 2015 Pacific Avenue, will also move to the new site. AtlantiCare will share a common entrance to the building with South Jersey Gas and will also have direct street access.
Free parking will be available to AtlantiCare patients in the on-site parking garage.
"We are pleased to participate in the Atlantic City Gateway Project as we continue to increase access to care for those who live, work in, and visit Atlantic City and the surrounding region," said Margaret Belfield, executive vice president and chief operating officer, AtlantiCare. "Our history of serving Atlantic City began in 1898 when we opened what was then called Atlantic City Hospital. Over the years, we've enhanced our care and expanded our services. We've long worked with community partners, including Stockton, to identify ways to work together to meet the health and wellness needs in our region. We look forward to providing services on Stockton's beautiful new campus."
Stockton President Harvey Kesselman said the agreement extends AtlantiCare's long partnership with Stockton and benefits the entire Atlantic City community.
"AtlantiCare's presence reinforces and enhances our commitment to develop the Atlantic City campus as a destination that serves both our students and the entire community," Kesselman said.
The Occupational Health office will be open Monday through Friday, from 8 a.m. until 4 p.m. Primary Care will be open Monday through Friday from 8:30 a.m. until 5 p.m. Each will have five patient exam rooms. Occupational Medicine will offer a full complement of occupational health and workplace injury services.
New to Atlantic City, AtlantiCare Urgent Care will operate seven days a week, including after hours Monday through Friday from 5:30 p.m. to 9:30 p.m.; and weekends from 8:30 a.m. to 8:30 p.m. This will be AtlantiCare's third Urgent Care Center to open in 2018. This will bring AtlantiCare's total number of Urgent Care centers to 16.
"Locating these services on Stockton's campus is one way we are helping people access the care they need at the right time and in the most appropriate setting," said Jatin Motiwal, vice president, AtlantiCare Physician Group and Regional Network. "We offer services in community gathering places – such as the Stockton campus – to make it convenient for those seeking care."
Stockton University will offer beachfront living and learning at its new residential campus in Atlantic City. The new campus, which opens for the fall 2018 semester, features an Academic Center, parking garage, and residential housing on the Boardwalk for 533 students.
Stockton students receive free clinic services through the Wellness Center on Stockton's Galloway Campus, which is operated in partnership with AtlantiCare. Students can also access the new Urgent Care Center using private insurance.
AtlantiCare has designed the space to be a comfortable, inviting space for patients and their loved ones. AtlantiCare will feature artwork of local and regional artists through its Healing Arts Program. Colors throughout the site will feature a soothing look and feel, taking inspiration from the beach and ocean.
AtlantiCare Occupational Health provides occupational health services for more than 600 local employers. The team provides care for work-related injuries/illnesses, employment/industrial examinations, drug screenings, immunizations and more.
AtlantiCare Primary Care has 19 locations. The team includes specialists in family medicine and internal medicine, as well as our certified advanced-practice nurse practitioners.
AtlantiCare Urgent Care serves patients for diagnosis and treatment of minor illnesses and injuries. The most common injuries and illnesses the team has diagnosed and/or treated include sprains, strains and contusions. Staff includes board-certified physicians and advanced practice nurses, Registered Nurses, medical assistants, X-ray technologists and customer service associates.
For more information about AtlantiCare, call the AtlantiCare Access Center at
1-888-569-1000 or find https://www.facebook.com/AtlantiCare/
More information about Stockton's Atlantic City campus is at stockton.edu/ac
# # #
Contact:
Diane D'Amico
Director of News and Media Relations
Galloway, N.J. 08205
Diane.D'Amico@stockton.edu
609-652-4593