Meet Our Class of 2018
Meet Our Class of 2018
Stockton's recent graduates are ready to embrace their futures.
by Meaghan Haugh Resta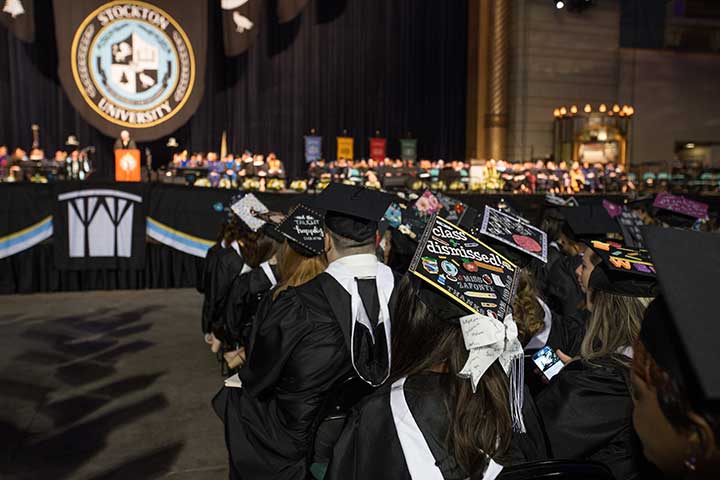 From graduate school and fellowships to full-time positions, here is a sampling of testimonials from our recent graduates and where they are headed.
---
Brittney Welch, B.A. in

Communications Studies, Political Science minor
Hometown: Dalton, Ohio
Post-grad plans: Headed to Moritz College of Law at Ohio State University this fall on a full ride.
What will you be studying at the Moritz College of Law? I'm very interested in doing public interest related law, but I'm also looking forward to seeing all of the options laid out before me once I get there and dig into the different areas of law!
How has Stockton prepared you for this opportunity? Professor of Political Science Linda Wharton's law classes were instrumental in both giving me the idea to go to law school, and making sure I was prepared for it. I was able to do real life legal memos and briefs, and participate in a moot court. These experiences will absolutely help me excel in law school in the fall.
---
Melanie Crisafulli, B.S. in Nursing with minors in Holistic Health & Childhood Studies
Hometown: Jackson, N.J.
Post-grad plans: Accepted a position as a Nurse Resident in the Neonatal Intensive Care Unit at A.I. duPont Hospital for Children in Wilmington, Del.
How has Stockton's Nursing Program prepared you for this opportunity? The clinical experiences we receive as a part of the nursing program play a huge role in what makes Stockton Nurses so successful and so marketable. In addition to the traditional rotations all students experience, we had many specialty experiences as well. These included the Operating Room, Intensive Care Unit, Emergency Department, Home Care, Neonatal Intensive Care Unit, High-Risk Obstetrics, Chemotherapy & Radiation. My clinical experiences taught me about patient care, but also taught me many more lessons in humility, respect, advocacy, and humanity. The opportunity to attend a clinical day in the NICU confirmed my passion for the unit and led to me discovering my calling to be a NICU nurse. The program provided us with many opportunities for certifications, including Advanced Cardiac Life Support, Pediatric Advanced Life Support, Naloxone Administration, that make us outstanding new graduate candidates.
---
Ike Ejikeme, M.A. in Criminal Justice (Homeland Security track), 2018; B.A. in Criminal Justice, 2016
Hometown: Jersey City, N.J.
Post-grad plans: Working with the Fraud Detection and National Security Directorate (FDNS) of the Department of Homeland Security Citizenship and Immigration Services since May 14, a few days after graduating. The main objective of my department is to investigate and detect every case that is related to immigration fraud. We also work to determine if individuals who are filing immigration benefits are a threat to national security.
What did you gain from the experience of serving on Stockton's Board of Trustees? After being so involved at Stockton, serving as a Student Trustee was the final role that truly helped me polish my professional skills; I gained a lot from this experience! I learned the process of decision making and problem solving in its most important form. The discussions I was part of were always important to the success of the University, and I always recognized the importance of that. Influencing decisions by wisely participating in discussions was one of the most important skills I was able to develop. As a board member, I was able to work in a cohesive unit with fellow trustees to execute the mission of the University. All in all, my time as a trustee reinforced my desire to one day serve as a senior executive in the Federal Government, in a position where I have a "seat at the table" and can make decisions that affect policy, the mission of an agency, and those who work within it.
---
Rebekah Sabo, B.A. in Literature (Secondary Education concentration), Holocaust & Genocide Studies minor
Hometown: Columbus, N.J.
Post-grad plans: Offered and accepted a high school English position at Camden County Technical Schools for the 2018-2019 school year.
How did Stockton prepare you for this opportunity? Stockton provided a program that prepared me for an educational career. Both challenging and thought-provoking, Stockton taught me the practical skills I now use throughout my days as a teacher. Student teaching is by far the most memorable experience I have experienced through Stockton. The educational program offered me the best opportunity to prepare me for the career I love!
---
Sydney Sykes, B.S. in Applied Physics, B.S. in Sustainability
Hometown: Ventnor City, N.J.
Post-grad plans: Attending graduate school in Fall 2018 at the University of Colorado Boulder for Electrical Engineering. After graduate school, I hope to work as a research scientist at a government lab or university. My dream job is to work at the National Renewable Energy Lab (NREL) in Golden, Colorado, researching solar cells and other renewable energy technologies.
How did Stockton prepare you for this opportunity? The Applied Physics and Sustainability programs both prepared me for this graduate school opportunity. The Physics program helped me hone my analytical skills, and provided me with the math and physics training required to pursue a career as a research scientist. The Sustainability program fueled my interest in climate change issues and renewable energy technology, and exposed me to a hands-on, creative problem-solving environment. Together, my experiences in both programs have shaped me as a student, scientist and person.
---
Thomas Lloyd, B.S. in Business Administration
Hometown: Manchester, N.J.
Post-grad plans: Beginning Master of Business Administration studies as part of Stockton's dual degree program this fall. After I finish the program, I plan on attending law school.
What are your future career goals? I would like to work in-house counsel for a business or organization and ultimately be a general counsel.
What is your most memorable Stockton experience? As a member of the Student Senate, I was able to represent the student body on all kinds of issues and work with other student leaders and administrators to help find solutions to challenges on campus. Specifically, I have had some experiences in preparing for the new Atlantic City campus, which has been exciting. It will be cool to see the opening of the new campus this fall after more than a year of planning.
---
Jodie Davis, B.S. in Public Health, Chemistry minor
Hometown: Jersey City, N.J.
Post-grad plans: Working at food banks in New Orleans through the Newman's Own Foundation Fellowship Program. The fellowship searches for recent college graduates to eliminate issues such as poverty, economic inequality, food insecurity, racism and other systems of oppression.
How did you learn about the opportunity? I learned about the fellowship opportunity as a fellow in the Newman's Civic Fellowship Program. In the summer of 2017, I spent eight weeks working on global health service projects in Ghana as part of a fully funded scholarship with United Planet. That opportunity was made possible through the Bonner Foundation national network and my work as an AmeriCorps Bonner Leader in Stockton's Office of Service-Learning.
Danielle Quinn, B.A. in Psychology, Childhood Studies minor
Hometown: Mays Landing, N.J.
Post-grad plans: Working for the Children's Hospital of Philadelphia (CHOP) as a research assistant at its Center for Autism Research. I plan on eventually earning my Ph.D. in Developmental Psychology.
How has Stockton prepared you for CHOP? I am so thankful to have experienced even a segment of the knowledge shared by Assistant Professor of Psychology Christine Gayda-Chelder, Assistant Professor of Psychology Kaite Yang and Assistant Professor of Psychology Justin Ostrofsky among so many others. Not only did these professors prepare me with practical knowledge in my field, but they emphasized the importance of thinking critically as a practitioner and always maintaining empathy for every person I come in contact with. As a student assistant in the Wellness Center, Stockton provided me with the necessary skills needed to collaborate with others in a professional environment.
---
Branndon Nesspor, B.S. in Finance
Hometown: Pennsville, N.J.
Post-grad plans: Hired by the investment management company, The Vanguard Group for full-time client support position.
How did Stockton prepare you for this opportunity? The opportunity to be a Bonner Leader in The Office of Service-Learning more than prepared me for whatever I decided to tackle after graduation. The most important thing Service-Learning taught me is that I needed to find a company that had values that aligned with mine. That turned out to be Vanguard.
---
Allison Henry, Master of Business Administration, 2017; B.S. in Business Studies (Accounting concentration) 2016
Hometown: Medford, N.J.
Post-grad plans: Moving to Denver, Colo. to start a full-time job as an assurance associate (auditor) with PricewaterhouseCoopers (PwC) in September. I am currently studying for the CPA exam and plan to be finished with all four parts by July.
How did Stockton prepare you for this opportunity? Stockton's resources were a major part of my ability to obtain my full-time position. I secured two internships at local accounting firms from Stockton's Career Fair. These internships were resume builders and provided me with valuable experience. I also utilized other services through Stockton's Career Center, including a career fair prep workshop and resume review, which were extremely useful.
---
Cassara Infantino, B.S. in Public Health (Health Administration concentration), Business Studies minor
Hometown: Alpha, N.J.
Post-grad plans: Hired and accepted a position with BAYADA Home Health Care after interning there during the spring semester.
How did Stockton prepare you for this opportunity? I took a lot of classes that prepared me for the field I will be working in. My professors helped me immensely to make the right decisions and opened my eyes to the field more than I thought I could ever know. I also loved the opportunity to intern for credits. Working in the field is essential to learning the true meaning of my career path.
---
John Sokol, M.S. in Data Science & Strategic Analytics, 2018; B.S. in Biochemistry, 2017
Hometown: Barnegat, N.J.
Post-grad plans: Interning at AtlantiCare Health System on the business intelligence and analytics team. I'm executing SQL queries and designing Tableau dashboards that allow doctors and hospital administrators to easily gain insight into huge amounts of patient data that would be otherwise very difficult to obtain without data science. As a result, hospital teams run more efficiently, and fewer people arrive at the emergency room because my projects play a huge role with enhancing preventative care across all health system departments. This internship was brought together by the data science faculty, so I'm happy Stockton's program connected me with an internship that has such a valuable social impact. I'm saving lives because of my work.
Future goals: I hope to spearhead incorporating predictive analytics at AtlantiCare in the future. My longterm goal is to help stop development of various diseases and ailments with machine-learning algorithms.
---
Jennifer Ling, B.A. in Criminal Justice (Homeland Security concentration), Computer Science and Business minors
Hometown: Brick Township, N.J.
Post-grad plans: Accepted a full-time position with Northrop Grumman Corporation at the Threat Mitigation Laboratory based in Egg Harbor Township, N.J. This team works to reduce threats to the homeland by developing imaging and training for federal agencies at the forefront of homeland protection. As part of the team, I will be working to ensure the timely completion of project deliverables and conducting research to enhance the team's functionality and efficiency.
What is your most memorable Stockton experience? My most memorable experience was the opportunity to complete an internship in Washington, D.C. through a program offered through Stockton. I completed an internship with the House of Representatives Committee on Homeland Security. I was tasked with working closely with the Cybersecurity and Infrastructure Protection and Counterterrorism and Intelligence subcommittees.Through the internship, I attended hearings on Capitol Hill and conducted research on homeland security policies. This experience provided me with professional experience, networking opportunities, and aided me in refining my future career goals.