Campus Life in Atlantic City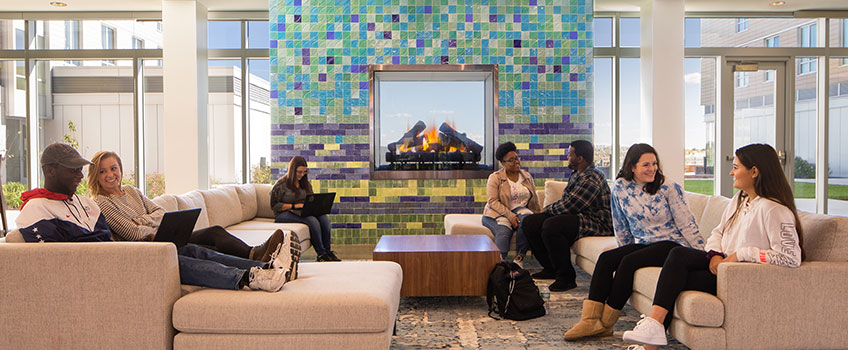 Imagine waking up to the sunrise of the Atlantic Ocean, and hitting the boardwalk for an early morning run or bike ride before heading across the street to the John F. Scarpa Academic Center for class, or catching a shuttle to main campus. The afternoon might include lunch on one of several Atlantic City dining options, and an afternoon tutoring or library research session. This can be your Atlantic City experience!
Beachfront Living & Learning
With room for over 500 students, Stockton University Atlantic City's residence hall includes apartment-style living, two outdoor courtyards, a fitness center, locker rooms, mailroom, computer lab, a full suite of campus activities and student events, and designated security—along with quick and easy access to the beach and the Boardwalk!
Several housing options are available:
4-6 person private units where each student has their own private bedroom and access to two bathrooms
4-6 person units where students share a bedroom and a bathroom
There are also a limited number of 2-person private suites, and 1-bedroom studio -style apartments as well
Each apartment has a full kitchen, which means that no meal plans are required (although they are available if cooking is not your passion)!
Parking for Stockton AC Residential Students is available within the garage located next to South Jersey Gas (also known as the Atlantic City Parking Garage), as well as access to a regular shuttle service to and from main campus in Galloway!
Campus Dining

Enjoy our fun, healthy dining options!
Healthy Living
Brand new 1,500-square-foot Fitness Center
On-site nutritionist every other week
Fitness Classes
Wellness Center – "Let's Talk"
Safety & Security
Stockton's Police Department and Atlantic City Police Department are work together to develop best practices and other standard operating procedures in the event of emergencies, situations, etc
Security is located on the premises 24/7
The residential building and other areas within the campus are accessible only via swipe card


Safe Spaces
There is a difference between confidential and non-confidential reporting, so please choose carefully, especially if you are not sure whether you want to report your case to the authorities at this time.
Stockton Atlantic City Campus Confidential Resources
Student Affairs Office | AC-A-127 | (609) 761-1235
Atlantic City Campus Non-Confidential Resources
Stockton Police Department Sub Station, Atlantic City
AC -A-111 | (609) 652-4390 (main dispatch)
Please call 911 for life-threatening emergencies
Both of these resources are located in the Residential Building on the Atlantic City Campus (3701 Boardwalk, Atlantic City, NJ 08401).
Get Involved

Discover the opportunities to get involved and learn on the AC Campus!