It Takes A Village
It Takes A Village
Stockton faculty, staff and students build Holocaust Rescuers Exhibit to tell Ullman family story.
By Diane D'Amico
When the new Holocaust Rescuers Exhibit opened in October visitors entered a room that looked far different than it had a year before.
The transformation of a meeting room in the Sara & Sam Schoffer Holocaust Resource Center into an eye-catching interactive museum exhibition was the work of some 30 people, virtually all of them Stockton faculty and staff, including graphic designers, IT professionals and facilities personnel, plus 17 students, who took Leo Ullman's story of survival and brought it to life.
"Every single person in graphics had a hand in it," said graphics designer Ryan Schocklin, who coordinated the design of the project.
The new exhibition was made possible through a generous gift from Leo S. and Katherine M. Ullman of Sands Point, N.Y. who wanted to honor the families who hid his family during the Nazi invasion of Amsterdam in World War II, saving their lives while risking their own.
Titled "The Extraordinary Heroism of Ordinary People," the exhibition room is dedicated to the Schimmel and Hoogenboom families who hid the Ullmans and made false identification documents so they could get food.
"The message of this exhibition is that there were good people who changed history," said Gail Rosenthal, director of the Holocaust Resource Center.
Student interns researched Ullman's story and the history of the Holocaust in the Netherlands to provide the content for an interactive multi-media exhibit.
"His life went from his book, to this room, to something that other students will learn," said student intern Nicole Vega of West New York.
Ullman's autobiography "796 Days," tells the story of how, at the age of three, he was taken in by the Schimmel family to raise while his family was in hiding.
"There was no way my family could have stayed hidden with me," Ullman said during a preview of the room.
Stockton Associate Professor of History Michael Hayse and historian Michael Berenbaum worked with the student interns and Holocaust Center staff to make sure the exhibit was historically accurate.
Hayse said the exhibition is designed so visitors can take a quick look or a deep dive into the topic. Student input helped create an exhibition that can appeal to younger generations.
Ullman even gets to tell his own story in a video created by Instructor of Communications Studies Toby Rosenthal.
Schocklin and the graphics department, including student intern Brett Roach, developed the graphics, lettering, photos and an elaborate wall-length window wrap of Amsterdam that is based on photos taken by Holocaust Center staff member Irvin Moreno-Rodriguez during a trip to Amsterdam with Hayse.
"We went to where Leo and his parents were hidden," Moreno-Rodriguez said. "We took pictures of what the area is like today so we can show before, during and after the war."
Schocklin took the modern photos and adapted them to remove modern symbols and create a mural of a street in Amsterdam that looks similar to how it did when Ullman was a child during World War II.
"We wanted to make it look authentic," Schocklin said.
The students said they not only learned more about the Holocaust, but developed an appreciation of the work involved in creating a museum exhibit.
Students Leah Dukes and Taylor Ketcham hope to have careers in museum work, and said working on the exhibit was an amazing opportunity to get hands-on experience as a student.
"This is a really unique experience because the work is on a very professional level," said Holocaust Center Program Assistant Morgan Everman. "This is giving me and the students an experience they wouldn't get anywhere else."
"This exhibition honors those who saved our lives," Ullman said. "They were ordinary people convinced they were doing the right thing."
Gail Hirsch Rosenthal Room
The main room of the Holocaust Resource Center has been named in honor of its director of 30 years, Gail Rosenthal, pictured.
"Her passion and dedication are legendary," said Leo Schoffer, Stockton Board of Trustees chairman and son of Sara and Sam Schoffer for whom the center is named. "My sisters and I are children of survivors and we have witnessed the respect Gail gave them. She put them on a pedestal and taught others their stories."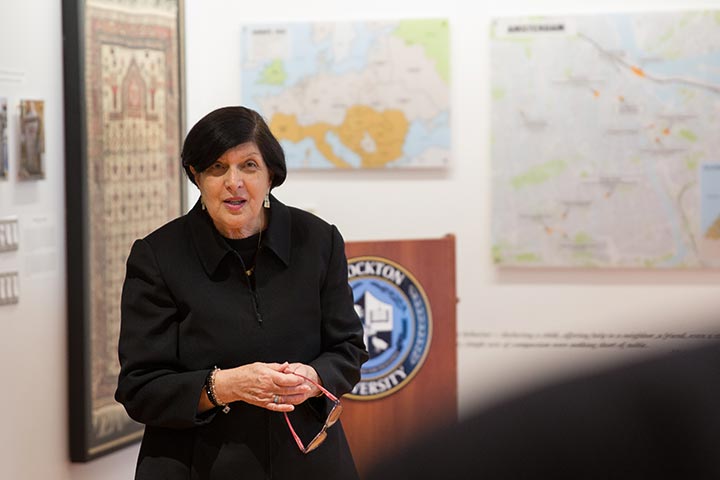 Photo by Susan Allen '09, M.A. '14
Learn more about the Sara & Sam Schoffer Holocaust Resource Center.
Learn more about the Master of Arts in Holocaust & Genocide Studies program.