Two Events Highlight 'Weekend in the Pines' at Stockton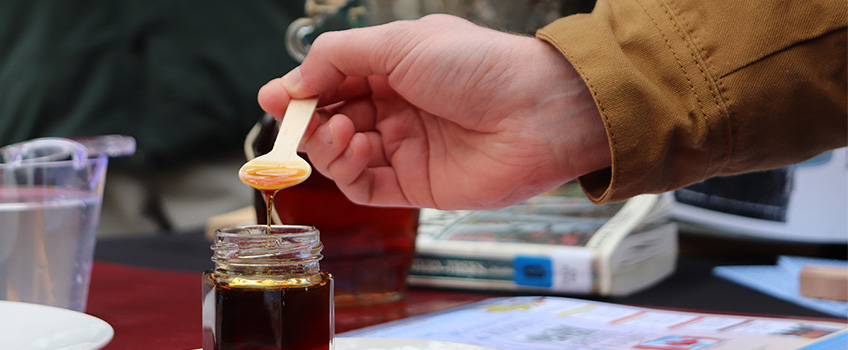 Galloway, N.J. — Gain a new appreciation for the beauty of the Pinelands National Reserve during a "Weekend in the Pines" on March 11 and 12 at Stockton University.
The weekend kicks off Saturday, March 11 with the 34th annual Pinelands Short Course. The daylong event will feature 28 presentations, including 21 new programs that will explore the region's unique history, ecology, culture and music.
"Stockton University is thrilled that there are so many new educational programs at this year's Pinelands Short Course," said Leamor Kahanov, Stockton University provost and vice president for Academic Affairs. "We are especially excited about the presentation featuring our thriving Stockton Maple Project."
This year's Short Course includes several new presentations including: Turtles of the Pinelands (with live turtles); Orchids of the Pinelands and Why the Smithsonian is Interested; Lichens: A Beginner's Look and The Stockton Maple Project: A New England Tradition Comes to South Jersey. The day will also include Raptors of the Pines (with live raptors); Snakes of the Pine Barrens (with live snakes); and a Stockton Campus Birding Walk (field trip). The event will also feature live musical performances by Jackson Pines and Valerie Vaughn.
The Short Course, which is presented by the New Jersey Pinelands Commission, runs from 9 a.m. to 3:45 p.m. To register, go to: stockton.edu/continuingstudies/pinelandsshortcourse.html.
The celebration continues Sunday, March 12 with the "Lines on the Pines," an annual pine barrens tribute that has taken place since 2005. More than 80 vendors will showcase their art, books and crafts in Stockton's Campus Center from 11 a.m. to 4 p.m.
Special hands-on displays, crafts and activities for children will also be available where they can have fun while learning about the Pine Barrens. The Lines on the Pines is free and open to the public. For more information, go to linesonthepines.org.
# # #
Media contacts:
Stacey Clapp
Director of Strategic Communications
Galloway, N.J. 08205
Stacey.Clapp@stockton.edu
609-626-3645
609-412-8069
stockton.edu/media

Mark Melhorn
Associate Director of News and Media Relations
Mark.Melhorn@stockton.edu
609-652-4593
609-569-6026
stockton.edu/media