Ukrainian Consul Visits Azeez Museum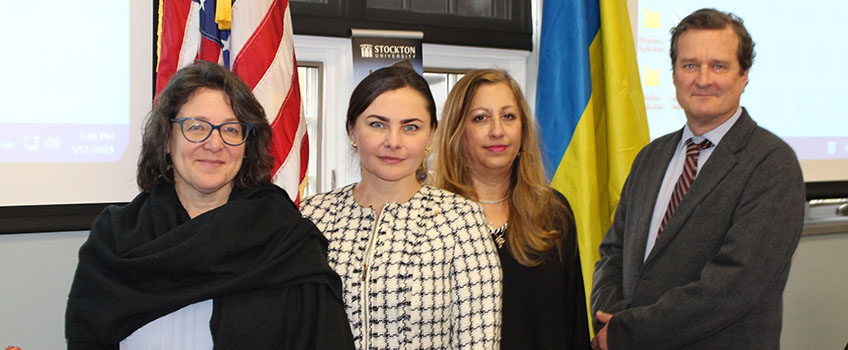 Woodbine, N.J. — Iryna Mazur was astonished by the outpouring of support for her native Ukraine by the American people in the past year.
"What really strikes me is the amount of support from American society on every possible level. I never thought that regular Americans would support Ukrainians so much. For that, I want to thank you," Mazur told a group of local residents and elected officials Tuesday.
Mazur is honorary consul for Ukraine to Philadelphia, which she describes as a "volunteer diplomat," and has been involved in the collection of medicine, equipment and clothing for Ukrainians since Russia invaded last year.
A native of Lviv, Ukraine, Mazur has lived in the United States for 22 years and practices international law in Huntingdon Valley, Pennsylvania.
I appreciate the time and resources you are taking to support a country you may not have heard of before recently.
Woodbine Mayor William Pikolycky invited Mazur to visit Stockton's Sam Azeez Museum of Woodbine Heritage, which houses collections dedicated to preserving the history of the Eastern European Jewish immigrants who founded the Jewish colony of Woodbine during the 1890s.
"There is a history of Ukrainians coming to Woodbine," said Jane Stark, executive director of the Azeez Museum. "Many founding community members came from Odesa, Ukraine."
Mazur said she frequently visits Cape May County, which welcomes a large number of vacationing Ukrainians each summer. She said about a half-million Ukrainians have fled to the United States since Russia invaded on Feb. 24, 2022.
Mazur said living in the United States and attending law school at Temple University opened her eyes to Russia's previous efforts to kill the Ukrainian identity. She sees that as the same objective of Russia's current invasion.
"The Jewish community understands better than almost every other group what happens when the world turns a blind eye," said Marcia Bronstein, regional director of the American Jewish Committee Philadelphia/Southern New Jersey. "We understand what this war is all about. Make no mistake, every dictator in the world is watching what happens."
Bronstein accompanied Mazur on Tuesday, saying the American Jewish Committee has long engaged with Ukraine and Mazur through its work.
In recounting Ukraine's history, Mazur was clear the nation has evolved in the last few decades and is completely separate from Russia. "It is a multi-national, multi-religious country, united around the idea it is a free and independent country."
Mazur returned a few days ago from visiting her parents in Lviv.
"Everybody said it is our land and we will defend it," she said. "But the price is horrible. Ukrainians are paying for freedom and for stability in Europe."
Despite the continued Russian aggression, Mazur expressed optimism for rebuilding the hardest hit areas of Ukraine. "We just need to keep momentum and be given military supplies, but the Ukrainian army is tired."
Pikolycky presented Mazur a key to the borough and a declaration by the Borough Council of support for Ukraine.
"I appreciate the time and resources you are taking to support a country you may not have heard of before recently," Mazur told the crowd.
The Stockton University Sam Azeez Museum of Woodbine Heritage is a National Historic Landmark established by businessman Michael Azeez in 2003 in memory of his father, who grew up in Woodbine, and donated to Stockton in 2011.
--Story and photo by Stacey Clapp