Stockton Students Guide the Way for U.S.-Greece Collaborations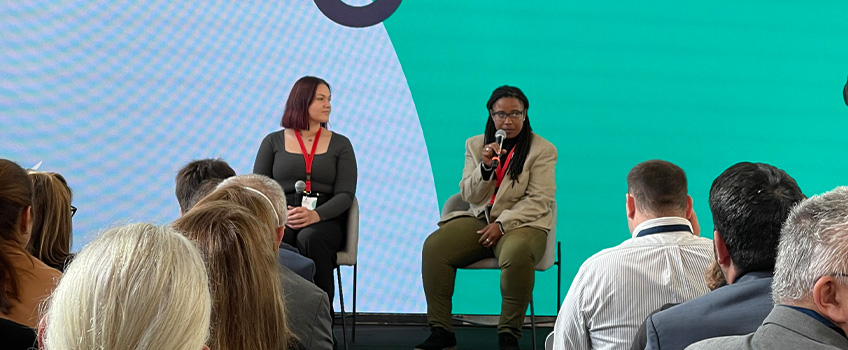 Galloway, N.J. - When Megan Coates '21 and senior Eva Leaverton arrived in Athens, Greece to represent Stockton at the first Pharos Summit 2022: Greek-U.S. Collaboration in Higher Education, they found themselves surrounded by professors and administrators from other institutions like Princeton, Harvard, Yale, Columbia, Johns Hopkins, William & Mary and Tufts.
Out of the 30 U.S. institutions at the summit, Stockton was one of the smallest. As Coates and Leaverton looked around, they were surprised to be the only students invited to attend.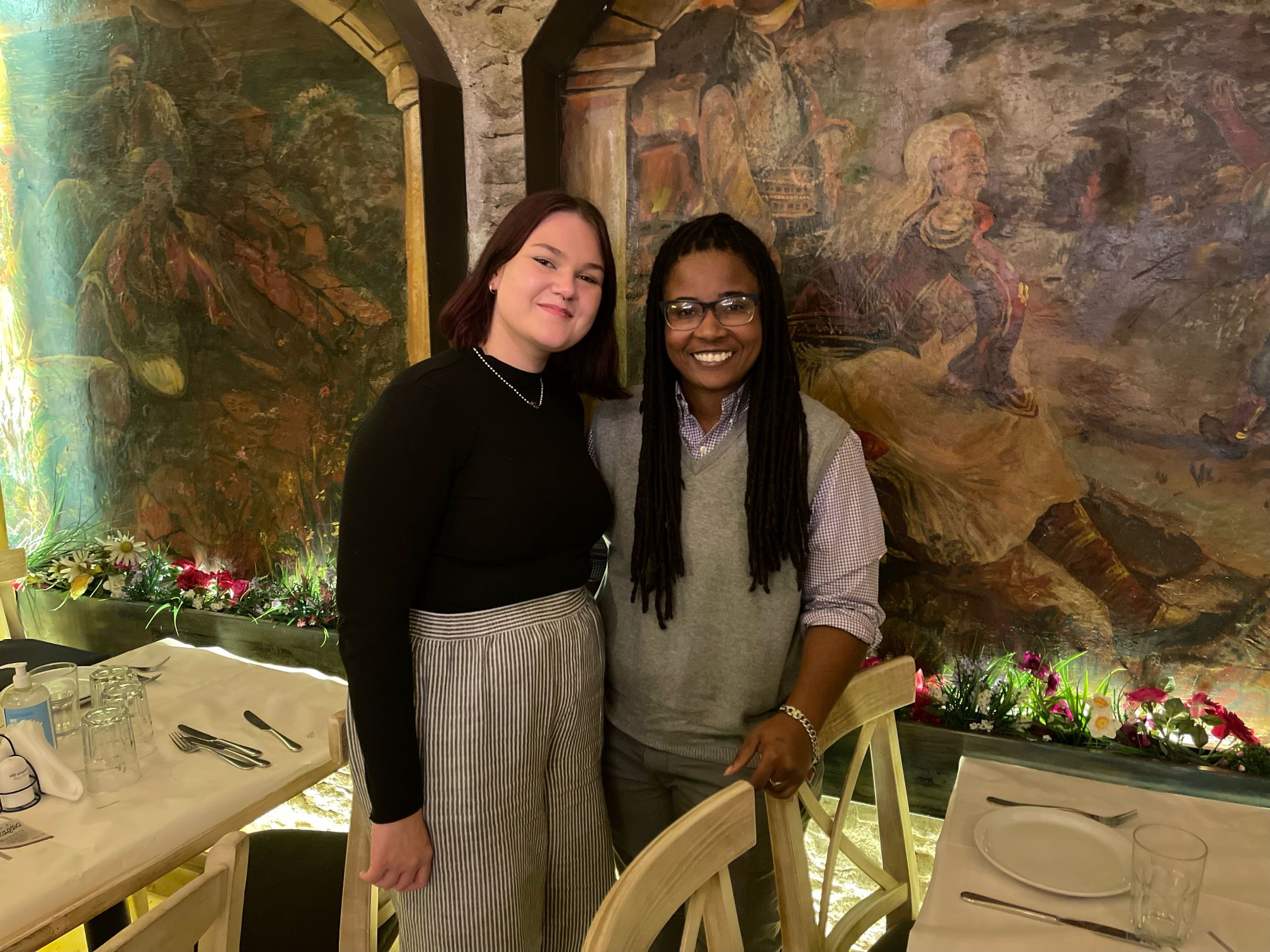 "At first, it was a little overwhelming, but everyone was so nice and welcoming," said Coates, an alumna from Atlantic City pursuing her doctorate in Archeology and Art History at Princeton University and co-director of the Hellenic Studies Diversity Travel Initiative at Stockton. "The professors, deans and personnel were great and very interested in our program, which also helped with our confidence in being able to talk to all of these important, prominent figures."
Stockton developed a successful study abroad program with Aristotle University in Thessaloniki in 2017 to bring more students to Greece to spark interest in Hellenic studies. Since then, the program has expanded and is the only one like it in the U.S.
In recent years, Greece has changed laws to make it easier to host exchange students. In hopes of expanding study abroad partnerships between Greek and U.S. institutions, the International Academic Partnership Program (IAPP) in Greece was developed, a program under the Institute of International Education (IIE) in Washington, D.C. and the host of the first Pharos Summit.
When Stockton applied to attend the summit in 2019, the application was accepted. After being pushed back a couple years due to COVID-19 restrictions, the summit finally took place November 5-11, 2022.
Before traveling to Greece for the summit, Coates and Leaverton were invited to attend an IIE meeting in Washington, D.C. to meet delegates from some of the other universities that would be there. The Greek Minister of Education Niki Kerameus attended this meeting, whom Coates had met previously.
"She recognized Megan, so while we were there, she actually met with us," Leaverton, a Languages and Culture Studies in Greek and Latin major from Millville, recalled. "She took us aside and we talked to her. She invited Megan and I to go in November."
While being the only students to attend the summit was overwhelming at first, Coates said: "Once we felt that what we had to offer was valid, we felt we deserved it. You know, a place at the table."
The goal of the summit was to forge connections and foster collaborations between U.S. and Greek institutions to expand study abroad opportunities for students in both countries.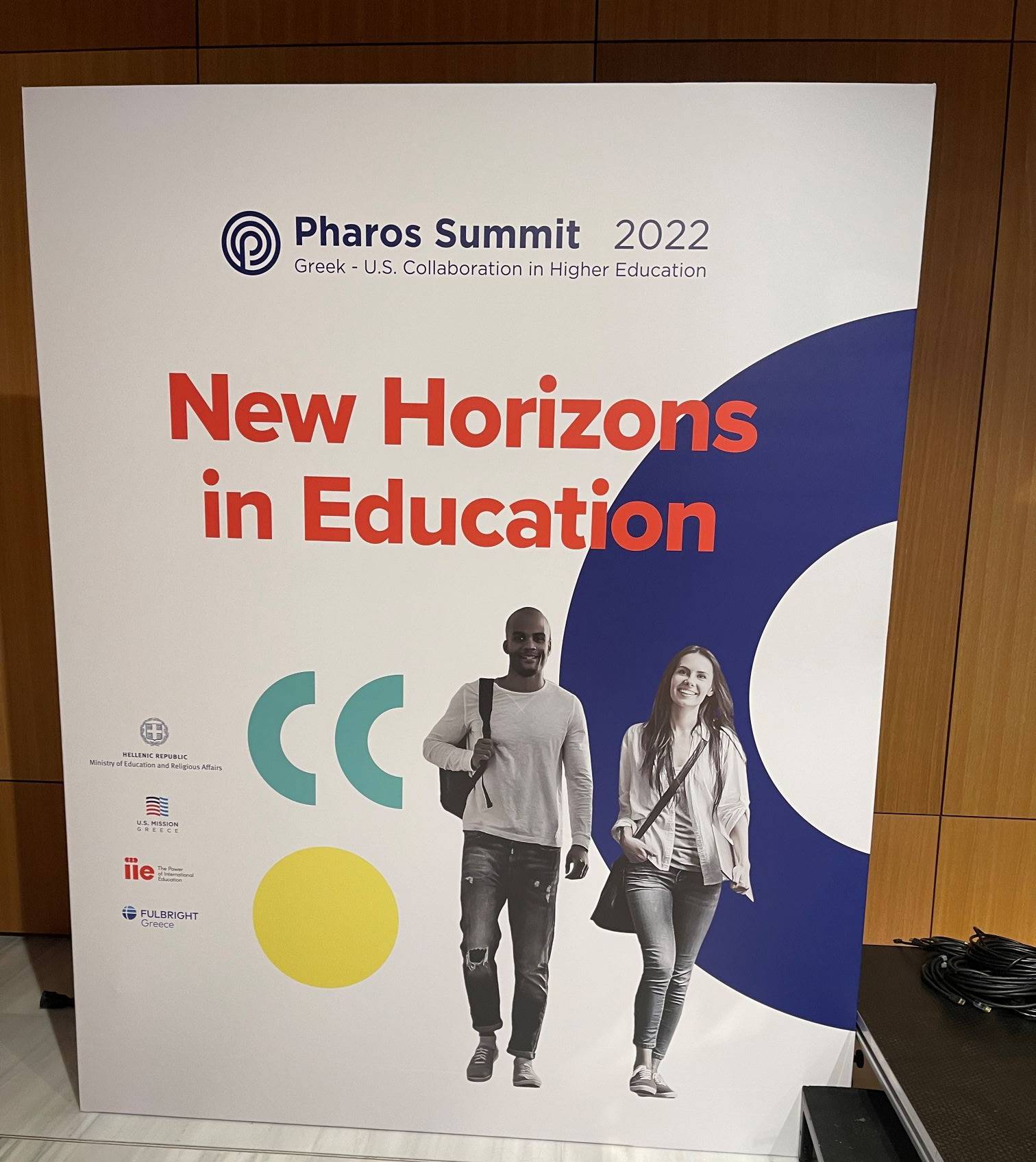 "It was really interesting to see how things ran at other schools like Princeton and what programs they were interested in starting," Leaverton said. "I was also interested in talking to people from the Greek institutions. They had a lot of great ideas for possible partnerships that I didn't even think of."
After spending a couple days in Athens getting acquainted with delegates from the other U.S. and 24 Greek institutions there, the four representatives from Stockton - Coates, Leaverton, Professor of Greek Language and Literature David Roessel and Assistant Dean to the School of Arts and Humanities Rosa Perez-Maldonado - divided into separate groups and traveled to different areas of Greece.
Coates visited the Crete area to uncover what types of study abroad programs universities had to offer that coincide with programs at Stockton, particularly in the humanities like modern and ancient Greek language, Latin and classical studies.
"The universities had a lot to offer," Coates said. "As far as things like marine biology and other social sciences, I'm gathering that information now. Once I get it together, we'll be able to coordinate and see what we can get started as far as other exchange programs at institutions on Crete."
Leaverton toured northern Greece to strengthen existing relationships and prepare for her upcoming semester abroad at Aristotle University from February to June. As part of a new opportunity at Stockton, Leaverton is one of the first students to take three semesters of modern Greek language online with a professor from Aristotle before spending the fourth semester in Thessaloniki.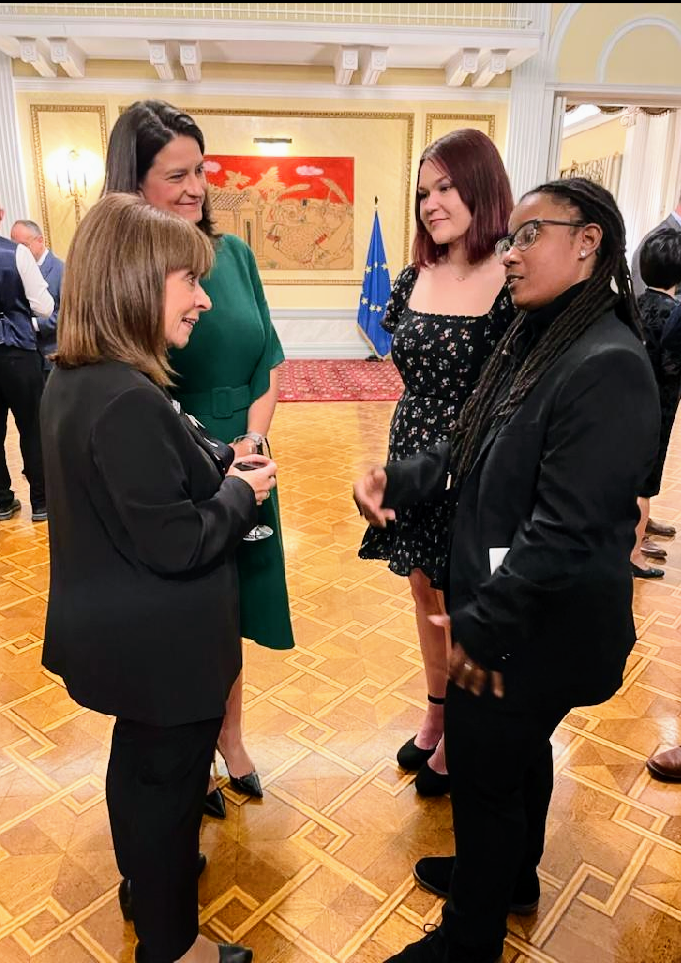 Meeting President Katerina Sakellaropoulou was a highlight for both Coates and Leaverton in Greece. "Being able to say, 'Hello Madam President' and shake a woman president's hand was really nice," Coates said.
"It's funny because the picture we have…it's Megan and I, then across from us is the President of Greece and the Minister of Education, these two amazingly powerful women," Leaverton added. "It felt surreal. And the fact we were in the presidential mansion when we met her. I could never imagine this happening back home. So how is this happening here?"
For Leaverton, taking part in the summit as one of the youngest people there boosted her confidence. "The fact we have the opportunity to hopefully expand and start new programs for other universities has been amazing," she said. "I'm very excited about the opportunities we have in the future. Hearing what other schools would also like to do and knowing that other students will also get this opportunity is amazing."
While Coates feels hopeful about the future of study abroad opportunities in Greece after attending the summit, her work isn't over.
"At this delegation, I was one of three African Americans to show up as a representative of the United States as a whole," she said. "A lot of students, particularly students of color and from other underrepresented communities, don't know that these programs exist. And the ones that do, they don't think it's for them.
"Even though I'm at Princeton right now, I wasn't representing them. It was at Stockton that I met the professor who encouraged me to go to Greece for the first time. It was because of Stockton that I had these opportunities. And it's at Stockton where we're going to reach these people. So we have to keep going."
Students can learn more about the pair's experiences and Stockton's Hellenic Studies program at the upcoming Travelogues of Greece discussion at 4:30 p.m. on Tuesday, Jan. 24 in the lower Art Gallery in Galloway.
Click here to watch Megan Coates talk about what expanding study abroad opportunities in Greece means to her.
Reported by Eliza Hunt
Photos submitted by Megan Coates, Eva Leaverton and Rosa Perez-Maldonado