Spotlight On: Toby Rosenthal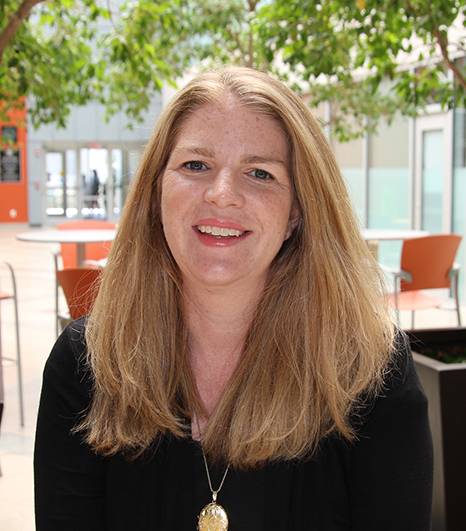 Galloway, N.J. — Toby Rosenthal, teaching specialist of Communication Studies at Stockton, was recently named one of 33 faculty champions by The Center for Community News (CCN) at the University of Vermont. This new program funds each of these champions at 33 universities and colleges who are starting and growing local news partnerships. Rosenthal will receive $1,000, which she plans to donate to the Foundation to create two book awards for Communication Studies students interested in journalism and community-powered storytelling and information sharing.
Rosenthal began teaching as an adjunct at Stockton in 2015-2018 while also working full-time in television production in Philadelphia.
"I started teaching full-time with Communication Studies in 2018. Although, technically, my first Stockton job may date back to 1996-ish when I was a counselor one summer when Stockton had a day camp," she laughed.
Rosenthal brings a personal passion to her role here and embodies why this opportunity is so relevant. "Since I started teaching at Stockton, I have been engaging in developing journalism and storytelling opportunities for students. Through my 20+ years of professional journalism and broadcast production work, I know how these valuable skills transfer into the marketplace," Rosenthal said.
One of her first and continued responsibilities with the Communication Studies program is to work closely with The Press of Atlantic City, the region's only daily publication. This includes supporting the paid student internship experience each semester and recently launching the Community Reporting Innovation Lab (CRIL) in Atlantic City.
"The CRIL space in Atlantic City is an example of how the next generation of journalists and storytellers will change the landscape of how news is produced and delivered. Stockton's relationship with The Press of Atlantic City is also a prime example of how a local news organization can partner with students and educators to ensure information sharing is accessible for community members," Rosenthal noted. "Since I began working full-time with the Communication Studies program, I have been introducing our students to the history of racism in traditional media models and creating new paths forward."
I know this experience will support me to develop new skills that can be applied to our Community Reporting Innovation Lab space, create new national networking opportunities, and support Stockton (and our students) gaining more recognition in our engaging community-centered journalism and storytelling work through the Communication Studies program.
"Media narratives have been used as a tool of oppression," Rosenthal, who has served since 2018 as the PI of Stories of Atlantic City, said. "That project is part of a collective effort not only in the state but also nationally to eliminate the old 'elite' models of journalism that perpetuate systemic racism and have prohibited accurate representation in newsrooms and the editorial process, creating barriers to accurate information, promoting civic engagement, and accessing public services and fueling ongoing community division."

As traditional news models have been evolving, Rosenthal has been closely watching the development of work of University of Vermont Center for Cooperative News and thinking about Stockton's evolving relationship with the Press of Atlantic City.

"When they announced the Faculty Fellowship, I jumped at the chance to apply for more resources for our students and program. I am also in a cohort with other faculty members from across the country and other institutions."

When asked how she felt once learning she was selected, Rosenthal said, "It felt great to read the award letter. I felt great pride not only for the achievements of the Communication Studies program, myself, and the students but also for our greater community we are working with. We are literally 'on the map' of CCN."

Through this program, Rosenthal sees many opportunities to grow her work here at Stockton. "I know this experience will support me to develop new skills that can be applied to our Community Reporting Innovation Lab space, create new national networking opportunities, and support Stockton (and our students) gaining more recognition in our engaging community-centered journalism and storytelling work through the Communication Studies program."

Reported by Mandee McCullough

Photo submitted by Toby Rosenthal