Spotlight On: Faculty Present Research at International Conference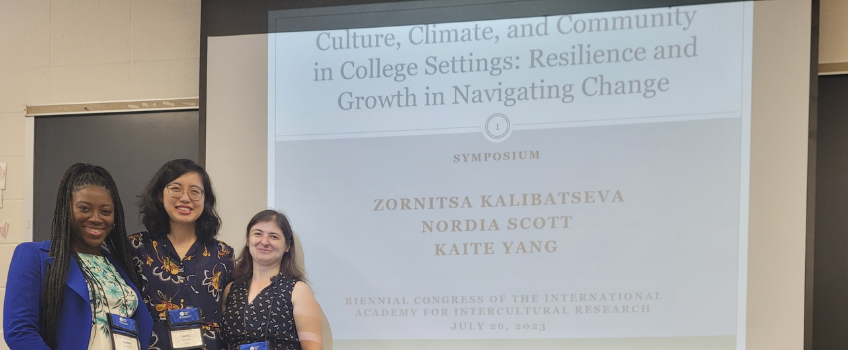 Galloway, N.J. — Zornitsa Kalibatseva, associate professor of Psychology; Nordia Scott, assistant professor of Social Psychology and Kaite Yang, associate professor of Psychology, presented their research in a symposium chaired by Kalibatseva at the International Academy for Intercultural Research (IAIR) Conference in Philadelphia in July 2023. 
Their symposium, "Culture, Climate, and Community in College Settings: Resilience and Growth in Navigating Change," highlighted each faculty member's research.
Scott presented her research on Black and Latina college women's resilience in "Shifting the Focus: The Role of Institutional and Racial/Ethnic Protective Factors in Promoting Resilience in an Intercultural Campus Climate." "It was refreshing to share my research in an international context," she said. "Global perspectives on intercultural climates offered new insights and exciting considerations for future scholarship."
Kalibatseva shared her work on country and campus climate and mental health among students of color in "Identity, Country Climate, Campus Climate, Discrimination and Mental Health Among U.S. College Students." She noted how valuable the opportunity was to network with researchers from various countries who brought an international perspective to the conference's theme.
Yang spoke about an assessment project on multicultural learning in "Student Multicultural Attitudes and Ethnocultural Empathy in Psychology Classes." 
"The IAIR conference presented excellent opportunities to connect with other scholars and discuss emerging intercultural research from around the world," Yang concluded.
Reported by Mandee McCullough
Photo submitted