Spotlight On: Jestina Drysdale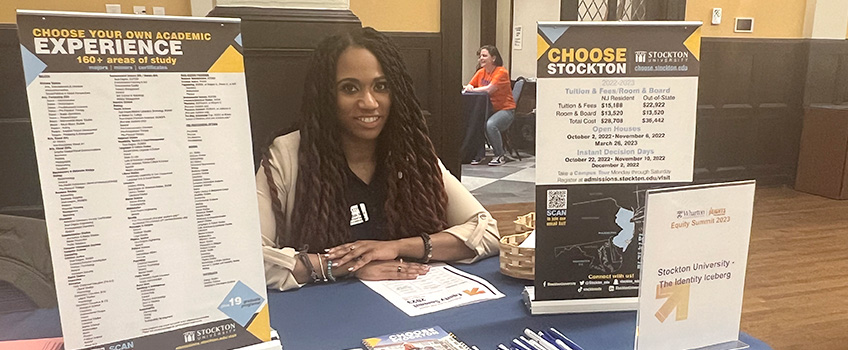 Galloway, N.J. — Jestina Drysdale, assistant director of Student Conduct in the Dean of Students Office, recently presented at the 2023 Equity Summit located at the University of Pennsylvania, where she had the opportunity to connect with over 200 9th-12th grade students.
Her presentation centered around the Identity Iceberg model, which covered the many aspects of a person's identity, including the social identity groups to which they belong (race, gender, religion, sexual orientation, etc.)
"Many facets of identity are not readily apparent, while others are. When you first meet a person, you may think you can clearly see aspects of their identity, but in fact, many aspects of one's identity are not visible when you first see a person. An iceberg serves as a useful metaphor for examining identity. You can only see a small part of an iceberg (about 13%) that is above the waterline," Drysdale said. "Like an iceberg, only a few aspects of one's identity are immediately visible and apparent. We must go below the waterline to see people in their full complexity. Students were able to learn strategies on how to connect and foster relationships without relying on assumptions and the importance of being aware of our own biases so that we can be equity centered in our daily lives."
She also said it was important to represent Stockton and participate in the Summit to allow students to explore their passions around the themes of justice, mental health and wellness, and advocacy.
"It was a day of learning, reflecting and celebrating as we discussed the realities and dreams for achieving equity in the local schools, communities and future careers. Experiences like this are crucial for bringing up difficult conversations in a supportive environment where students are challenged to think outside the box and acquire techniques for navigating spaces with an equitable perspective," Drysdale reflected.
Drysdale, who grew up in a low-income area of Southwest Philadelphia, came upon this opportunity due to her time volunteering with Heights Philadelphia as a Career and Black alumni panelist.
"If there is an opportunity to give back to an organization that made college possible for me and beyond, I will always find time to inspire students that they CAN do this! As an alumna, I understand some of the challenges that students face," she said, having once believed attending college was a pipe dream until Philadelphia Futures (now Heights Philadelphia) entered her high school, and in essence, changed her life's trajectory.
At the Summit, Drysdale shared the many resources Stockton offers to help students adjust to college life, including counseling services, financial assistance, residential life, a new student transition program, a Care office, the Multicultural Center, and much more.
I love that my position as an educator allows me to adopt a holistic approach while helping students navigate college, feel a sense of belonging, and prepare for their future professional growth.
"Some students talk about how the pandemic affected their reality and identity, which complicated communication and other factors. I informed students to look at these challenges as an opportunity for growth and that they are not on this journey alone," she said.
When asked about what she values and enjoys in her role here at Stockton, she beamed, "I love that my position as an educator allows me to adopt a holistic approach while helping students navigate college, feel a sense of belonging, and prepare for their future professional growth. I enjoy connecting students to resources and extracurricular activities and using a more restorative justice approach through our conduct process to help students understand how their actions affect not only themselves but also the community.
"Our office adheres to the concepts of restorative justice methods, which enables us to address the harm, hold those responsible accountable, develop or restore the community, and ensure that our procedures are equitable. This year, we launched the first Restorative Justice Summit, which was an educational forum that brings together students, faculty, and staff to collaborate in advancing equitable, evidence-based restorative justice and peacemaking practices. This interactive program was created by Graduate Intern Yesenia Pacheco and supported by my supervisor Seth Richards (associate director, Office of Student Conduct) to increase students' knowledge, understanding of Stockton's conduct process, and the advantages of incorporating a restorative justice approach. Overall, I am very passionate about finding proactive and creative ways to provide the utmost quality and equitable process to our students," Drysdale concluded.
Reported by Mandee McCullough
Photo provided by Jestina Drysdale