Spotlight On: Alysia Mastrangelo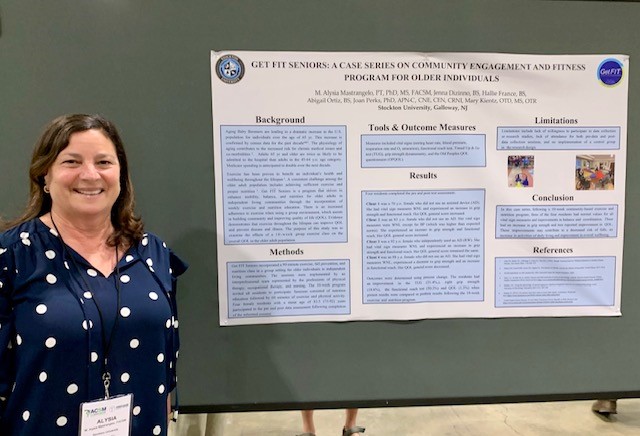 Galloway, N.J. — Alysia Mastrangelo, professor of Physical Therapy, presented "Get FIT Seniors: A Case Series On Community Engagement And Fitness Program For Older Individuals" at The American College of Sports Medicine Annual Meeting held May 30-June 2 in Denver, Colorado. The research was from a community engagement program that was created by an interprofessional collaboration of the physical therapy, occupational and nursing programs. The program, funded by SCOSA, partners with residents of local adult independent living communities and provides an exercise and nutrition education program through Stockton graduate students.
"We had about 30 attendants, but only four participated in both the pretest and post-test, which is why the presentation was a case series describing four specific residents," Mastrangelo noted. "They shared that they enjoyed engaging with the graduate students and learned many new healthy, nutritious options. Because they live in an independent community, they make their own meals."
Physical therapy students are taught many ways to incorporate exercise and physical activity in both treatment and wellness. "The Get FIT program allows the graduate students to work with clients and learn their challenges to include wellness in their daily lives," Mastrangelo said.
The project will expand its community engagement to include three independent living communities for the next academic year. "We have found the interprofessional team of PT, OT and nursing is an effective way to learn from and with each discipline. Get FIT Seniors also provides an intergenerational opportunity for residents and students to engage," Mastrangelo concluded.
Get FIT and this presentation were a collaboration between Mary Kientz, associate professor of Occupational Therapy; Joan Perks, associate professor of Nursing, and Mastrangelo's graduate students Jenna Dizinno, Abigail Ortiz and Hallie France.
Reported by Mandee McCullough
Photo submitted