Camp Encourages Future High School Entrepreneurs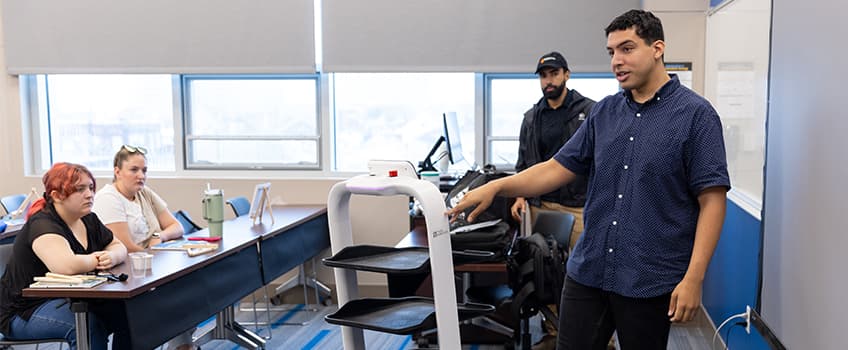 Atlantic City, N.J. — Carrie Tchaplygin has always had a knack for business. The 16-year-old is on track to earn an associate degree in business administration before she even graduates from Lacey Township High School.
So, she was honored to be selected as one of 13 high school students from across New Jersey to participate in Stockton University's Summer Entrepreneurship and Business Academy (SEBA) from July 16-22.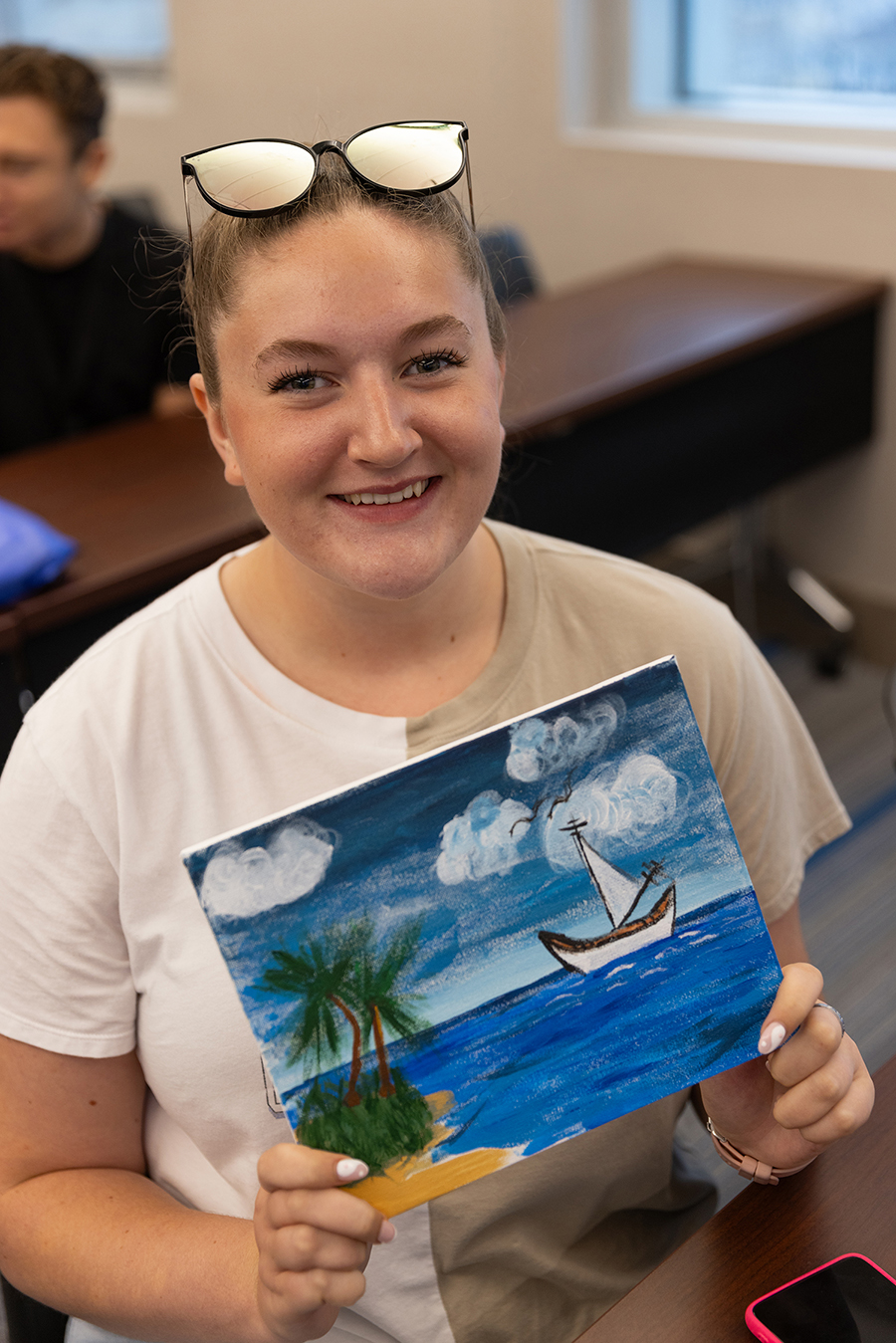 Carrie Tchaplygin, of Lacey Township, shows off some of her artwork from one of the sessions.
And while she's been thrilled to learn about several different aspects of business — such as hospitality and tourism, accounting, management, computer analytics and marketing — what's the first thing she did when she arrived?
"I purposely moved my bed to my window so I could see the beach when I woke up," she said with a laugh, referring to the view from Kesselman Hall in Atlantic City, where the students lived during the program.
SEBA is a unique summer camp focusing on entrepreneurship that hopes to give rising high school juniors and seniors a better understanding of business, an experience of what college is like and maybe a direction of what they want to do after high school, said Tara Marsh, the SEBA coordinator.
"I also want them to have fun. I want them to enjoy the learning experience," she said. "I want them to build a network of their own peers and then network with the professors and community members."
The students were divided into groups of four or five and asked to develop a new business plan throughout the week — meeting with a Stockton professor as a mentor. On the last day, they presented their plans to a panel of community members and Stockton faculty, staff and graduate students. The panel selected a winner with first place receiving $500, $300 for second place and $200 for third. The camp is free thanks to donations by Spencer's, Spirit Halloween and other sponsors.
"It's really giving the students the opportunity to showcase their work, the work they've put in all week, and have the opportunity to be in a professional setting," Marsh said. "Being dressed professionally and learning how to present professionally."
I really didn't want to stay in-state, but I'm definitely going to apply here because I think this an environment where the professors actually care about what they are doing."
Each day, Stockton professors presented lectures on topics such as business ethics, marketing and how to tell your story succinctly, along with talks from local entrepreneurs about the positives and pitfalls of starting your own business.
Nathanael Gaw, from Egg Harbor Township, participated in SEBA for the second year in a row. The 16-year-old said the camp "teaches you how to make a successful business from scratch — all the ideas, all the planning, everything down to the nitty gritty that you can do by yourself."
"I think it's very important because no matter what company or business you are a part of, it's always a good thing to know something about entrepreneurship," he said. "They bring out guest speakers that have already made it in the entrepreneur space who can share how to become successful."
Two of the guest speakers were the founders of F&S Digital — Francisco Vizcaino '20 and Sage Del Valle '20/MBA '21.
The duo talked about the good and the bad of owning your own business and how they had the idea to start theirs while they were undergraduate students at Stockton.
"Being an entrepreneur has a lot of sacrifices. The first couple of years we took our nicks and bruises," Vizcaino said.
Vizcaino told the students how Stockton's Small Business Development Center helped the two of them come up with a targeted business plan, and he relished the opportunity to share what they have learned with the SEBA students.
"Having that Stockton foundation and to be able to come back and impart the knowledge to hopefully future Stockton students is awesome," said the Egg Harbor Township resident. "I would have loved to be able to sit in a classroom and have somebody tell me the ins and outs of business and paint the whole picture, not just what you see on social media.
SEBA camp award winners
First place: $500
Dylan Gutowski, Francis Hoffman, Walter Moore and Jason Reinherz
Faculty mentor: Christian Ehiobuche
Second place: $300
Phoenix Coelho, Nathanael Gaw, Jeshohaih Hernandez, Christopher Lamothe and Sebastian Sares
Faculty mentor: Christy Goodnight
Third place: $200
Zachary Moore, Carrie Tchaplygin, Daniel Trindle and Collin Wheeler
Faculty mentor: Carla Cabarle
"We would have been hapless if we didn't listen to people other than us, like Stockton professors."
SEBA also offered a unique chance for students to interact with academic staff and leaders.
"It's a great opportunity to show them the value that Stockton has and what makes us distinct because we truly believe in capturing their interests and passions and paring them with the right industry area and academic focus," said Noel Criscione-Naylor, an associate professor of Hospitality and Tourism Management Studies, after giving a lecture on the burgeoning field of esports. "We want to really inspire and motivate them to pursue areas that they either weren't familiar with or didn't have access to."
Tchaplygin was "like a sponge to everyone's knowledge," and certainly left the camp inspired and with a positive impression of Stockton.
"I really didn't want to stay in-state, but I'm definitely going to apply here because I think this an environment where the professors actually care about what they are doing," she said, adding that she's been encouraging her older sister to attend too after she graduates from Ocean County College. "All the examples that the presenters are making apply to real-life connections in the business world, which is absolutely stunning to me. The experiences here have just been really great."
— Story by Mark Melhorn, photos by Susan Allen