Rocket League Team Eliminated from World Championships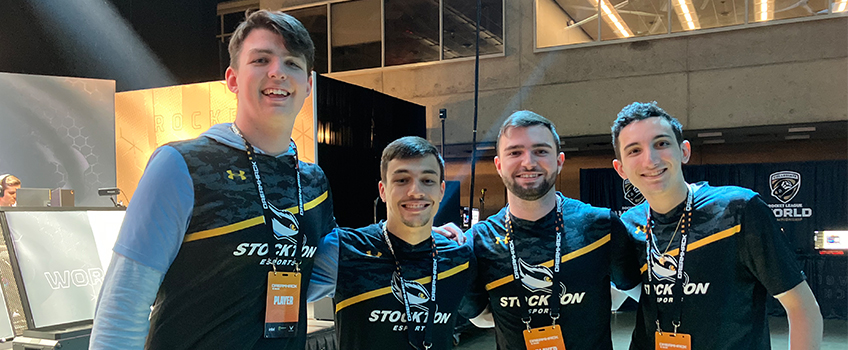 Galloway, N.J. — The Stockton University esports team was unable to bring home a world championship last weekend at the Collegiate Rocket League (CRL) 2023 World Championships.
But just being one of 16 teams to make it to the finals at the DreamHack festival in Dallas is still quite an accomplishment for the three-person team of senior Brian Busse, of Hazlet, sophomore John Merendino, from Hauppauge, New York, and first-year Anthony Cooper, of Forked River. It's the second year in a row Stockton qualified for the finals. Busse and Merendino were part of the 2022 team that finished second.
Even though we weren't the best team in the world, I think our accomplishments still mean a lot."
This year's team didn't make it out of the group stage. Stockton began the 2023 tournament with a three-games-to-none loss to Columbia College (Missouri) on Friday, June 2 but bounced back with a 3-2 victory over the University of Nevada-Las Vegas on Saturday, June 3. Stockton was eliminated after a 3-1 loss to the German team Berlin Phoenix on Saturday.
Another German team from the Dr. Buhmann School & Academy in Hanover won the world title with a 4-3 victory over the Fisher Falcons from Massachusetts.
"Playing in my last tournament, of course, was a lot of fun," Busse said. "I know I played really well. I'm not disappointed in my effort. It stinks not making at least the top eight, but, overall, it was very fun to play one last time at worlds.
"Even though we weren't the best team in the world, I think our accomplishments still mean a lot."
Rocket League is an arcade-style soccer game played with rocket-powered cars. Stockton clinched a spot in this year's world championships by winning the North American Last Chance Qualifier on April 2.
"We are immensely proud of our team's journey and achievements. Their stellar performance against international teams and resilience through adversity are testaments to their hard work, dedication and talent. We look forward to what the future brings and are excited to continue supporting our players as they take on new challenges and soar to greater heights," said Demetrios Roubos, Stockton esports program manager.
- Story by Mark Melhorn, photo by Alice Roubos