Stockton Professors Produce Original Television Pilot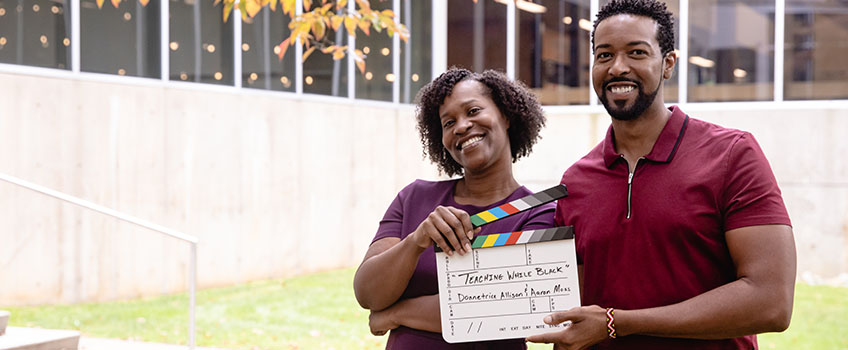 Galloway, N.J. ― Shayna Black arrives at her first teaching job at a predominantly white institution in the rural heartland of America, where she is quickly admired for her glowing skin instead of her Ph.D.
She is not taken seriously by her students, who she is just a few years older than. A new colleague tries to set her up with the basketball coach — one of the only other Black people on campus.
Could this really be happening, or is this a work of fiction?
Turns out, it's both. While Shayna Black is the hip-hop loving millennial protagonist in Professor Donnetrice Allison's television script, the uncomfortable situations, microaggressions and ignorance were all very real to Allison, who walked in Black's shoes as a young university professor in the 1990s.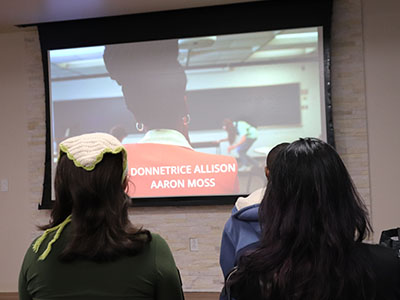 "She is navigating teaching, her love life and the politics of getting tenure," Allison said.
The "Teaching While Black" pilot will be screened at 5 p.m., Friday, April 14, in the Fannie Lou Hamer Event Room at Stockton Atlantic City's John F. Scarpa Academic Center and is open to the public. Watch the trailer.
Allison, professor of Communication Studies and Africana Studies at Stockton University, had long wanted to tell this story and thought it had the makings for a TV show. As a critic, she has analyzed how Black people are portrayed in the media for years. She wasn't sure where to begin, but with the encouragement of family and colleagues, she began writing the early script of "Teaching While Black" in 2018.
"I got some books out from the library and started thinking. I was 25 years old when I started teaching at a PWI (predominately white institution), and the story just came from that," Allison said.
Since Shayna Black is a millennial, Allison sought out the perspective of Aaron Moss, assistant professor of Theater/Directing at Stockton, about being a young Black faculty member today.
"I wanted a young professor in this era with social media (as the protagonist), and Aaron had just started at Stockton. He liked it and thought we could do something with it," Allison said.
This led to a creative partnership, with Moss bringing his experience working in front of the camera for television and film, as well as stage directing and reading scripts.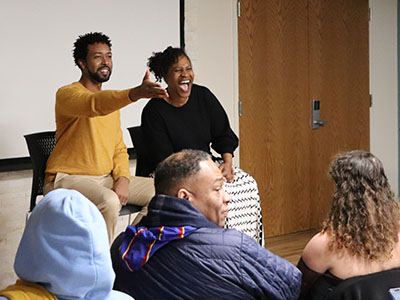 Allison, who earned her Ph.D. in intercultural communication at Howard University in Washington, D.C., came to Stockton in 2004. Moss completed a Master of Fine Arts at Yale School of Drama and taught in New York before coming to Stockton in 2019.
"I read the script and thought this was similar to some of my experiences," Moss said. "The power dynamic of being a professor of color in a PWI are very much present. A lot of people of color or women can relate to this."
Allison and Moss knew it was a story that was ready to be told. "Then 2020 happened. Black Lives Matter happened. We weren't able to film anything (due to the pandemic) and that gave us a lot of time to dive into the script," he said.
"We submitted drafts to a few contests and got some helpful feedback. We even were semifinalists in a Diverse Voices screenwriting contest. The whole time we were tweaking and waiting to film," Allison said.
"The story touches on a lot of serious, contemporary, racial and workplace issues, but it is not presented in a heavy manner at all. It is still a comedy," Moss said. "People who have seen clips enjoy the levity. It makes it easier to absorb those" serious topics.
"I want people to connect with a character trying to find work-life balance as they join the professional field," Allison added. "There have been a lot of workplace comedies, but we rarely see the experience of professors. That is a fresh take, and tenure can be a really political process."
Casting Call
Once they were committed to filming the pilot, Allison and Moss had to find their Shayna Black, and other supporting characters. That involved a full-blown casting call, with more than 3,000 actor submissions. After weeks of reviewing resumes, they rented a casting studio in New York City.
"It was really fun," Allison said. "So many of the actors were just as excited about the project."
"We were really fortunate to get the caliber of actors we did for the pilot. I think it speaks to the script and story we have how people were attracted to it," Moss said.
The story touches on a lot of serious, contemporary, racial and workplace issues, but it is not presented in a heavy manner at all. It is still a comedy. People who have seen clips enjoy the levity.
Actress Nedge Victome plays the lead character, Shayna Black.
They filmed the pilot over 10 days — sometimes 12-to-16-hour days — in the summer of 2022, largely at Stockton's Galloway campus. Those familiar with Stockton's campus will recognize a number of locations, and a few faces.
It was important to both Allison and Moss to involve students in the project, and they reached out to current and former students whose talents aligned with their project. Alumni from Las Vegas to Atlanta and beyond were recruited to work in front of and behind the camera in roles from extras to script supervisor. Amira Lee '20, served as associate producer and first assistant director. One alum was the scenic designer while another took on a main role.
"It was great to be able to provide post-baccalaureate experiences for students who trained with us and are now getting to work side-by-side with us as peers in a professional environment," Moss said.
Not Quite Ready for Prime Time
"Ultimately, we would love to share the series with the world on a major platform like Netflix, Hulu or HBO. The first step is submitting to TV and film festivals throughout the world and also shopping to networks using connections," Moss said.
The pair has written two episodes and has five seasons mapped out in case a producer gets behind the project.
"In a TV show you just get a snippet to see if you're interested in following the character's life over the course of you don't know how many episodes. But we have to plan out her life over several seasons," Moss said.
They chose to map out five seasons because that is the length of the tenure process. "We had to see the full story they are going through and how much the viewer sees in each episode."
This year, the dramedy was selected to be screened at multiple locations across Canada during the International Black & Diversity Film Festival and is a finalist for Best Series Plot in the New York International Film Awards.
# # #

Photos by Susan Allen and Stacey Clapp
Media contacts:
Stacey Clapp
Director of Strategic Communications
Stacey.Clapp@stockton.edu
609-626-3645
609-412-8069
stockton.edu/media


Mark Melhorn
Associate Director of News and Media Relations
Mark.Melhorn@stockton.edu
609-652-4593
609-569-6026
stockton.edu/media