Noyes Museum to Develop Senior Arts Programs
Atlantic City, N.J. — A new $10,000 grant from the New Jersey State Council on the Arts will give the Noyes Museum of Art at Stockton University the opportunity to provide new visual arts courses for senior citizens in Atlantic City.
The grant is part of the council's Creative Aging Initiative in which $220,000 was given out to 22 New Jersey organizations. The Noyes' grant is the only one awarded in Atlantic County.
"Arts education and lifelong learning have longstanding priorities at the State Arts Council," said Samantha Clarke, the council's program officer for arts education & lifelong learning. "We look forward to providing new opportunities to reach older adults through the Creative Aging Initiative grant, and we're especially excited to be working with both arts organizations and community-based organizations in this important work."
Danielle Jonas-Staveckas, a program assistant at the Noyes, knew when she applied for the grant that it would be perfect for residents at the Atlantic City Townehouse, a senior-citizen apartment building on Mediterranean Avenue.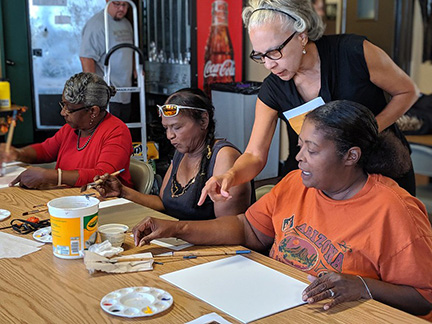 Local artist Valeria Marcus had previously taught arts classes for the Noyes to adults 55 and over. Marcus, who lives in Atlantic City, is an advocate for child abuse and domestic violence survivors.
"Her classes were met with such high praise," Jonas-Staveckas said. "It felt like the perfect fit to hold classes once again, but on a larger scale to match the need and requests from Townehouse residents."
Marcus and the Noyes will develop two residencies to teach painting, art history and writing skills to 16 residents at the building's senior center and disabled independent living facility.
Each residency includes a monthly class from April to November. One residency will focus on visual arts, while the second will connect visual arts and writing through narrative and art therapy-based applications. The grant will allow the Noyes to provide the residencies free to Townhouse residents.
"The goal of the classes is to provide aging adults with basic and intermediate visual arts instruction to build skills where they could practice and explore art as a means to communicate their personal feelings and experiences," Jonas-Staveckas said.
-- Story by Mark Melhorn
# # #
Media contacts:
Stacey Clapp
Director of Strategic Communications
Stacey.Clapp@stockton.edu
609-626-3645
609-412-8069
Mark Melhorn
Associate Director of News and Media Relations
Mark.Melhorn@stockton.edu
609-652-4593
609-569-6026