Marine Field Station Recommended for $1.4M Grant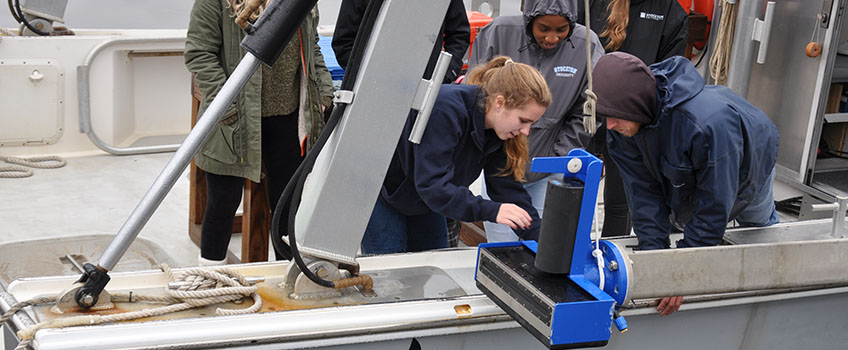 Galloway, N.J. — The $1 trillion federal Bipartisan Infrastructure Law has funded more than 20,000 projects throughout the country. Now, a piece of the bill is coming to Stockton University to clean local waterways.
The National Oceanic and Atmospheric Administration (NOAA) announced Friday that Stockton is recommended for an award of $1.4 million for marine debris removal. With an additional $300,000 matching grant from Stockton, the grant's total exceeds $1.7 million.
The award — one of the largest awarded to Stockton's Marine Field Station — has two major components:
Expanding a program with local fishing industries to identify and remove lost fishing and aquaculture gear in South Jersey waterways
Cataloging abandoned watercraft in New Jersey and removing 15-25 target vessels.
Stockton students view side-scan sonar data in the Mullica River. This type of sonar will be used to help identify marine debris.
"We have partnered with Stockton University for nearly a decade to remove derelict fishing gear, and value their expertise and commitment to tackling marine debris," said Katie Morgan, regional coordinator for the NOAA Marine Debris Program in the Mid-Atlantic. "We look forward to continuing this partnership and expanding the impact of Stockton's efforts in coastal New Jersey to address not only the harmful impacts of derelict fishing gear, but also the dangerous and costly problem of abandoned and derelict vessels."
This award is the fourth Stockton has received from NOAA as part of the administration's Marine Debris Program. Stockton received $100,000 in 2012, $119,626 in 2015 and $226,299 in 2018. The money has funded a partnership with local commercial industries to locate derelict crab traps and remove them from New Jersey coastal bays from Mantoloking to Cape May.
"It's a priority of NOAA to be able to collaborate with any of the commercial industries," said Steve Evert, director of Stockton's Marine Field Station. "It is the program's goal to strengthen our existing partnerships with commercial fishers and gain the trust and collaboration of more commercial partners."
Evert, Mark Sullivan, a professor of Marine Science, and Peter Straub, a professor of Biology and Coastal Zone Management, have worked hard to develop relationships with local crabbers, including Warren and Karen Unkert of the Crab Farm in Mullica Township.
The Unkerts have been involved with Stockton since the beginning of the program in 2012. Since then, more than 3,500 traps have been removed, returned to industry partners or recycled. That translates into more than $150,000 of economic benefit to the commercial crabbing industry.
Before working with Stockton, the Unkerts said they would lose up to $2,000 a year due to crab pots that were either cut off, dragged away by boats or lost in a storm. They initially tried to buy a sonar system to locate the pots themselves, but it wasn't powerful enough. Now as part of the program, if a pot is lost, they can get it right back.
"If you lose 40 pots a year you are talking a couple of thousand dollars that you are able to get back during the season that normally would have just been sitting on the bottom of the bay rotting," Warren Unkert said.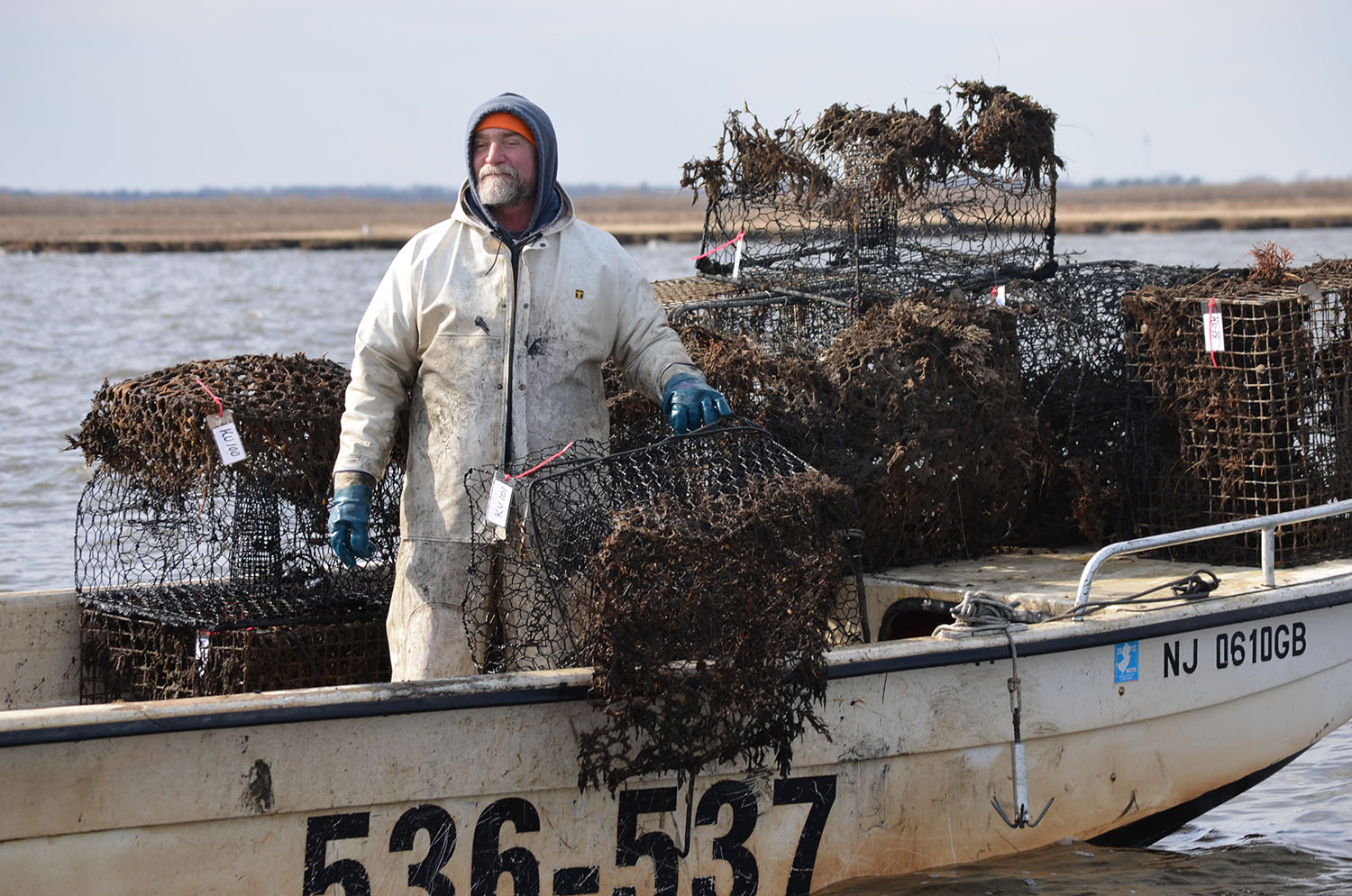 Crabber Warren Unkert and his wife Karen have been involved with Stockton since 2012 to help remove crab pots from the Mullica River.
With the additional funds, Evert said Stockton will expand the program to other commercial partners and encourage licensed crabbers and aquaculture operations to reach out.
"It helps to have good partners like the Unkerts," he said. "We are really trying to incorporate others not only for the benefit of the ecology of the bay but also to assist the industry by saving them money through reducing lost gear and increasing catch."
Another major part of the project is student involvement. Since 2012, more than 150 undergraduate students have received hands-on experience.
In fact, it was an undergraduate course taught by Straub in 2009 that first identified the problem. Straub was showing his students how to use different types of technology to reveal items on the sea floor, Sullivan said. One of the things they saw was lost crab traps.
"The Marine Science program really prides itself on getting students hands-on experience in the field," said Sullivan, who serves as the Principal Investigator on these projects. "It's only appropriate that the initial kernel of this came about during an undergraduate course."
Under the new grant, more undergraduate students will receive training on the sonar equipment and general boat-based skills to retrieve pots from the river and bay bottom. Also, two graduate students from Stockton's Coastal Zone Management master's program will be involved.
"It gives the students a lot of really practical experience, as well as exposure to potential career paths in STEM (science, technology, engineering and math)," said Anna Pfeiffer-Herbert, associate professor of Marine Science. "In addition to that core group of students, we expect and support graduate students to engage with K-12 programs particularly at the high school level.
The program will also pull in students from the Louis Stokes Alliance for Minority Participation (LSAMP) at the Jacques Cousteau National Estuarine Research Reserve, the Marine Academy of Technology and Environmental Sciences in Stafford Township and other local high schools.
The latest, much larger NOAA grant has a significant new component — identifying and cataloging abandoned boats in New Jersey. According to a March 2022 NJ.com story, the state is trying to better understand the scale of the program. This grant hopes to go a long way toward accomplishing that, Sullivan said.
"It's a complex process to begin the paperwork and all of the different components that are needed to remove these vessels," he said.
The scientists are working with the commercial fishers to come up with solutions to these problems. That's been a really satisfying component of this work. It's a win for the environment, and it's a win for the commercial community."
Sullivan hopes once vessels are mapped, Stockton could work with the New Jersey State Police and local municipalities to begin removing those vessels.
"We need to get a handle on the scope of the issue," he said.
The grant will also allow the marine debris program to expand beyond just crab pots and address other marine retrieval needs, such as oyster cages and other aquaculture items.
"We are trying to provide a technology hub where people can contact the field station with lost gear needs and the staff can help come up with the best approaches for locating that gear and give them the tools to find it and retrieve it," Sullivan said. "We've gone from a course all the way up to four funded grants. Each grant we've built up the next. We are removing more gear. We are expanding this out to other different industries. We are getting more students involved with each project.
"The scientists are working with the commercial fishers to come up with solutions to these problems. That's been a really satisfying component of this work. It's a win for the environment, and it's a win for the commercial community."