Murphy Donates $10,000 to Stockton Foundation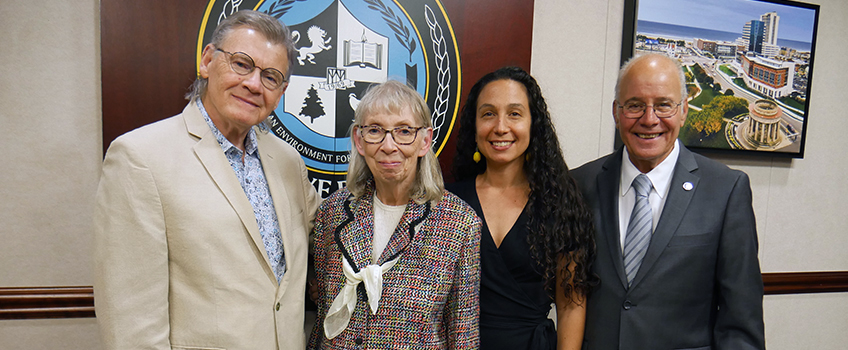 Galloway, N.J. — Peter Murphy knew he wanted to do something special for the 30th anniversary of the Annual Winter Poetry and Prose Getaway.
As he introduced the six scholarship recipients at this year's event, it hit him.
"I would love to offer 30 scholarships for the 30th Annual Winter Poetry and Prose Getaway next January," said the founder of Murphy Writing, an organization that offers in-person and online programs to help writers develop their craft. "So, I will match, up to $10,000, all donations made to our scholarship fund."
Six months later, Murphy made good on his pledge by donating $10,000 to the Stockton Foundation.
"My wife, Sonya, and I are honored to offer this check to the Stockton Foundation. It may not be enough to fund 30 scholarships, but it will be close," he said on June 15.
Murphy founded the Winter Getaway based on his belief that when writers leave behind distractions to gather in an encouraging community, they will make breakthroughs in their art. Over the last three decades, the getaway, which is held at Seaview Hotel, A Dolce in Galloway Township, has become one of the oldest and largest writers' conferences in the winter season, attracting writers from across the globe. Founded in 1994, Murphy Writing became a part of Stockton University in 2014.
Scholarship recipients are chosen based on a combination of merit and need and are evaluated by a panel of judges.