President Kesselman Tapped for International Education Initiative
Galloway, N.J.―Stockton University President Harvey Kesselman was appointed to a new international council that will forge connections among education leaders from across the globe.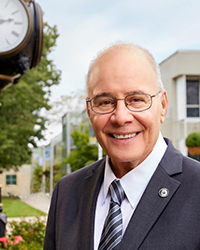 The Association of International Education Administrators (AIEA) recently established the Presidential Ambassadors Council, whose members will meet regularly with the AIEA board, serve as a resource to AIEA members, present at AIEA conferences and promote international education by writing articles and opinion pieces and by providing peer mentorship to other institutional leaders.
Kesselman, an educator with more than 40 years of experience in higher education, has been actively engaged with the issues of internationalizing campuses and developing strategic partnerships with institutions throughout the world. He also has served on the American Council on Education and as a member of the Commission on Internationalization and Global Engagement.
"Stockton has long had a commitment to global perspectives and learning, and I am honored to bring my perspective and experience to this new initiative," Kesselman said. "I look forward to meaningful collaboration on the changing landscape of international higher education while continuing initiatives like Ospreys R.I.S.E., which imbues research, international education, service-learning and experiential learning into the Stockton experience."
In addition to Kesselman, six other leaders were appointed in December to serve as inaugural members of the council, including:
Carolyn J. Stefanco, inaugural chair; former president, CEO, Barét Leadership Consulting, United States
Margee Ensign, president/vice chancellor, United States International University- Africa, Kenya
Judy Genshaft, former president, University of South Florida, United States
Cheryl Green, president, Governors State University, United States
Carl Jubran, president, Institute for American Universities, The American College of the Mediterranean, France
Hilary Link, former president, Allegheny College, United States
The AIEA is a member organization that equips leaders to shape the future of higher education in a global context and partners with other organizations around the world to develop sustainable, forward-looking perspectives.
Read an article on internationalizing higher education for AIEA by Kesselman and Jiangyuan Zhou, director of Global Engagement.
-Story by Stacey Clapp