John R. Elliott Character & Leadership Program Graduates First Cohort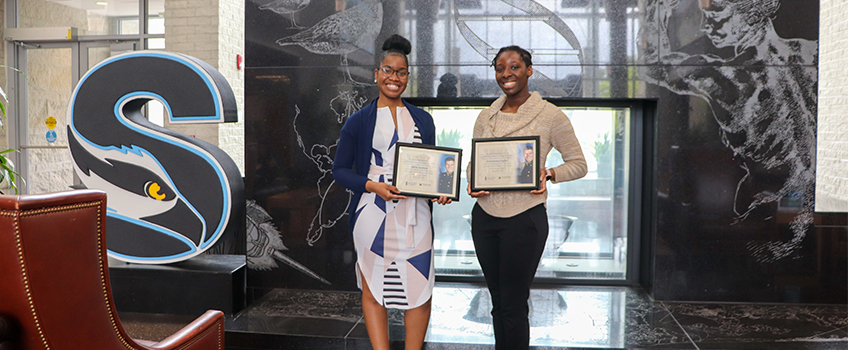 Galloway, N.J. — Graduating studentsAlicia Jenkins and Irenonsen Eigbe are the first graduates of the John R. Elliott Character and Leadership Program. They were honored for their achievements with certificates and a luncheon on Thursday, May 4, in Campus Center Meeting Room 5.
Bill Elliott, chairman and CEO of the John R. Elliott Foundation, spearheaded the program to prepare the future leaders of tomorrow through various mentorships and professional development opportunities.
"It's meant to provide them with leadership tools that they can take with them into the working world, their careers, graduate school, wherever they might be going," Elliott said. "It includes leadership classes and mentorships with some of the leading business and community leaders in our area who will mentor them and give them helpful tips on life and work."
Jenkins and Eigbe joined the program in their third year and have blossomed since. They've demonstrated leadership in multiple student organizations and various projects throughout their time at Stockton University, said Jeff Wakeman, director of Student Development. Below are the slides from his presentation on the two graduates and their time at Stockton.
Leamor Kahanov, provost and vice president for Academic Affairs, and Vincent D'Alessandro, regional president of OceanFirst Bank and member of the program's advisory board, both shared their praise for the students and the program.
"Well, first of all, I find this an exceptional program where we get to highlight some of the students who are the best and brightest leaders for the future, who represent themselves as well as this university with such grace and such dignity," Kahanov said. "And it's just a pleasure to know both of you and to have you here today so that we can celebrate."
"You guys are well equipped to continue to change the world and to bring a sense of fairness and equality," said D'Alessandro, who served as Jenkins' mentor in the program. "What Stockton did with this leadership program to help you along is just the start today. You have a connection to people who will be with you for as long as you need us."
Both Jenkins and Eigbe were grateful for the mentorship that they received throughout the program.
"Mr. Elliott asked me earlier, what was one takeaway that I would take from (D'Alessandro's) mentorship, and it would definitely be each Zoom call (with you)," Jenkins said. "You just talk with so much love and enthusiasm about your family, and as a family-oriented student leader on campus, that meant a lot to me. Not only do you have passion for the work that you do, but I saw that when I visited your office, and your staff had nothing but amazing words to say about the leader you are. So I admire and honor you, Mr. Vinny, and I'm still thankful for you, Mr. Elliott, for creating this avenue of connections."
"It was a once-in-a-lifetime experience getting the opportunity to be the mentee of Hak Kim, the driven chief financial officer at AtlantiCare, a hospital I was born in and currently work at," Eigbe said. "Not only were we able to bond over coming from immigrant families with high expectations, but I was able to learn about the ways in which one can lead by meeting with other members of the senior leadership and experiencing how they communicate with each other. While I'm graduating and planning to attend medical school, I'm hoping I can use what I've been able to obtain and hope that other students will be able to gain the knowledge that I have been able to."
After walking across the Commencement stage on May 12 in Jim Whelan Boardwalk Hall, the students look to the future. Jenkins anticipates joining Rutgers University for their graduate College Student Affairs program, and Eigbe is applying to different medical schools in New Jersey.
Elliott considers both Jenkins and Eigbe "highly motivated and wonderful young women," as well as demonstrative of the success of the program. He reflected on his son, the program's namesake, during his closing remarks.
"As you may know, Stockton is the home of the HERO campaign, which is our program created in our son's honor and memory to prevent drunk and impaired driving," Elliott said. "He was a wonderful young man who was a leader in the character program (similar to ours) at the Naval Academy. John was hit and killed by a drunk driver as he was coming home for his mother's birthday, just before he was going to flight school. And out of that grief and sorrow and love for our son, we wanted this to reflect both the HERO campaign and who he was.
"So, I want to tell you how proud he would be today to see the results of this program in his memory and that you have embraced it, succeeded and that so many more students will hopefully benefit from this."
About the John R. Elliott Character & Leadership Program
The John R. Elliott Character & Leadership Program at Stockton University, established in memory of Navy Ensign John R. Elliott, offers high-performing third and fourth-year students the opportunity to learn and apply practical leadership skills through coursework, seminars, community service and mentorship. Participation in this certification program will provide the tools needed to succeed and lead in one's chosen professions.
– Story and photos by Loukaia Taylor