'Dr. Harvey Kesselman Way' Dedicated in Atlantic City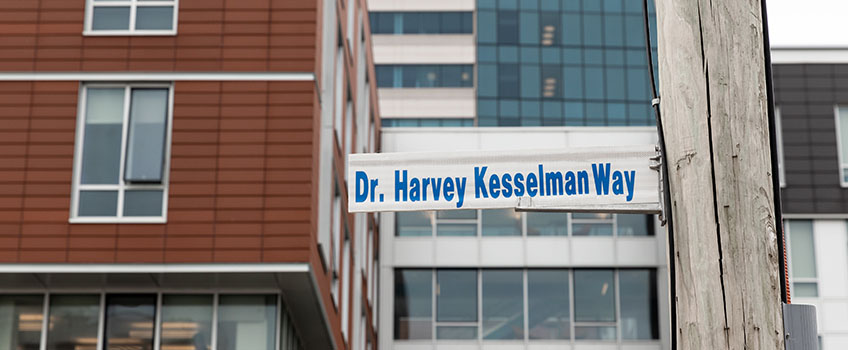 Atlantic City, N.J. ‒ A section of Albany Avenue adjacent to the Stockton Atlantic City Residential Complex was designated as Dr. Harvey Kesselman Way on Thursday.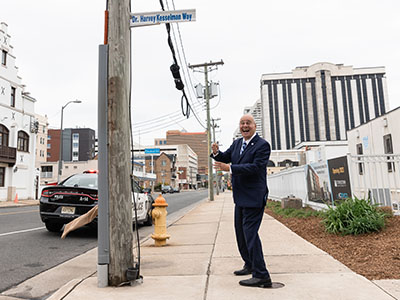 "I am deeply humbled by this extraordinary gesture. Atlantic City holds a very special place in my heart," Kesselman said, recalling his parents saving for summer trips to Atlantic City as a child. "Sixty years later, they would be so proud."
"This street dedication is not only a personal honor but also a reflection of the strong partnership between Stockton and this great city. Together, Atlantic City and Stockton will continue to build a brighter future for this community," said Kesselman, who is retiring as Stockton's president on June 30.
"To see Stockton being a part of the renaissance of the great City of Atlantic City is truly amazing. Stockton is here to stay, and as an alum, I could not be more proud," said Mayor Marty Small, '98. "We couldn't think of a better way to honor you and your legacy for being a part of the rebirth of Atlantic City."
The Atlantic City Council unanimously approved an ordinance to rename the block at a meeting in December, in recognition of Kesselman's service to Stockton University and Atlantic City. The ordinance commends the Stockton president's commitment to the public-private partnership to build the Atlantic City campus, which opened in 2018.
"We are so proud to have him as our leader and see him recognized in such a meaningful way by the City of Atlantic City. The street naming honors his accomplishments and serves as a testament to the strong partnership between our university and this great city," said Ray Ciccone, chair of the Stockton Board of Trustees.
"It's one of my proudest moments to lead Stockton's efforts to be an economic driver and community-engaged Anchor Institution in this great city. I want to express my sincerest appreciation to the esteemed City Council of Atlantic City. I will forever be grateful," Kesselman said, before unveiling the new signage across the street from Stockton Atlantic City.
On May 3, the university will name the original residential complex after Kesselman and hold a ribbon-cutting ceremony for the second residential building, located across from O'Donnell Memorial Park.
-Photos by Susan Allen
# # #

Media contacts:
Stacey Clapp
Director of Strategic Communications
Galloway, N.J. 08205
Stacey.Clapp@stockton.edu
609-626-3645
609-412-8069
stockton.edu/media


Mark Melhorn
Associate Director of News and Media Relations
Mark.Melhorn@stockton.edu
609-652-4593
609-569-6026
stockton.edu/media