Stockton Group to Explore Continued Growth in Atlantic City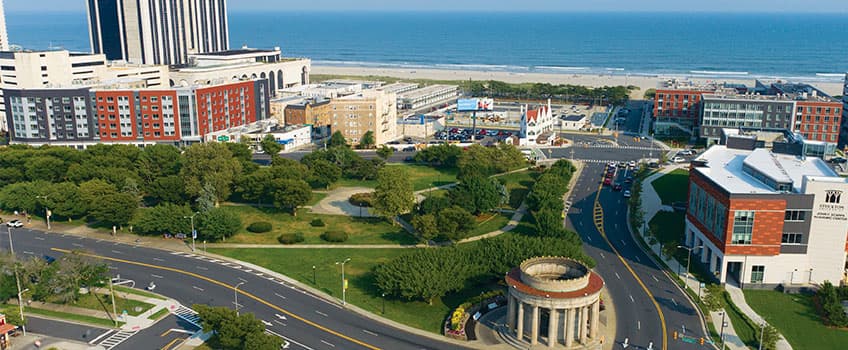 Atlantic City, N.J. ‒ Stockton University has officially begun efforts to study options that would enhance its impact in Atlantic City.
Strong demand for student housing in Atlantic City led to Stockton formally opening the Phase II residential complex across from O'Donnell Memorial Park in May. More than 900 Stockton students will live at the university's two Atlantic City residential complexes this fall.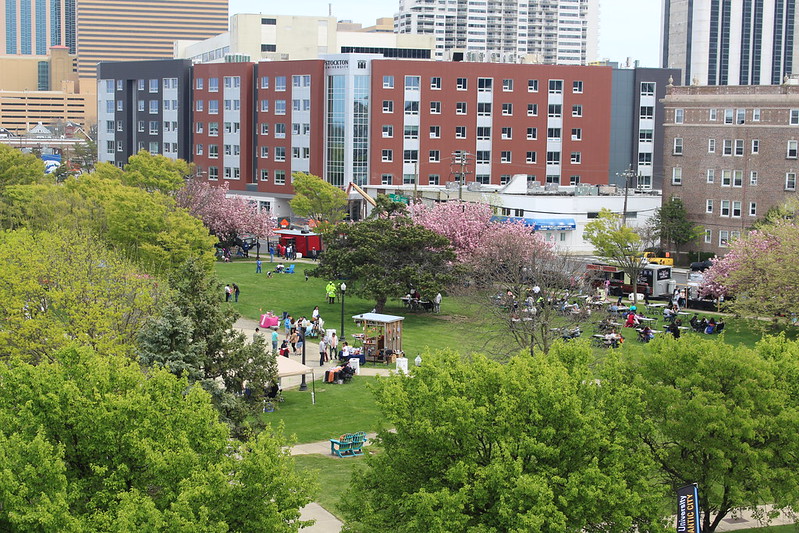 President Joe Bertolino has formed a working group comprised of several members of the Stockton University Board of Trustees, alumni, business and community leaders, as well as students, faculty and staff. Their primary initial task is hiring an experienced firm to conduct a feasibility study for Phase III, which is currently a 2.25-acre parking lot between Hartford and Albany avenues. Stockton does not own the property but would partner with AC Devco in the development of the project.
"As an Anchor Institution, we are committed to being in and of the community," Bertolino said. "In partnership, we will actively explore opportunities that would best enhance experiences for our students and elevate the impact of Stockton as a good neighbor within Atlantic City."
Stockton received $1 million in its FY24 state appropriations to assist in the planning of Phase III.
Since the opening of Stockton University Atlantic City in fall 2018, interest in the campus continues to grow. Stockton offers an array of classes at the John F. Scarpa Academic Center and hosts nearly 2,000 program and event-related bookings annually at the Atlantic City campus.
The university has become a cornerstone for community engagement, culture and the arts. Stockton's economic impact and social investment is evidenced by new business development and the growing number of students, residents and visitors to the University District. Additionally, demand for summer programming and housing has turned Stockton Atlantic City into a 12-month residential campus experience.
Stockton Board of Trustees members Ray Ciccone and Jose Lozano will chair the working group. Other members include:
Board of Trustees Representatives/Administration Representatives
Joe Bertolino, President
Rev. Collins Days, Board of Trustees
Kristi Hanselmann, Board of Trustees
Stephanie Lutz-Koch, Board of Trustees
Terricita Sass, Executive Vice President/Chief of Staff
External Constituents
Michael Chait, President, Atlantic City Chamber of Commerce
Barbara Gaba, President, Atlantic Cape Community College
Bert Lopez, Sr. Public Affairs Manager, Atlantic City Electric
Maisha Moore, Deputy Executive Director, Casino Reinvestment Development Authority
Chris Paladino, President, DEVCO
Faculty Senate Representatives
Brian Tyrrell, Professor of Hospitality and Tourism Management Studies
Kerrin Wolf, Associate Professor of Business Studies, Public Law
Robin Hernandez-Mekonnen, Associate Professor of Social Work, Faculty Senate Executive Committee (Alternate)
Stockton Federation of Teachers Union Representatives
Noel Criscione-Naylor, Associate Professor of Hospitality & Tourism Management Studies
Staff Senate Representatives
Dan Hickson, Professional Services Specialist 2, Information Technology Services
Diana Allen, Professional Services Specialist 3, Housing (Alternate)
Student Representatives
Juan Diego Chaparro, Student Trustee Alternate
Garrett Testut, Student Senate Vice President
Cabinet Representatives
Don Hudson, Senior Vice President for Facilities & Operations
Brian Jackson, Chief Operating Officer, Atlantic City Campus
Brian Kowalski, General Counsel
Jennifer Potter, Vice President for Administration
# # #
Media contacts:
Stacey Clapp
Director of Strategic Communications
Stacey.Clapp@stockton.edu
609-626-3645
609-412-8069
stockton.edu/media


Mark Melhorn
Associate Director of News and Media Relations
Mark.Melhorn@stockton.edu
609-652-4593
609-569-6026
stockton.edu/media