Foundation Benefit Gala Honors Kesselman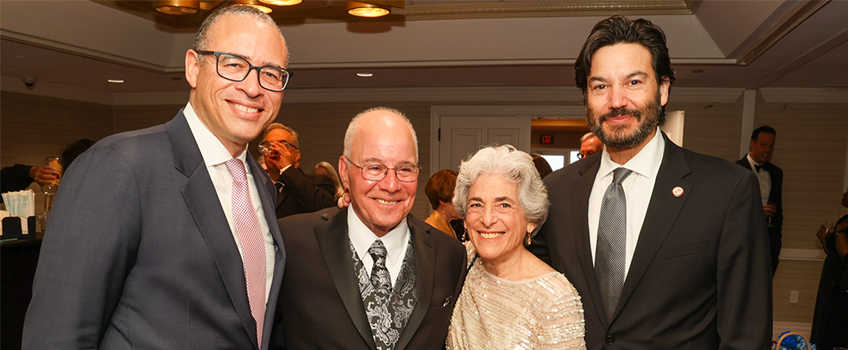 Atlantic City, N.J. — The 2023 Stockton University Foundation Scholarship Benefit Gala was a night to remember as nearly 700 members of the Stockton community came together to celebrate the leadership and career of retiring president Harvey Kesselman. The event, held April 22 at the Hard Rock Hotel & Casino Atlantic City, raised more than $460,000 for scholarships.
The most unique feature of the event called on guests to participate in a variety of Stockton "experiences" led by faculty and staff, including harvesting greens and enjoying a salad composed of vegetables from Stockton's Sustainability Farm, taking a tour of the night sky with Physics students inside an inflatable geodome, learning about shell restoration efforts while students shucked and prepared locally farmed oysters, sampling local wines with students from the Fundamentals of Wine class, and making ice cream using liquid nitrogen.
"Providing the opportunity for our guests to interact with students and faculty in unique and meaningful ways is a signature part of this evening," said Dan Nugent, executive director of the Stockton University Foundation. "This year, as we honor Dr. Kesselman, we wanted students to be the focus, incorporating his Students First motto."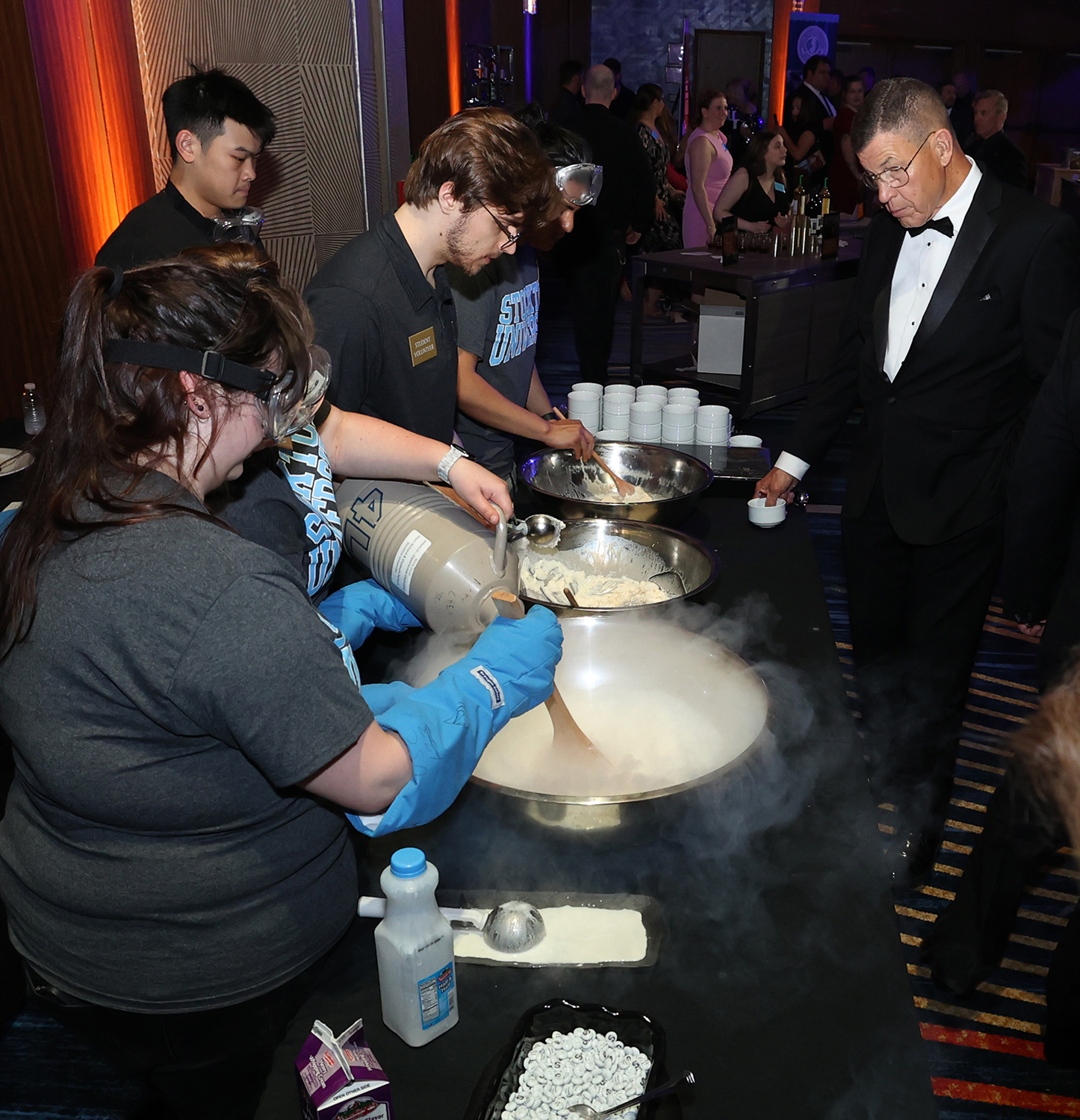 Guests at the Gala participated in a variety of Stockton experiences led by faculty and students, including making ice cream using liquid nitrogen.
Throughout his tenure, Kesselman has worked tirelessly to enhance the value of a Stockton degree and elevate the university's recognition and reputation. His unwavering commitment to putting students first has been an inspiration to many, and the event was a testament to his exceptional leadership, Nugent said.
During her toast to Kesselman, Brigid Callahan Harrison, chair of the Stockton University Foundation Board of Directors, praised Kesselman by acknowledging his unwavering commitment to serving others. She told the crowd that since he entered the Mayflower Hotel, where Stockton was first located before the Galloway campus was complete, he has dedicated his life to ensuring that every student at Stockton has the opportunity to experience the transformative effects of a Stockton education.
"Stockton transformed my life, and I am honored to have had the chance to be part of changing the lives of students for the last five decades. Thanks to your generosity that legacy continues, allowing future leaders, innovators and critical thinkers the opportunity for a Stockton experience," Kesselman said.
Higher education leaders from throughout the state turned out to honor Kesselman, including Brian Bridges, New Jersey's secretary of higher education, and presidents and former presidents from Rutgers, Montclair, Thomas Edison, Rowan, Kean and others. Net proceeds from the event support the Stockton Foundation's Scholarship Benefit Endowment.
Jared Handelman, a Stockton University Foundation scholarship recipient and Marine Science major from Hillsborough, expressed his gratitude, saying, "I'm just very grateful to have been here tonight and to have met some amazing people. I'm thankful for all the donors and what they do for Stockton and its students. (The Gala) was a rewarding experience and opportunity."
Top sponsors include Hard Rock Hotel & Casino Atlantic City, International Brotherhood of Electrical Workers, Local 351, Stockton University Foundation Board of Directors, Azeez Foundation, Cooper Levenson, Attorneys at Law, Dr. Howard and Gayle Gross, SOSH Architects, AC Devco, Borgata Hotel Casino & Spa, Eastern Atlantic States Regional Council of Carpenters and Local 255, Marathon Engineering & Environmental Services, Inc., Pepsi and Tito's Handmade Vodka.
Learn more about the Stockton Foundation and its scholarship program at stockton.edu/foundation.