Club Connect: Meet the... Stockton Music Union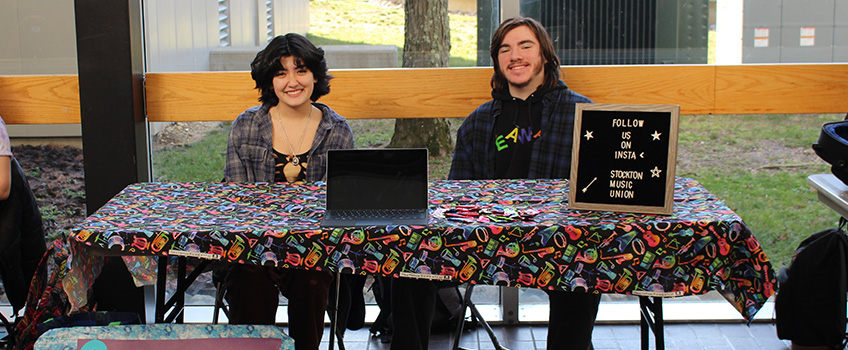 Galloway, N.J. – The Stockton Music Union, or as we will soon refer to them as "the next big thing," is a group of students who all share the same love, passion and enjoyment for music.
According to Evan Carr, a member of the Union, music is a universal language in our world, which is why the club attempts to bring all kinds of students together.
"This club takes in anyone, whether they've been playing an instrument since they were 5 years old, haven't picked up an instrument in their entire lives or just simply have a strong love for music and would like to learn more," Carr said. "Regardless of the personal relationship someone has with music, this club is made to build strong friendships and bonds with people who have similar interests."
For new members entering or interested in joining this club, it should be expected that the space provided always has good, fun and safe vibes; the current members are there to create an environment that makes others feel as comfortable as they possibly can.
"There's never any pressure to step out of your comfort zone to play music or perform," Carr said. "However, we want to convey a message within meetings to help you put yourself out there more."
Within this organization, there are two main goals: to create bands that have more established artists and attempt to find them gigs to play, and to gather potential new members who are willing and interested in expanding their knowledge on playing and getting more comfortable playing in front of small crowds.
Students also are welcome to join just to listen and enjoy.
At the end of every semester, the Stockton Music Union's main event is a concert in the Campus Center Theater. This way, the students can showcase their talents and abilities to other students, hopefully gaining attention of others that may ignite a spark and like to join.
The club meets regularly every other Thursday from 4:30-6:00 p.m. in room H102. Join the Stockton Music Union today
via OspreyHub
and learn more about what they have in store! You can also follow them on their Instagram @
StocktonMusicUnion
.
– Story and photo by Paulina Tyszka